Among my souvenirs: Mövenpick Marché Heidiland mint wrapper
We're getting rid of clothes we don't need and came across a couple of bright teal windbreakers from the 1990 International Science and Engineering Fair, which was held in Tulsa that year. My wife and I, then newlyweds, volunteered for the fair, marshalling buses and giving directions to visitors.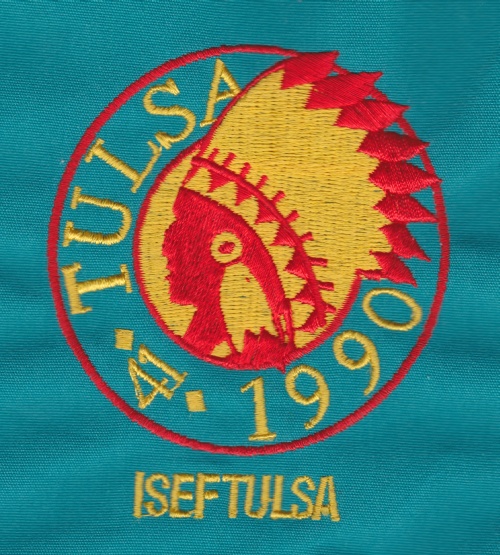 I guess we took the windbreakers with us to Europe later that year, because in the pocket of the smaller jacket was a little wrapper, likely from a mint: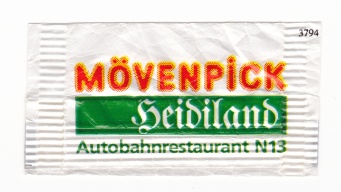 MÖVENPICK
Heidiland
Autobahnrestaurant N13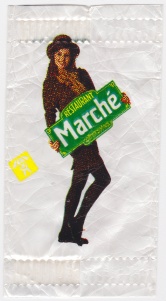 On the back, a young female model holds something that looks like a Paris street sign, reading:
RESTAURANT
Marche
MÖVENPICK
The Mövenpick Marché Heidiland is a roadside restaurant in Canton Graubünden, in eastern Switzerland. It's part of a chain, but more than just a fast-food place -- more like the Stuckey's and Howard Johnson's you used to see along Oklahoma's turnpikes, but much bigger and nicer. You'll still find this sort of thing along the some east coast turnpikes and British motorways -- restaurant or food court, convenience store, tourism info -- some of them approach the size of small malls.
But I've never been to one in the US or UK with a goat enclosure.
Marché Heidiland, on the highway A13, is one of the most well-known rest stops in all of Switzerland. The "Heidi and Geissenpeter Game" is waiting for you as soon as you walk in the front door. Two large game rooms provide an exciting experience for all kids. There is also an outdoor playground and a goat enclosure close to the entrance.
We would have come across this place on the way between picking up a rental car in Vaduz, Liechtenstein, and our stop for the night in Chur, Switzerland.
Our September 1990 vacation, facilitated by my wife's employment with American Airlines, started in Frankfurt and took us to Rothenburg ob der Tauber, Mittenwald, Garmisch-Partenkirchen, and Munich in Germany, Prague in newly freed Czechoslovakia, Vienna, Melk, and Salzburg in Austria, Liechtenstein, Chur, Glarus, Lucerne, Rüschlikon, and Zurich in Switzerland, whence we flew home. We had a Eurail / Hertz car/train package deal, used the car in Bavaria, took the train through Czechoslovakia and Austria (including a brief ride on a boat on the Danube), then picked up a car in Vaduz for the last few days of the trip.
I remember being disappointed that you couldn't find a cheap lunch in Vaduz, as you could in Austria, Bavaria, and Prague. So we likely stopped here for a meal.
I don't recall whether it was cheap then, but it certainly isn't cheap today. The website touts fresh baked goods and abundant buffets. The evening buffet (7 pm to 10:30 pm) runs $25, not including beverages. The lunch special -- dish, drink, and dessert -- is about $18, and the Sunday brunch buffet is about $27. There are size discounts: Under 110 cm is free, under 140 cm is half price. The bargain breakfast -- croissant, bread roll, butter, jam, and coffee -- is only $9. (The US dollar and the Swiss Franc are right about at par at the moment. When we visited, a dollar was worth 1.30 Swiss Francs.)
In addition to the goat enclosure, the Marché Heidiland has an outdoor playground, an indoor play area, a smokers' room, a conference room, and free WiFi.
The baby facilities are impressive: A microwave oven, bottle warmer, and hot water kettle for use in preparing your baby's food, built-in changing tables (not just pulldown tables in the handicapped toilet stall), and special strollers that give you a place to put your tray of food and your child's tray as you navigate the buffet.
MORE: Bill Clinton stopped here on his way to Davos a couple of years ago.
MORE reminiscing: Older readers will recall the midway rest stop on the Turner Turnpike, with a pedestrian bridge connecting eastbound and westbound rest areas. The eastbound area had a Howard Johnson's restaurant, a souvenir shop, a Phillips 66 service station, and a tourism display. One thing you couldn't get on the eastbound side was a bottle or can of pop. If you wanted anything other than HoJo Cola, you had to walk over the turnpike to the vending machines at the Phillips station on the westbound side.
MORE stuff that fell out in the dryer (should have checked the pockets more carefully): A chestnut and (found in the lint trap) a ticket labeled "RVO" dated September 26, 1990, at 16:00, for two people. RVO is a regional transportation company in the Bavarian Alps, so perhaps this was a ticket for our day train trip from Salzburg to Berchtesgaden with another American couple.