Oklahoma runoff election 2012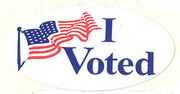 Happy Election Day! Polls open in much of Oklahoma at 7 a.m. and close at 7 p.m.
There are no statewide runoffs, but both major parties have a runoff in the 2nd Congressional District. Republicans have runoffs in four State Senate districts (15, 17, 33, 43), and two State House districts (53, 70) -- two of the runoffs, House 70 and Senate 33, are here in the Tulsa area. Democrats have two State House runoffs (14, 88). Many counties have runoffs, including a Republican runoff for Tulsa County Clerk, and there's a scattering of municipal special elections, and local propositions. About two-thirds of the state's precincts in 60 counties will be open for business.
Results should start rolling in soon after 7 p.m. The Oklahoma State Election Board website will update results as they are received from the county election boards. Although results are posted on each precinct door shortly after the polls close, a precinct's results have to be taken to the county election board to be read into the state election computer system.
After some significant difficulties with the outside company that provided election night results earlier this year, the Oklahoma State Election Board has developed its own in-house capability; the templates are already online. Data nuts will be able to download results by precinct for the entire state in one download -- a huge improvement over the previous system.
A few resources as you go to vote:
If you run into any difficulty voting or spot any irregularity, contact the your county election board. The phone number for the Tulsa County Election Board is 918-596-5780.
Posted 1:00 a.m. Tuesday, August 28, 2010. Postdated to remain at the top of the blog through poll closing time.
0 TrackBacks
Listed below are links to blogs that reference this entry: Oklahoma runoff election 2012.
TrackBack URL for this entry: http://www.batesline.com/cgi-bin/mt/mt-tb.cgi/6543