40 days of fasting and prayer for the US election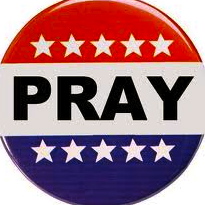 Author Eric Metaxas, who has written biographies of two men whose fervent Christian faith impelled them to act decisively and sacrificially in the realm of politics -- William Wilberforce of England and Dietrich Bonhoeffer of Germany -- calls Christians in America to fast and pray for the 40 days leading up to our general election. That means starting this Thursday, September 27, 2012 (links added):
We often worry and/or complain about what's happening in our nation, but can we doubt that God wants us to pray about it in a concerted way? Can there be a time more conducive to focusing our attentions than the 40 days before this extremely important election? Exactly how we do this is up to each of us -- perhaps you could fast one day per week, or gather with friends to pray once per week -- but won't you join me in this, believing and knowing that God longs for His people to take their concerns to Him -- to be anxious "for nothing" and to pray boldly and with faith and trust Him with the results? So many people wonder: "What can I do?" We can do this. If the church has forgotten that God answers prayers, there really is no hope. Jesus said: "Ask and it will be given unto you." So won't you join me in asking? And please tell your pastors and friends about this. God bless you. And may God bless America for His purposes -- so that we can be a blessing to the rest of the world.
If you plan to be part of a concerted season of prayer and fasting leading up to the election, let us know about it in the comments below or send me an email.