Fusion centers don't help counterterrorism, Senate report says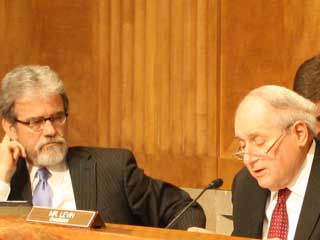 A Senate subcommittee staff report just released says that state and local fusion centers, backed by "somewhere between $289 million and $1.4 billion" in federal funds, "have been unable to meaningfully contribute to federal counterterrorism efforts" and that the U. S. Department of Homeland Security (DHS) "does not adequately oversee its financial support for fusion centers." Many centers, the report states, "didn't consider counterterrorism an explicit part of their mission, and federal officials said some were simply not concerned with doing counterterrorism work."
The report is the result of a two-year-long bipartisan probe into federally-funded fusion centers instigated by Oklahoma Sen. Tom Coburn, prepared jointly by the majority and minority staff of the Senate Committee on Homeland Security and Governmental Affairs Permanent Subcommittee on Investigations. The report will be released Wednesday morning, October 3, 2012, on the subcommittee's website.
The investigation looked at "more than a year's worth of intelligence reporting from centers, conducting a nationwide survey of fusion centers, and examining thousands of pages of financial records and grant documentation." Despite combing through 13 months of fusion center reporting, the "Subcommittee investigation could identify no reporting which uncovered a terrorist threat, nor could it identify a contribution such fusion center reporting made to disrupt an active terrorist plot.
The report cites money wasted on SUVs, televisions, and surveillance equipment unnecessary to the mission, non-existent fusion centers that nonetheless are funded by DHS, and worthless "intelligence reports" that waste the time of DHS counterterrorism analysts, including some that, contrary to law, reported on U. S. citizens lawfully exercising their 1st Amendment rights.
Worse yet, "senior DHS officials were aware of the problems... but did not always inform Congress of the issues, nor ensure the problems were fixed in a timely manner." DHS conducted two assessments of fusion centers, in 2010 and 2011, finding "widespread deficiencies" and "ongoing weaknesses." When the Senate subcommittee requested a copy of the 2010 assessment, "DHS at first denied it existed, then disputed whether it could be shared with Congress, before ultimately providing a copy."
Fusion centers are funded by DHS through Federal Emergency Management Agency (FEMA) grant programs and provides support services through its State and Local Program Office (DLPO). While fusion centers may be useful for state, local, and tribal governments to pursue traditional criminal investigations, the purpose behind federal support for fusion centers was because of their potential value in supporting DHS's counterterrorism efforts, by spotting threat information to be shared with and analyzed by DHS.
MORE: G. W. Schulz of the Center for Investigative Reporting has been covering stories of wasteful Homeland Security spending for years. Schulz and fellow CIR reporter Andrew Becker have an analysis of the Senate report on fusion centers.
The nation's vast network of anti-terrorism "fusion centers" for law enforcement have produced shoddy, untimely and often useless intelligence reports that have done little to keep the U.S. safer, a scathing U.S. Senate report concludes.

The 141-page report, a copy of which was obtained by the Center for Investigative Reporting, identified problems with nearly every significant aspect of the Department of Homeland Security's more than 70 fusion centers, which were designed for law enforcement to coordinate their intelligence gathering.

The report marks one of the most blistering indictments to date of the Department of Homeland Security's domestic intelligence operation. The department, investigators conclude, "has not attempted to conduct a comprehensive assessment of the value federal taxpayers have received for that investment."

(Tulsa readers will no doubt recall the very thorough features and investigative stories that Schulz produced for Urban Tulsa Weekly as the paper's city reporter about seven years ago.)