Vision2: The alternative in a nutshell
Many thanks to KJRH Channel 2 (Cox Cable 9) for a well-balanced story on Vision2 today. I spent a couple of hours with Citizens for a Better Vision, the organized opposition group to Vision2, out on 51st Street where people could pick-up signs, buttons, and bumper stickers.
While I was there a KJRH cameraman came out to get some video for a news story that ran this evening, and he talked to me for a few minutes, part of a story on the efforts of the "vote yes" and "vote no" campaigns. The result was a well-balanced and accurate story, and I commend the KJRH news team for their good work: "Vision2 vote nears, both sides step up campaign efforts." I thought they did a good job of picking out quotes that represented the two campaigns.
Michael Bates is a blogger and a staunch opponent of the tax plan.

"It doesn't make sense for us to commit money that we don't begin collecting for four years and to spend almost $100 million just on interest to carry debt for 17 years," said Bates, who believes much of Vision2 amounts to corporate welfare.

Bates said he believes Vision2 was put on the ballot too quickly.

"The Vision2 plan is too rushed, too soon, and too sloppy the way it was put together," said Bates....

For his part, Bates believes it would be a better idea for cities to pass a six-tenth sales tax to replace the current Vision 2025 tax when it expires. He said the cities would be able to spend the money on whatever projects they think are necessary, without a say from the county.

"The city of Tulsa, for example, would raise $150 million more than we get from the Vision2 program," said Bates.

I made it clear that I wasn't speaking for all opponents of Vision2, and notice that KJRH was careful to qualify that statement with "For his part." They did a good job of summarizing my alternative proposal.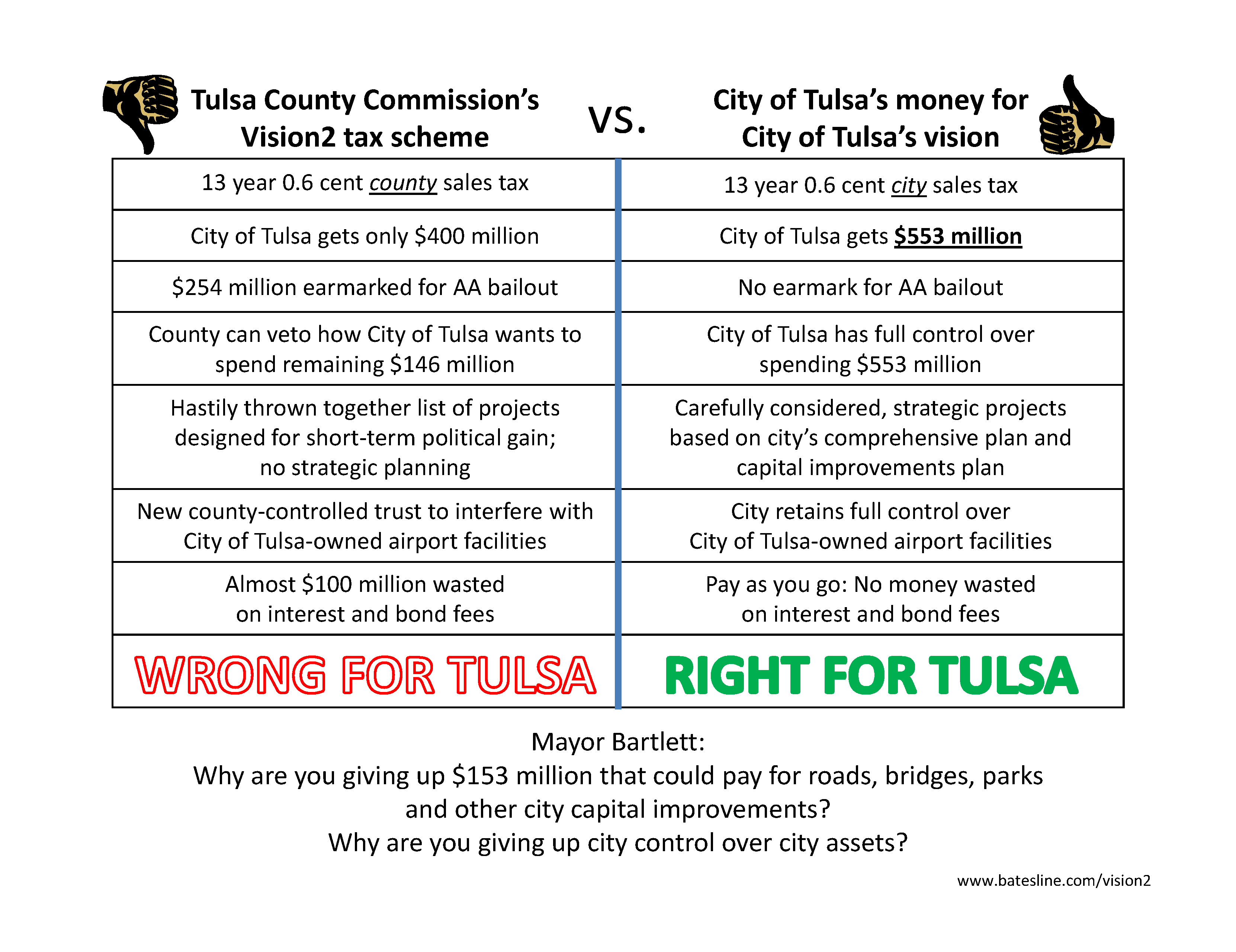 According to county employee Michael Willis, however, no one in the opposition has submitted anything better than his bosses' scheme.
"They've not participated in public input meetings. You have two different kinds of people in that campaign --people who are promoting themselves for individual public office and the people who are always on the 'no' side of just about every issue," said Willis.
Several opponents did go to public input meetings. I spoke at the meeting where the Tulsa City Council voted on how Tulsa's tiny cut of the funds would be allocated. But it's true that opponents did not line up demanding money for our pet causes. We wanted more than a slight rearrangement of the distribution of the $750 million. We disagree with fundamental aspects of the Vision2 county tax scheme that were set in stone before the public meetings were held.
Perhaps, from Willis's perspective, my proposal isn't worth considering because it doesn't include corporate welfare for a bankrupt airline that may well not exist by the time we begin paying back the money we borrowed to bail them out. Maybe he dislikes my plan's lack of an uncapped corporate welfare fund under the guidance of the same folks who gave us Great Plains Airlines. Maybe it's no good because it doesn't let the county's favored bond underwriters, bond attorneys, and program management contractors "wet their beaks." Maybe my idea is lousy because it cuts his bosses, the county commissioners, out of the decision-making process.
The vitriol from the "Vote Yes" side is disappointing, particularly coming from a Republican. You'd hope a Republican would see the inefficiency in passing tax dollars destined to be used by city governments through county government. You'd hope a Republican would have qualms about incurring debt that we'll still be paying off when my 6-year-old son is working on his doctorate.
And of course, Willis is wrong to believe that only opponents of past tax plans are opposed to Vision2. Many supporters of Vision 2025 and the River Tax are among the most vocal opponents of Vision2. For example, see recent Urban Tulsa Weekly columns by Ray Pearcey and Bill Leighty, and the statements of opposition from TulsaNow and former Tulsa Councilor Bill Christiansen, who served on the committee that put together the Vision 2025 package.
Here's a direct link to a one-page PDF that explains my alternative to Vision2 and why it's a better vision for Tulsa. (It's a better vision for Broken Arrow and other cities and towns, too.)
MORE: Tulsa County GOP chairman J. B. Alexander called my attention to this story about the Poway, California, school district which is borrowing $105 million for a total cost of $1 billion, because they don't begin paying on principal or interest for 20 years and won't finish paying it back for 40 years.
The bonds are a "kick the can" move to avoid dinging taxpayers now with higher property taxes.

Oh, and the bonds are not callable -- they can't be paid off early or refinanced.

School administrators appear to have looked around at the sluggish economy and property tax revenues and figured, 'Heck, why not defer now and pay nothing at all for decades? We'll be dead by then.'"...

The underwriters for the nearly $1 billion Poway bond deal, Stone & Youngberg, a unit of Stifel Nicolaus, and financial advisor Dolinka Group of Irvine, Calif., will get a sweet $1.4 million in total fees, says FOX News analyst James Farrell.

Citigroup (C), Goldman Sachs (GS), Bank of America/Merrill Lynch (BAC), among others, will split a cool $2.1 million on San Diego's $164 million bond where taxpayers will eventually pay a billion dollars, Farrell notes. ...

In two decades' time, taxpayers in the Poway district will have to start paying about $50 million a year towards the loan -- one-fifth of its current $250 million budget. However, right now, the district only receives about $11 million a year from homeowners towards paying off its bonds.
One estimate says the total assessed value of property within the taxed area would have to quadruple just to cover the eventual $1 billion bill for this one bond alone.