Tulsans against Chloramine meeting Monday, November 19, 2012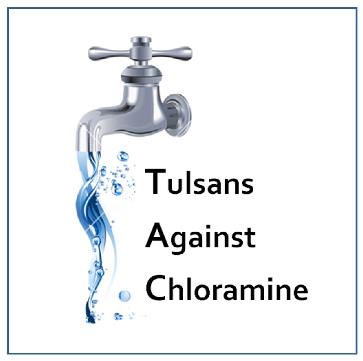 The Tulsa Metropolitan Utility Authority (TMUA) recently switched Tulsa's water system from the use of chlorine as a secondary disinfectant to chloramine -- a combination of chlorine and ammonia -- despite concerns about the effects of the chemical when ingested, used in cooking, or used in bathing. The conversion was complete at the end of July 2012.
Chloramine-treated water can't be used directly in fish ponds and can't be used in dialysis. It is documented to cause deterioration of materials commonly used in plumbing; indeed, a TMUA member heads a company that sells chloramine-resistant parts to replace plumbing components damaged by the chemical.
The switch was the result of new EPA regulations relating the potential formation of hazardous byproducts of chlorine water treatment in parts of the water system.
A group called Tulsans against Chloramine (TAC) was formed to urge the TMUA to find a better alternative to meet the EPA regulations without exposing residents to a new hazards in the form of chloramine. The TMUA has politely heard but effectively ignored their concerns. It seems to me that the TMUA is displaying the same highhandedness toward the public that the trash board (TARE) showed regarding their radical reworking of the trash service.
As a Title 60 trust like TARE, TMUA has little accountability to the public, but the mayor could choose to appoint members who will be responsive to public concerns as terms expire. The City Council could choose to deny re-confirmation to members who have been arrogant toward the public or who have refused to give serious consideration to alternatives from the public, forcing the mayor to appoint someone new. I am hopeful that some of our new legislators, who understand the Title 60 problem, will enact reforms giving citizens more control over these powerful public organizations.
Tulsans against Chloramine (TAC) will hold a public meeting at Hardesty Regional Library, 8316 E. 93rd Street, on Monday, November 19, 2012 at 6:30 pm. The speaker is Robert Bowcock, a nationally-known specialist on public water systems with a particular interest in secondary disinfection and the health and environmental impacts of different methods. Bowcock has been working with TAC to develop and promote safer alternatives to the use of chloramine. The meeting will also discuss cities across the country that are moving away from chloramine.
The City of Charlottesville, Virginia, recently decided not to adopt chloramine:
"Although the EPA approves the use of chloramine and deems it safe, 18 pages later they admit, a gap in research that needs to be filled is human health studies," chloramines opponent May Lau said, "That's a rather broad broad area - human health - to be a gap."
Other news coverage of the use of chloramine in Tulsa:
This Land Press: August 2012: Chloramine Coming to Tulsa's Drinking Water
Tulsa Beacon: August 30, 2012: Thousands sign anti-chloramine petition
BatesLine: October 11, 2011: Chloramine controversy: Safe for Tulsa's water?