Dr. Ben Carson's speech at the National Prayer Breakfast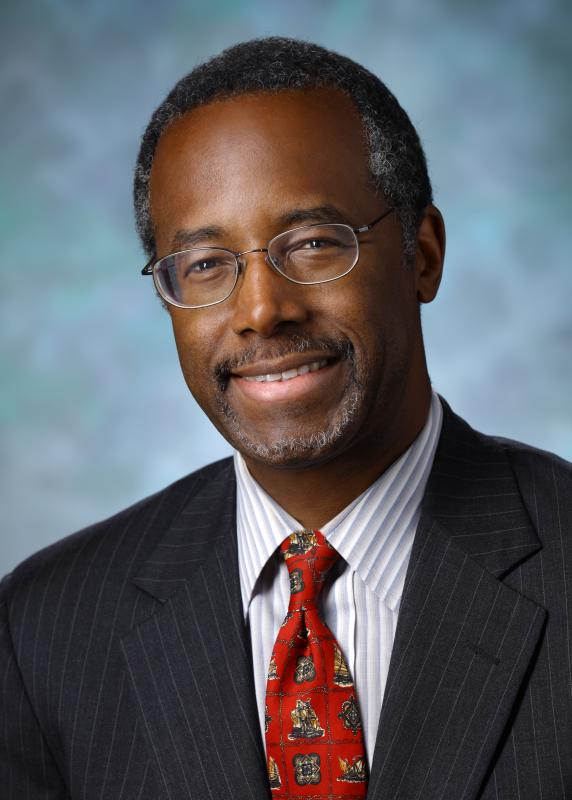 Dr. Benjamin S. Carson, Director of Pediatric Neurosurgery at Johns Hopkins Hospital, was the featured speaker at this morning's National Prayer Breakfast, and he delivered a powerful, inspiring, and wide-ranging 25-minute message which touched on the self-discipline and education necessary for self-government, the urgent need to avoid the moral decay and fiscal irresponsibility that led to the fall of ancient Rome, the dangers of political correctness, and the need to give as much honor to academic achievement as we do to athletic achievement.
Regarding that last point, Carson spoke of his Carson Scholars Fund, which is designed to treat academic high achievers as the stars that they are, with trophies and recognition and college scholarships. The fund also sponsors reading rooms in elementary schools, where children have access to a wide range of books to help them develop their reading skills in a welcoming environment.
Carson spoke about how reading transformed his own life. He and his brother would not apply themselves to their school work, but his mother prayed that God would give her wisdom to help her sons learn. She then restricted their TV viewing to a minimal amount and required them to read two books each week from the library and to write a book report about each. She dealt with complaints from her sons and resistance from other mothers, who told her that keeping her boys inside and reading would make them hate her, but she stuck to her plan. Eventually, he came to love reading, and his reading taught him that he could control his own destiny, and that the poverty he hated need be only temporary.
In the course of the speech, Carson compared Alexis de Tocqueville's account of education and literacy in 19th century America to the state of education today; he cited the Biblical tithe, with its standard percentage for all, as a model of the fairest and simplest approach to taxation; and he commended individual Health Savings Accounts as a means to provide access to care for all while controlling costs and encouraging people to take responsibility for their own health. Carson suggested that the government could fund HSAs for those who cannot afford to fund their own.
Carson presented all of his thoughts as mere common sense informed by history, without wading into the usual terminology of ideological or partisan debate.
Hat tip to fellow blogger Nice Deb, who has video of Dr. Ben Carson's speech and links to reporting and commentary on the speech.
Photo of Dr. Ben Carson courtesy carsonscholars.org.