Fix Our Streets tax extension public input meeting tonight
Citizens for a Better Vision was the grassroots group that led the successful opposition to Vision2, using a minuscule budget compared to the millions at the "vote yes" side's proposal. Now they're trying to influence the development of proposals to re-up city sales and property taxes for a new funding package for city infrastructure, a combined package that may top $800 million, with hopes that the ultimate proposal is one worthy of the voters' support.
Tonight, Wednesday, March 27, 2013, at 6 p.m., at the Martin East Regional Library, 2601 S. Garnett in Tulsa, Citizens for a Better Vision will host a meeting to allow the public to express their concerns and air their comments on the developing proposal to extend the City of Tulsa sales taxes (1 1/6 cent) and general obligation bond issue that have been devoted for the last few years to street repair. All mayoral candidates and all members of the City Council have been invited to attend the meeting.
There have been City Hall sponsored meetings ("City Hall in Your Neighborhood"), but, according to the Citizens for a Better Vision flyer, "all questions [at the official City Hall-sponsored meetings] are filtered through notecards and some citizen concerns are altogether ignored." In contrast, the flyer for tonight's meeting promises that "Everyone's Voice Will Be Heard!"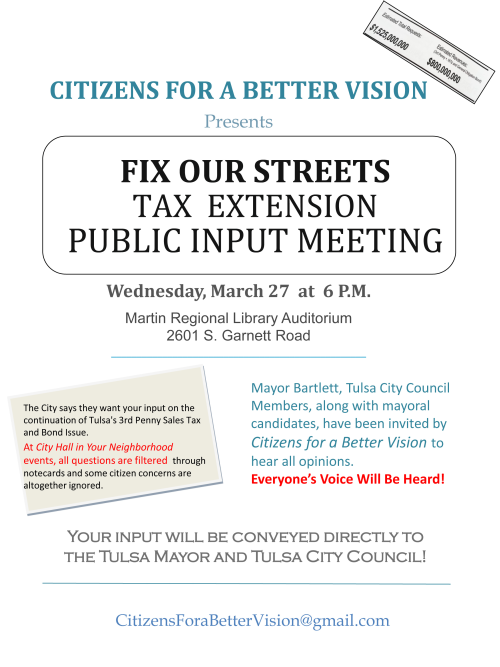 This meeting is a great opportunity to express your "must haves" and "dealbreakers" to the mayor and council, who must approve any package that goes before the voters. Here are a few of my requirements that have to be met before I'd support a funding package.
1. Streets only: No corporate welfare, no unfulfilled wishes from Vision2, only the construction and maintenance of streets. Anything else would have to be on a separate ballot item, preferably not even on the same ballot or the same day.
2. No permanent taxes: No more than a five year term before the tax sunsets.
3. A "Brown ordinance" with teeth: A clear and complete list of projects to be funded, with an estimated cost for each, and a basis for estimate for the cost of each. (The Brown ordinance was a key element in the passage of the first 3rd Penny sales tax in 1980, after a blank check tax was defeated by voters the previous year.)
4. Pay-as-you-go: No borrowing money against future sales tax revenues to fund current projects. By keeping it pay-as-you-go, all the money goes to projects, instead of bond fees and interest.
What are your dealbreakers for a new streets package? List some in the comments below.