Agenda 21 bill HB1412: Feel-good, do-nothing legislation
At some time in the near future, the Oklahoma State Senate may vote on HB1412, a bill that purports to prohibit governmental entities in Oklahoma from implementing any aspect of Agenda 21 or belonging to any United Nations-related organization. After the jump, you can read the full text of the engrossed bill approved on March 13, 2013, by the Oklahoma House of Representatives. The bill was assigned to the Senate Energy Committee, where it currently sits.
HB1412 is a feel-good bill, a security blanket that does nothing to protect against real threats to private property rights. Meanwhile, the legislature is ignoring practical, effective steps that they could take to protect against those threats, regardless of the inspiration or motivation behind them.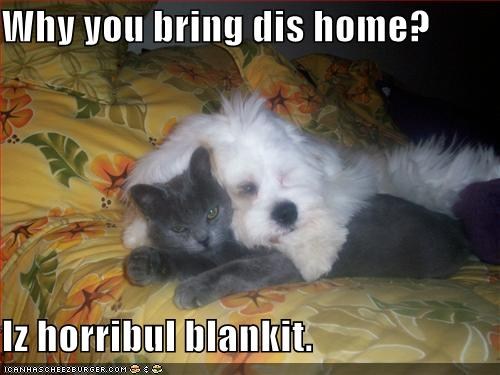 Photomeme from I Can Has Cheezburger
Here are the main problems with HB1421:
Legislation that is specific to Agenda 21 won't protect against the same threats to private property that are traceable to other influences.
There are no procedures for identifying and prosecuting violations of the law.
There are no penalties for violating the law.
No provision is made to maintain a list of "nongovernmental or intergovernmental organizations accredited or enlisted by the United Nations" with which Oklahoma and its political subdivisions may not interact.
The misuse of "all" when "any" is meant, and "and" when "or" is meant may allow a court to construe the law as a dead letter.
If a governmental action is abusive, it doesn't matter if that action was inspired by Agenda 21, Heinz 57, or Route 66. Wrong is wrong.
In fact, the bad guys are likely to change the terminology if a label begins to attract negative attention. Activists who track fads in public education are familiar with the cycle: A program comes under negative scrutiny, and there are calls to defund it and forbid its implementation. Supporters of the goals of the program create a new program with the same goals, but with a different name, and different terminology. Opponents have to fight the same battle all over again, trying to convince elected officials that this is the same old garbage in new packaging.
Rather than focus on the label, legislators and activists concerned about Agenda 21 should focus on the effects. What are the dangers against which we're trying to protect Oklahomans? What gaps in the law put Oklahomans at a disadvantage in defending themselves against these impositions? How can the laws be changed to give ordinary Oklahomans a firmer place to stand and more powerful tools to fight against these abuses?
Here are two real-world situations where the legislature could take practical steps to protect Oklahomans against the feared outcomes of Agenda 21 globaloney: Eminent domain and trash policy.
Eminent domain abuses and other impositions on private property rights predate Agenda 21 and occur independently of any connection to Agenda 21 or sustainability. Public trusts and authorities have been known to "lend" their power of eminent domain to benefit politically connected businesses and institutions. (For example, the use of the City of Tulsa's power of eminent domain to facilitate the expansion of the University of Tulsa, a private, sectarian institution.) The Institute for Justice's Castle Coalition tracks this issue nationwide; here's their summary of state constitutional provisions dealing with eminent domain.
Even though our State Constitution requires that eminent domain may only be used to acquire property for public use, not merely public benefit, a property owner confronted with a condemnation threat may not know where to turn for help and may not have the financial means to fight an unconstitutional use of eminent domain.
The legislature could provide that every condemnation would be subject to an early motion to dismiss, with the burden of proof placed on the condemning authority to establish that the proposed use for the condemned property is a public use in accordance with the Oklahoma Constitution and the Muskogee County v. Lowery ruling. If the burden is not met, the condemning authority would have to pay the property owner's legal cost. It's a variation on the highly effective anti-SLAPP statutes in place in California and elsewhere. Here, too, the idea is to shift the financial burden away from the citizen exercising and defending his rights and onto the party seeking to limit or impose upon those rights.
At the same time, the legislature could and should act to tighten up the ridiculouly broad definition of "blight" in the state statutes. Click that link and read what it says. Just about any one's property could be declared blighted. If you're concerned that PLANiTULSA -- the City of Tulsa's recently adopted comprehensive plan -- could be used as a pretext for condemning private property, then remove anything in the law that defines incompatibility with a comprehensive plan as blight.
Many Tulsans are upset about the changes to our trash service. Under the Dewey Bartlett Jr administration, the Tulsa Authority for the Recovery of Energy (TARE) lumbered Tulsans with more expensive, less frequent, and less convenient trash service, all for the sake of financing "green" CNG-powered trash trucks that can track our trash and recycling habits. (Why else do you need RFID-identified trash carts?) The TARE board seemed uninterested in the public's wishes, seemed to be imposing this new policy For Our Own Good whether we liked it or not.
Bartlett Jr refused to replace TARE board members with new members who would be more sympathetic and responsive to public wishes. The City Council explored disbanding TARE and bringing the trash service back under city government, but TARE's status as a Title 60 trust made it impossible to disband TARE without TARE's consent.
So let's see the legislature reform Title 60 so that a city's elected officials can reign in and if necessary disband a rogue trust or authority. Provide a way to deal with an authority's outstanding debts, so they can't be used to prevent the sunsetting of an authority that has outlived its purpose, as TARE has done. (TARE was created to finance the construction of the city's trash-to-energy plant, paying back construction bonds with the trash service revenue. The facility is now privately owned.)
Add a provision to allow a city's governing board to appoint new authority members if the mayor refuses to make an appointment when a member's term expires. (Tulsa has a charter amendment that gives the City Council the authority to make appointments when the mayor refuses, but the City Attorney's office has opined that the TARE board is exempt from the requirement because of the way in which the authority was created. The law I'm suggesting could close this loophole.)
It's simple to author a resolution expressing the sense of the Legislature, an opinion on a subject, which is about all that HB1412 is. Writing effective legislation is not simple, and I would urge the legislators and the activists who support HB1412 to dig deeper and to write laws that protect Oklahomans whether or not Agenda 21 and the United Nations are involved. Pass HB1412 if you like, but it won't have any meaningful effect, and indeed it may lull you into a false sense of security.
BE IT ENACTED BY THE PEOPLE OF THE STATE OF OKLAHOMA:

SECTION 1. NEW LAW A new section of law to be codified in the Oklahoma Statutes as Section 100 of Title 60, unless there is created a duplication in numbering, reads as follows:

A. As used in this section, "political subdivisions" means any state, county, city, town, municipality, district, public local entity, public-private partnership or any other public entity of the state, a county, city, town or municipality.

B. The state or any political subdivision of the state shall not adopt or implement policy recommendations that deliberately or inadvertently infringe upon or restrict private property rights without due process, as may be required by policy recommendations originating in, or traceable to United Nations Agenda 21/Sustainable Development and any of its subsequent modifications, a resolution adopted by the United Nations in 1992 at its Conference on Environment and Development held in Rio de Janeiro, Brazil and commonly known as the Earth Summit and reconfirmed in its Rio+20 Conference held in Rio de Janeiro in June 2012, or any other international law or ancillary plan of action that contravenes the Constitution of the United States or the Oklahoma Constitution.

C. Since the United Nations has accredited or enlisted numerous nongovernmental and intergovernmental organizations to assist in the implementation of its policies relative to United Nations Agenda 21/Sustainable Development around the world, the state and all political subdivisions of the state shall not enter into any agreement, expend any sum of money, receive funds contracting services or give financial aid to or from any nongovernmental or intergovernmental organizations accredited or enlisted by the United Nations.

SECTION 2. This act shall become effective November 1, 2013.