Why is Dewey Bartlett Jr raising money in Oklahoma City?
And why is the Oklahoma Republican Party promoting the fundraiser of one of three Republican candidates in the Tulsa mayor's race? (UPDATE: See below.)
Oklahoma City seems like a very odd place for the Mayor of Tulsa to have a fundraising event. Why not pay a Tulsa hotel and Tulsa caterers and keep those dollars generating sales taxes here?
Below is the invitation, on Oklahoma Republican Party letterhead. That's odd, too. There are three Republican candidates in the mayoral primary (Dewey Bartlett Jr, Jerry Branch, Bill Christiansen) so the state party should not be taking sides at this point. If we wind up with a runoff between a Democrat and a Republican, then it would be fine for the state party to get involved, but helping one candidate raise money at this point violates the spirit, if not the letter, of the state party's rules.
Here's the list of hosts:
Ron Atchley, Mr. & Mrs. G.T. Blankenship, Harold Hamm, MaryAnn & Jack Hodges, Mike McDonald, Jeff McDougall, Ray Potts, Joe Warren, David Willis, Dick Bogert, Barbara & F.W. "Pete" Brown, Frank Harrison, Lance Ruffel and Ronnie Irani
The giving levels at the bottom of the invitation define "host" as a $5,000 donor, which suggests that this may already be a $70,000 event. Why would an Oklahoma City resident want to give that much money to influence an election for Tulsa city government?
Oh, and the fundraising company? Cothran Development, based in Ada.
UPDATE 2013/05/23: Yesterday, the Oklahoma Republican Party sent an invitation to a Saturday fundraiser in Tulsa for Bill Christiansen: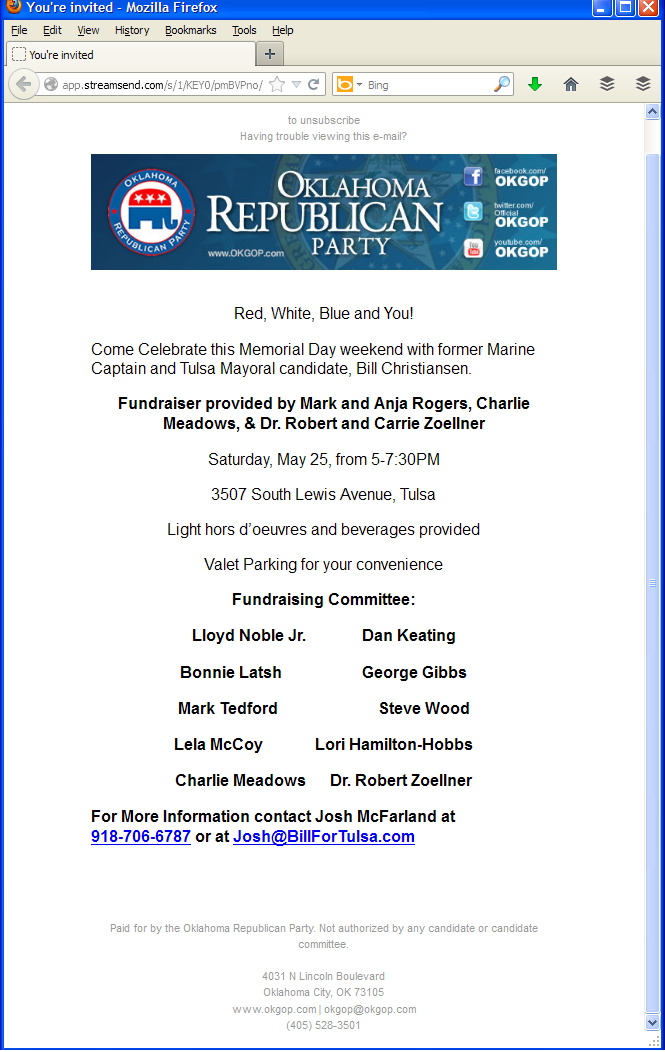 The invitation notes that the fundraiser is "provided by Mark and Anja Rogers, Charlie Meadows, & Dr. Robert and Carrie Zoellner" and lists the following names as the fundraising committee: Lloyd Noble Jr., Dan Keating, Bonnie Latsh, George Gibbs, Mark Tedford, Steve Wood, Lela McCoy, Lori Hamilton-Hobbs, Charlie Meadows, Dr. Robert Zoellner.
My guess is that someone from the Bartlett campaign asked state GOP headquarters for help getting word out about their Oklahoma City fundraiser. State party officials, unaware that there's effectively a Republican primary in progress, complied with the wishes of the incumbent Republican. After some blowback from Christiansen supporters, they extended the same opportunity to Christiansen. That's my speculation. I have seen this sort of thing before -- establishment Tulsa types trick OKC allies into taking sides in an intramural Tulsa dispute by not letting them know that there is a dispute and Republicans on both sides of the issue. Grassroots Republicans would do well to give the state GOP, AFP Oklahoma, and similar groups a heads-up when this is likely to occur.
UPDATE 2013/05/24: KRMG's Steve Berg covers the story and this blog entry.