Tulsa Election 2013: Mayoral Debate video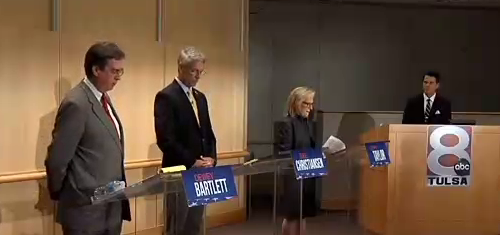 KTUL has posted video from Wednesday's League of Women Voters debate between incumbent Mayor Dewey Bartlett Jr, former Councilor Bill Christiansen, and former Mayor Kathy Taylor. It's not all in one piece and their site is a bit difficult to navigate, so here are direct links to each clip. The first five clips were filmed with each candidate individually; the remainder are responses at the debate to questions from the audience:
Qualifications
City budget
Economic development
Public safety
Streets
Tax structure changes
How to attract jobs without an incentive fund
Chloramine in the city water supply
How to attract retail to north Tulsa
PLANiTULSA
Living wage for city employees
How to improve the health of Tulsa residents
Closing remarks
KTUL has posted some post-debate analysis on their site. I haven't watched all of the debate yet. I spent Wednesday evening at an awards ceremony where students in Tulsa Bible Church's Awana chapter were honored for achievements in memorizing Scripture. More important in the long run, I think. Something like 17 high school students were honored for completing the entire, rigorous program. Awana is an international organization; TBC has one of the most active chapters in the country.