Kathy Taylor's runoff problem
Runoff was one of the topics mentioned in Tulsa mayoral candidate Bill Christiansen's press conference on Wednesday, May 29, 2013, about the questionable ethics of his principal opponents, former mayor Kathy Taylor and incumbent mayor Dewey Bartlett Jr.
The runoff under discussion isn't the election that will be held in November should no candidate get more than 50% of the vote in the June 11, 2013, non-partisan primary election. It's the runoff that happens when rainfall meets roof, patio, driveway, and parking lot -- any impervious surface that blocks water from being absorbed into the soil. The water has to go somewhere, and the somewhere is downhill, through neighboring properties to the nearest storm drain or creek channel.
In 2007, during Taylor's term as mayor, the City of Tulsa bought and cleared the home of Kathy Taylor's neighbor to the southeast. The allegation is that hundreds of thousands of taxpayer dollars -- perhaps half a million or more -- were spent on this project to mitigate damage from increased stormwater runoff resulting from the construction of Kathy Taylor's monstrous Midtown mansion. Put another way, Kathy Taylor's conspicuous consumption, it is alleged, made a mess that Tulsa taxpayers have paid dearly to clean up. The facts (detailed after the jump) seem to back up the allegation.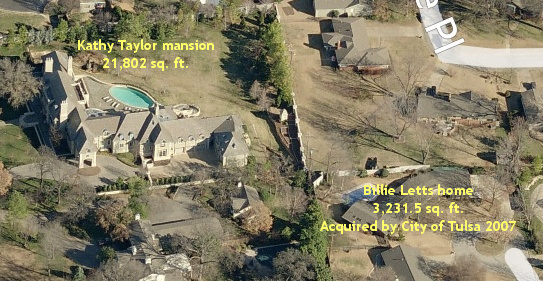 Here are the facts:
The neighbor in question is award-winning novelist Billie Letts. (She is the mother of playwright Tracy Letts, author of the Tony Award winning August: Osage County.) In 2001, she and her husband Dennis Letts bought a 3,231.5 sq. ft. ranch-style home at 2920 S. Delaware Ave. for $292,000. Trulia, drawing on pre-demolition county records, shows that the home was built in 1955 and had 2.5 baths.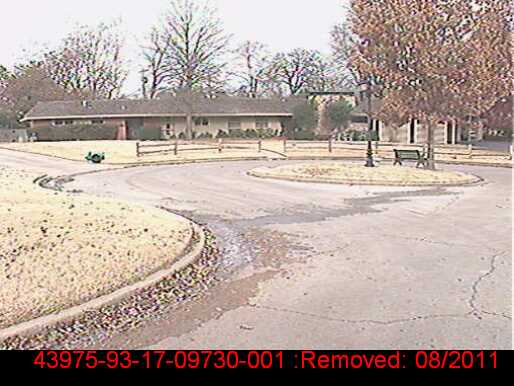 Photo of the Letts home, now demolished, from the Tulsa County Assessor website
In 2003, Kathy Taylor and her husband Bill Lobeck built a mansion at 2811 S. Columbia Pl., just south of the Tulsa Tennis Club. According to county assessor's office records available online, the structure has 21,802 sq. ft. of livable space, including a finished basement, plus 2,767 sq. ft. of garage and porch space, plus 1,492 sq. ft. of additional basement space. Assessor records list two separate buildings, one completed in 2003, the other in 2008, but aerial photographs available through TerraServer show the full footprint of the compound under construction but substantially complete in April 2000 and complete in July 2003.
Based on the sketches in the assessor records (sketch 1, sketch 2), the mansion itself covers 10,803.5 sq. ft. of ground, not counting the patio, the pool, and the driveway. From satellite photos, it appears that at least a third of the parcel's 2.24 acres are impervious. Pre-mansion satellite photos and Sanborn fire insurance maps indicate the previous home on the property had a much smaller footprint than the Kathy Taylor mansion. Shadows on satellite and aerial photos suggest that the terrain has been altered in such a way as to channel stormwater runoff away from the east fence, away from the mansion to the west, and toward the southeast corner of the property.
The former Letts lot is adjacent to the Kathy Taylor mansion's lot to the southeast. Topographical maps show a shallow valley from the Kathy Taylor mansion lot southeast through the Letts lot, then east-southeast across the northern part of the John Knox Presbyterian Church property toward Lakewood Lake, an impoundment of Joe Creek just north of 31st Street between Florence and Gary Avenues. There is a storm drain on the east side of the Delaware Ave. cul-de-sac.
From topographical map browser on USGS.gov. Contour intervals are 10 feet. Red contour lines and shading are as of 1952. Marker shows approximate location of Kathy Taylor mansion.
On December 13, 2007, the City of Tulsa purchased the Letts home (instrument no. 2007136917). The price paid is not shown in online land records. County clerk records show that the home's mortgage had been refinanced in September 2005 for $346,000, and that the mortgage was released in January 2008 (instrument 2008000113). Zillow estimates that the home would have been worth $356,000 in December 2007. Zillow also shows that property taxes were $3,870 on a tax assessment of $34,915.
The city's acquisition of the Letts home came during the period between Dennis Letts's diagnosis with cancer in September 2007 and his death on February 22, 2008.
The News on 6 report on the Kathy Taylor mansion flooding issue quoted former Public Works Director Charles Hardt:
The Public Works Director at the time says the 29th and Delaware area had chronic flooding before Taylor's home was built. Charles Hardt says during the construction of Taylor's home, the city built a detention pond and storm sewers nearby that reduced flooding in the area.

When the neighbor's home still flooded, the engineering department looked at its options and decided the most cost-effective choice was for the city to buy the flooded home and tear it down.

Hardt said it's just one of the 1,500 homes the city bought during his 30 years on the job.

So was this a routine city acquisition of a flood-prone home? I checked the Master Drainage Plan for upper Joe Creek (north of I-44). This report was part of a comprehensive stormwater planning effort that Tulsa undertook after the disastrous 1984 Memorial Day Flood. A storm stalled over Tulsa, dumping over a foot of rain on the city in 24 hours. Any home that was ever going to have a flooding problem under then-existing terrain conditions would have had one on Memorial Day 1984.
In the aftermath, Tulsa officials developed a stormwater management plan, enacted a monthly fee for maintaining the system, and commissioned master drainage plans for every creek basin in the city. Tulsa's system has been nationally recognized. (This EPA manual has a good summary of Tulsa's flooding history and the development of our stormwater program on pages A-18 through A-25. And here's a summary of Tulsa's flooding history on the City of Tulsa website. Another well-illustrated history of Tulsa flooding and mitigation: From Harm's Way: Flood Hazard Mitigation in Tulsa, Oklahoma.)
These master drainage plans mapped the city's topography to 2-foot elevation intervals, outlined areas within the flood plain, identified specific trouble spots, and listed hundreds of threatened homes individually. You can find a collection of Tulsa's Master Drainage Plans in the government documents collection on the fourth floor of Central Library downtown.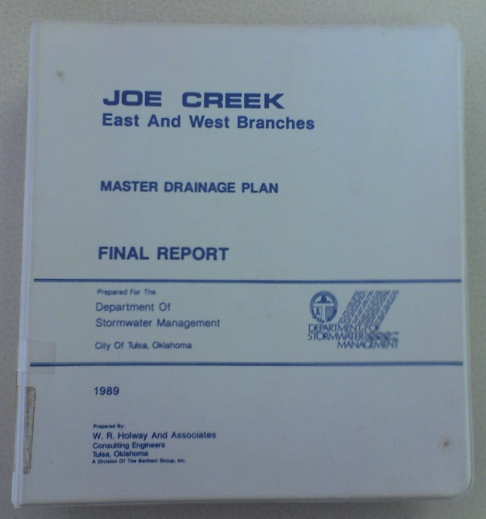 Kathy Taylor's mansion is and Billie Letts's home was just within the drainage basin of the west branch of Joe Creek, very near the divide between the Joe Creek basin and the Crow Creek basin.
Charles Hardt's statement doesn't square with the Master Drainage Plan for the area. 2920 S. Delaware Ave. wasn't listed as a threatened home in the 1989 report -- just five years after worst flooding disaster in Tulsa history -- nor were any nearby homes. The 2900 block of S. Delaware isn't listed as a trouble spot for localized flooding due to inadequate storm drains. Several minor tributaries of Joe Creek are identified, but there isn't a creek here. There are no recommendations to build detention ponds or storm sewers to relieve a problem in this area.
Tulsa's stormwater fee is a flat rate for single-family residences: $5.43 per month. It's the same for every homeowner, no matter how much ground you've paved over or built on. (Commercial properties pay a fee based on area, proportional to the single family rate, which assumes 2,650 sq. ft.) In Tulsa, there are no impact fees when someone tears down a small house and builds one in its place with a much larger footprint.
The stormwater impact of "mansionization" is a recognized problem that has led some cities to enact tighter restrictions on lot coverage or to assess impact fees based on changes to lot coverage and elevation during redevelopment.
What follows is my opinion based on the information you see above:
The construction of Kathy Taylor's massive mansion covered a significant amount of previously permeable open space. The change resulted in more water flowing downhill out of Taylor's parcel and into Letts's backyard, causing flood damage to Letts's home. The solution to the problem caused by Kathy Taylor's mansion was for city taxpayers to purchase Letts's house, demolish it, and take a prime piece of midtown real estate (a lot at the end of a long cul-de-sac) off the tax rolls forever.
The cost to taxpayers is not known, but home value estimates and mortgage amounts suggest it was at least $346,000 simply to buy the home, not counting any demolition costs or other compensation. Hardt's comment about the city building drainage ponds and storm sewers suggest the total cost to taxpayers is much greater.
As with the $7.1 million Great Plains Airlines bailout, it would seem that Tulsa taxpayers were stuck with a hefty bill to fix a problem of Kathy Taylor's creation.
0 TrackBacks
Listed below are links to blogs that reference this entry: Kathy Taylor's runoff problem.
TrackBack URL for this entry: http://www.batesline.com/cgi-bin/mt/mt-tb.cgi/6869