"He heals the brokenhearted and binds up their wounds."
You'll be touched and encouraged by two very different stories linked by a common theme: People who are serving as God's hands to heal the brokenhearted and bind up their wounds.
The Folds of Honor Foundation's cottage at Crosstimbers Marina, dedicated Memorial Day weekend, welcomes its first guests this weekend, the widow and children of Technical Sergeant Jason Norton. They will enjoy the peaceful atmosphere on the shore of Skiatook Lake free of charge as guests of the Owasso-based foundation, which also provides scholarships to military children. Our family attended the dedication of the Folds of Honor cottage on Memorial Day weekend; it is a beautiful setting.
Crosstimbers Marina, with the help of countless volunteers and donors, built the cottage for military families to enjoy.

"The vast majority of this $350,000 furnished cottage all came from donations, and so Green Country is a wonderful place," said Ron Howell, of Crosstimbers Marina....

"Psychological problems have always been a difficulty of war, but this one has been a particularly horrific one to go through," Howell said.

The honor cottage is intended to help military families who've lost loved ones, or injured military men and women and their families, to enjoy a peaceful, relaxing setting, while getting their minds off what they've been through.

"Not so much about war and the terrors of war, but more about there is a normal world again, and here's a way to return to it," Howell said.
TSgt Norton was killed in the line of duty in 2006 while escorting a convoy in Iraq, giving his own life for the protection of others.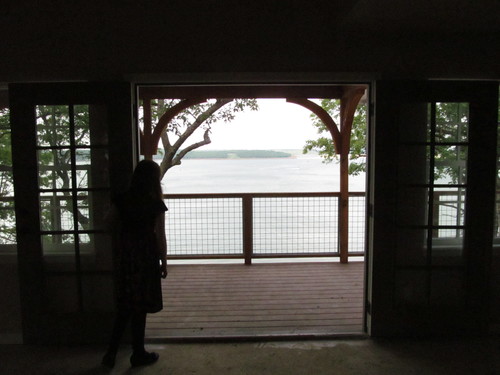 In Philadelphia last week, Dawn Eden, author of My Peace I Give You: Healing Sexual Wounds with the Help of the Saints, spoke at the graduation of Project Dawn Court, an alternative justice and rehabilitation program that aims to break women free from the chains of prostitution and enmeshment in the criminal justice system. The program involves substance-abuse and sexual-trauma counseling. Her speech was a follow-on to a talk she gave at the women's jail in Philadelphia. She learned from the public defender that women in prostitution are often the victims of childhood sexual abuse and that homelessness is often the deciding factor that turns an abuse victim into a prostitute.
Dawn spoke about her own experience of childhood sexual abuse and about the power of God that has worked healing in her life, a healing that extends to painful memories:
I used to think that the only way I could heal from the pain of my past was by simply blocking out my memories of the past. But I found that if I tried to block out the past completely, it would come back in painful ways - through flashbacks, or nightmares. What I have learned over time, and what I want to share with you, is that memory is not the enemy.

The key to healing is not to forget your past, but to find moments in your past when someone did something kind for you, when someone protected you, when someone smiled at you, when someone performed an act of love for you without expecting anything in return. If you cannot find a moment when another human being showed you kindness or love, find a moment where you could have lost your life - but you didn't. And when you remember that, know that it was no accident that your life was saved. Your being alive today is no accident. God loves you, and God has sustained you all your life, even in the midst of evil, because He wanted to bring you to this beautiful new day.

So find those good memories, and build your identity upon them. Because your identity is as a beautiful and beloved daughter of God. Thank you and God bless you.

I'm reminded of the verse Dawn used in the dedication of her first book (The Thrill of the Chaste), referring to those who worked for her firing from the New York Post, Genesis 50:20: "As for you, you meant evil against me, but God meant it for good, to bring it about that many people should be kept alive, as they are today." Her next-to-last paragraph echoes a Hebrew blessing to which she introduced me many years ago, Shehecheyanu.
Blessed art Thou, Lord Our God, King of the Universe, who has granted us life, sustained us, and brought us to this day.
TAKE ACTION:
You can support Folds of Honor Foundation, helping them to provide scholarships to the children of fallen American servicemen and servicewomen and to build and furnish more cottages and havens for these families.
Dawn Eden is working toward a doctorate with the aim of teaching theology at the collegiate level. Earlier this year she completed the first step in the process, a Bachelor of Sacred Theology degree. She accepts PayPal donations to fund travel to give talks like the one she gave at the Project Dawn Court graduation. If you'd like to fund her ministry, you can donate here.