Roscoe Turner, RIP
Services for Roscoe Turner will be held at First Baptist Church, 4th & Cincinnati in downtown Tulsa, Monday, January 27, 2014, at 11:00 a.m., with interment at Rose Hill Cemetery. Visitation will be held at Moore's Memory Chapel, 1403 S. Peoria, from 10:00 a.m. to 8:00 p.m., Saturday, January 25, and 1:00 p.m. to 8:00 p.m., Sunday, January 26. Family will receive visitors from 1:00 p.m. to 3:00 p.m. Sunday.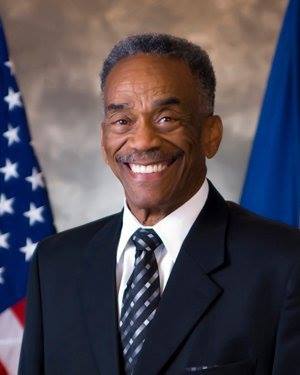 Earlier this week we received the sad news of the passing of a dear friend and one of Tulsa's finest public servants. Roscoe Turner, who served several terms as city councilor for District 3 in northeastern Tulsa, died Tuesday at the age of 81.
I first met Roscoe in 1998 at a neighborhood expo, part of Tulsa's centennial celebration. He was manning the booth for his neighborhood, the Sequoyah Neighborhood Association. (I remember he had a display with the history of the street names in the neighborhood.) As we got acquainted, it became clear that, despite our different party labels, we were on the same page: Making sure that the voices of Tulsans from all parts of the city were heard and heeded at City Hall. We were both running for City Council, and we both lost our primaries, but Roscoe would go on to win a special election that fall after Councilor David Patrick stepped aside to run for state representative.
Roscoe's time on the City Council was off-and-on, defeating or being defeated by Patrick. Turner had lost to Patrick in the 1996 and 1998 primaries, won the 1998 special (against Patrick's sister Synna), won re-election in 2000, lost to Patrick in 2002, won the seat back in 2004, kept it in 2006, lost it in 2008 when Patrick ran as an independent, won the seat back in 2009, and then lost it again in 2011, after a redistricting that seemed designed to take away his electoral base. This fall would have been Roscoe's first opportunity since 2011 to win back the seat. The series ends, forever tied at 5-5.
In 2004, there were more voter irregularities -- Republicans, who had no city primary, were given ballots to vote in the Democratic primary -- than the three-vote margin of victory for David Patrick. A district judge called a new election, which Roscoe won. And with that victory Tulsa had its first council majority not beholden to the Cockroach Caucus. I called them the Reform Alliance; detractors called them the Gang of Five: Jack Henderson, Jim Mautino, Chris Medlock, Sam Roop, and Turner. Together they fought for transparency, for the concerns of ordinary Tulsans, particularly those from the edges of our city, whose priorities are so often ignored at City Hall, for a city government that serves all Tulsans, not just a favored few.
Throughout his involvement in Tulsa politics, Roscoe Turner reached across partisan, racial, and geographical boundaries to make common cause for the betterment of all Tulsans. His detractors accused him of a parochial focus on his district's needs, but in truth they would have gotten along fine with him had he been content to trade his vote for District 3 pork barrel.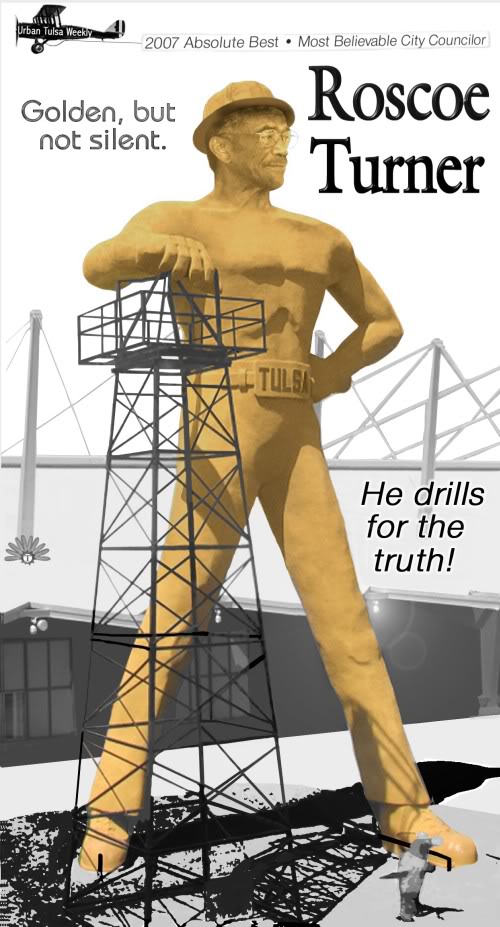 What really made them angry was that he joined with other councilors to support neighborhood concerns about zoning and planning, to put rebuilding Tulsa's infrastructure ahead of fueling suburban growth, to investigate the handling of taxpayer funds, to ensure our economic development funds were wisely spent, to oppose regressive sales tax increases that would have funded corporate welfare and unnecessary frills, and to promote retail development within Tulsa's city limits.
FDR said in 1932, "Judge me by the enemies I have made." For a retired boiler inspector and neighborhood association leader, Roscoe Turner made some impressive enemies. Roscoe was almost always outspent in his campaigns. The Tulsa Regional Chamber's political arm, development lobby PACs, and the wealthiest man in Oklahoma gave money to get him off the council. So did a number of out-of-state CEOs, colleagues and associates of Kathy Taylor's husband Bill Lobeck. The Tulsa World editorial board (now, we note thankfully, under new ownership) had plenty of unkind words about Roscoe over the years. With the help of Dewey Bartlett Jr's campaign consultant, council district lines were radically redrawn in 2011, removing Turner's strongest precincts and adding precincts where voters didn't know him personally and where public opinion was shaped solely by a relentless PR campaign against Turner and his council allies.
And so it was bothersome to hear local news outlets asking those who were Turner's bitter opponents in life to give a valedictory pronouncement on his death. Wouldn't it have been lovely if his political adversaries had shown him as much respect in life as they did in death?
You could judge Roscoe by the friends he made, too. He won over constituents who had backed his opponent by pursuing their concerns doggedly, when other politicians might have shrugged and said that nothing could be done. A Democrat and a liberal, Roscoe became the favorite Democrat of conservative Tulsa Republicans, sharing their commitment to transparency and their opposition to crony capitalism. He was a leader of the successful opposition to the Tulsa County tax increase for river projects and the ill-begotten Vision2 tax for corporate welfare and pork barrel.
Former councilor Rick Westcott described Roscoe Turner as a kind man, but a lion when fighting for his constituents and the citizens of Tulsa. He drilled for the truth. As a councilor, Roscoe Turner asked direct questions of city officials and board members, even if they made someone uncomfortable. If something seemed amiss he did not hesitate to declare, "I've got a problem with that." He never backed down from his principles. For good reason, he was honored as "Tulsa's most believable city councilor."
The apostle Paul wrote to Christians in Galatia: "And let us not be weary in well doing: for in due season we shall reap, if we faint not." Roscoe Turner was never weary in well-doing, despite many setbacks and discouragements. How many of us would give up after a single defeat? Roscoe kept going through five defeats, numerous lawsuits, and plenty of scorn and derision. He had every reason to ignore politics and concentrate on enjoying his retirement, but instead he stayed engaged in the political process on behalf of District 3 residents and Tulsans from all parts of the city who looked to him for leadership. At the heart of his persistence, I believe, was a sense of divine calling to serve his community by giving voice to their concerns.
Last week, a day or so after Roscoe's passing, someone complained of unjust behavior by a city board member and asked what could be done to correct. I replied that we'd need a council of nine Roscoe Turners -- men and women with the guts to reject a bad mayoral appointee -- if we want to have boards and commissions filled with true public servants.
Whether he was on the City Council or off, Roscoe Turner was a faithful voice not only for his district, but for all Tulsans, particularly ordinary Tulsa residents who don't have lobbyists and lawyers to speak on our behalf. What kept Roscoe going through victory and defeat, through slanted coverage and editorial condemnation, were his unshakeable faith in his Lord and Savior Jesus Christ, in whose presence he now rejoices, his devotion to the service of his neighbors and his city, which desperately needs leaders of his caliber, and the constant encouragement of his loving wife Nancy, who is in our prayers. It was a blessing and an honor to count Roscoe as a friend and ally.
1 TrackBacks
Listed below are links to blogs that reference this entry: Roscoe Turner, RIP.
TrackBack URL for this entry: http://www.batesline.com/cgi-bin/mt/mt-tb.cgi/7074
Today is the final day of the filing period for the 2014 City of Tulsa elections. For the first time since 2011, all nine council seats are on the ballot at the same time, along with the City Auditor's seat. You may find this news puzzling. Yes, there ... Read More