Happy birthday, Ken Yazel!
Today is the birthday of Tulsa County Assessor Ken Yazel, and it seems as good a time as any to salute him for his hard work on behalf of Tulsa's taxpayers these past 12 years. Ken is running for re-election to a fourth four-year term, and I encourage you to give him your full support. You can "like" his Facebook page and get updates on opportunities to volunteer for his campaign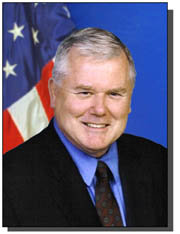 A couple of weeks ago, at the Oklahoma Growth and Opportunity Summit, Steve Anderson, the former budget director for the State of Kansas, explained how the state went from a prospective $500 million shortfall to a $500 million surplus under the leadership of Gov. Sam Brownback, while still cutting income tax rates. One of the keys was to bring all money under the control of state agencies through the budgeting and appropriation process, including leftover money from previous years. Another important step was to eliminate many of the earmarks that siphoned off state revenue before it ever reached the budget process.
Ken Yazel, who, as County Assessor, is a member of the County Budget Board, has been fighting for those same reforms in Tulsa County. Rather than ask the citizens for more tax dollars to pay for needed projects, Yazel wants to fund those projects from money the county already receives. He wants all county money come through the budget process to be prioritized, rather than allowing each elected official to have his own pot of money outside the scrutiny of the budget system. Yazel has called for the people to decide whether to allocate surplus Vision 2025 funds (the tax will be collected through 2016) for jail and juvenile justice facilities, rather than allowing it to be spent on lower-priority projects.
What I wrote about Ken Yazel during his last run in 2010 still holds true today:
Yazel has at times been the lone voice at the County Courthouse raising concern about wasteful spending and deceptive budget numbers. He has been one of the few elected officials to speak publicly against tax hike initiatives like the River Tax.

Yazel has also defended taxpayer interests by insisting on fair property assessments for everyone, even the very wealthy. If someone builds a $25 million house, they ought to pay property taxes on the full amount; otherwise, property taxes go up for the rest of us to make up the difference. Because Ken Yazel stands up for all taxpayers, the very wealthy have made him a target. We need to stand up for him.

Ken Yazel has also been a great friend to public access to public records. Public means online, and Ken Yazel added to the county assessor website the ability to search the Tulsa County assessor property database online. You no longer have to go to the library to find out who owns a piece of property or how much it's worth. You no longer have to ask the County Commissioners permission and pay a monthly fee to access this public information. My story on where the named members of Save Our Tulsa live and the median value of their homes would not have been possible without this valuable research tool. Oklahoma County has had this sort of tool for many years, while most Tulsa County officials resisted. Yazel's leadership on this issue alone is enough to earn my heartiest endorsement.
The County Assessor's website now includes an interactive map to find information about parcels of interest. You don't have to know the address -- you just navigate through the map and click. It puts a great deal of power in the hands of ordinary homeowners or home buyers trying to figure out what a piece of property is worth, and it's available anywhere, any time, day or night.
(By contrast, you can't search the County Clerk's land transaction records without going to a library, and you can't see the image of the transaction without going to the clerk's office during working hours.)
I encourage you to get involved in Ken Yazel's re-election campaign. Your next opportunity is a volunteer day tomorrow, February 28, 2014, 10:30 a.m. to 3:30 pm, at the campaign HQ at 909 B South Lynn Lane in Broken Arrow.
0 TrackBacks
Listed below are links to blogs that reference this entry: Happy birthday, Ken Yazel!.
TrackBack URL for this entry: http://www.batesline.com/cgi-bin/mt/mt-tb.cgi/7150