Pizza in Tulsa: Shakey's menu, summer 1967
Jane Dunlap Maxey posted this on the Facebook group "North Tulsa 50's 60's & 70's - The Real Outsiders." It's a menu from Shakey's Pizza, labeled summer 1967. I thought it deserved reposting in a more permanently accessible location.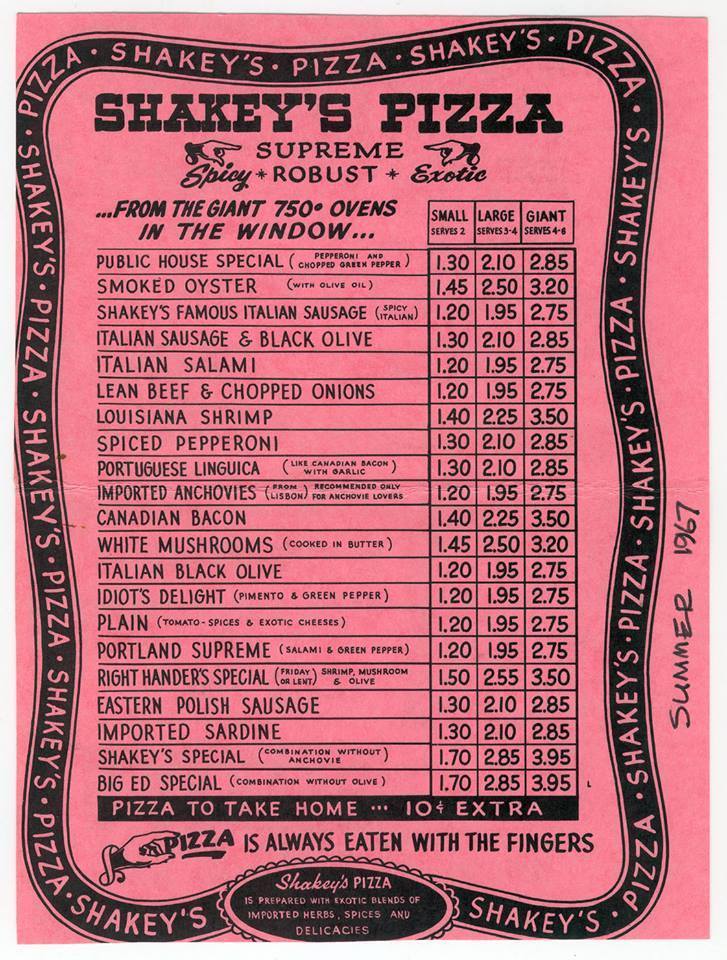 Shakey's Pizza
Spicy - Supreme - Robust - Exotic
... From the giant 750° ovens in the window ...

Public House Special (pepperoni and chopped green pepper)
Smoked Oyster (with olive oil)
Shakey's Famous Italian Sausage (spicy Italian)
Italian Sausage & Black Olive
Italian Salami
Lean Beef & Chopped Onions
Louisiana Shrimp
Spiced Pepperoni
Portugese Linguica (like Canadian bacon with garlic)
Imported Anchovies (from Lisbon) recommended only for anchovie lovers
Canadian Bacon
White Mushrooms (cooked in butter)
Italian Black Olive
Idiot's Delight (pimento & green pepper)
Plain (tomato - spices & exotic cheeses)
Portland Supreme (salami & green pepper)
Right Hander's Special (Friday or Lent) shrimp, mushroom & olive
Eastern Polish Sausage
Imported Sardine
Shakey's Special (Combination without anchovie)
Big Ed Special (Combination without olive)

Pizza to take home ... 10¢ extra

PIZZA IS ALWAYS EATEN WITH THE FINGERS

Shakey's Pizza is prepared with exotic blends of imported herbs, spices, and delicacies.
It was a highlight of going to Shakey's (or Shotgun Sam's) to get to look through the window at the pizza dough being tossed and the pies being slid into the ovens.
Some mysteries... perhaps you can solve them:
What exotic cheeses were used in the plain pizza? And doesn't that undermine the notion of "plain"?
What was it about the combination of pimento & green pepper that especially delighted idiots?
If the Shakey's Special = ( Combination - Anchovies ) and Big Ed Special = ( Combination - Olive ), what else was in the Combination besides anchovies and olives?
Why do they call a pizza compliant with Catholic dietary restrictions of the time (no meat on Fridays or in Lent) a Right-Hander's Special?
Portland was a thing in 1967?
According to my copy of the 1966 Tulsa telephone book, Shakey's Pizza had two locations: 3647 S. Peoria (TEmple 5-1529) and 9124 E. Admiral (RIverside 7-1331).
Other advertisers in the "Pizza" section of the Yellow Pages that year:
Irish Mike Clancy's Pizza Village Inn, 1060-B S. Mingo Rd.
Johnny Reb's Pizza Parlor, 5651 W. Skelly Dr.
Ken's Pizza Parlor, 3024 E. 11th St, 1515 S. Sheridan
Lea's Italian Pizzeria, 1605 E. 15th St., 4207 S. Peoria, 3632 N. Peoria, 4631 E. 31st. St., 3945 E. Admiral Pl. (Midtown, Southside, Northside, Eastside, and Northeast, respectively)
The Pizza House, 6545 E. 11th St.
Pizza Hut, 5951 E. 31st St., 5303 E. 11th, 4201 S. Peoria
Pizza Inn, 7737 E. 21st St.
Sussy's Pizza, 2918 E. 11th St.
Tulsa Maiden Drive-In, 1204 S. Peoria
Tulsa Pizza Co., 912 W. Admiral
The Villa, 1546 S. Sheridan Rd.
Johnny Reb's ad invited the reader to
BRING THE FAMILY Old German Style Dark Beer 20 Varieties of Pizza Dine In or Pizza To Go Close To Motels
The Villa boasted "delicious Pizza Baked on Bricks" and "Black Beer." Ken's had "light and dark tap beer" and assured the reader that their pizza was "Made Fresh When Ordered." Pizza Inn offered "an environment for the whole family, light & dark beer, poor boy sandwiches, salads" for dine in or carry out.
MORE: Here's a montage of photos, ads and menus from Shakey's, set to banjo music. Unfortunately, Shakey's classic jingle -- "Shakey's is shakin' up... pizza, people!" -- has yet to make it to the internet.