Tulsa, April 18, 1914: Majestic Theater reopens
On this day 100 years ago, Tulsa's "new" Majestic Theater opened its doors to the public. The grand opening was announced with an ad and story on page 5 of the previous day's Tulsa Daily World: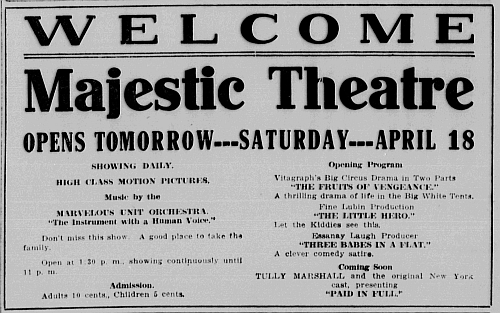 WELCOME
Majestic Theatre
OPENS TOMORROW---SATURDAY---APRIL 18

SHOWING DAILY.

HIGH CLASS MOTION PICTURES.

Music by the

MARVELOUS UNIT ORCHESTRA.
"The Instrument with a Human Voice."

Don't miss this show. A good place to take the family.

Open at 1:30 p.m., showing continuously until 11 p.m.

Admission.
Adults 10 cents, Children 5 cents.

Opening Program

Vitagraph's Big Circus Drama in Two Parts
"THE FRUITS OF VENGEANCE."
A thrilling drama of life in the Big White Tents.

Fine Lubin Production
"THE LITTLE HERO."
Let the Kiddies see this.

Essanay Laugh Producer
"THREE BABES IN A FLAT."
A clever comedy satire.

Coming Soon
TULLY MARSHALL and the original New York cast, presenting
"PAID IN FULL."
The accompanying news item:
Messrs. McCarty & Rothstein take great pleasure in announcing the opening tomorrow, Saturday afternoon and evening, of the New Majestic theater. During the past month the theatre has been in the hands of carpenters, painters, decorators, etc., and has been completely altered and improved, now presenting a most attractive appearance, one that will meet with the approval of all patrons. The house will be under the personal management of B. F. Rothstein, lately associated with Harry Davis, the well-known theatrical and motion picture magnate. It will be devoted exclusively to high class motion pictures and feature films in which appear the leading actors and actresses of the world, depicting the great theatrical successes. At an approximate expense of $10,000 the management has installed on of the famous Wurlitzer Unit orchestras, which combines piano with all orchestral acompaniements, such as horns, flute, violin, drums, cello, castanets, tambourine, whistles, bells, chimes, xylophones and traps. The management, at considerable additional expense secured a well-known artist of Dallas, Texas, to preside over this wonderful instrument. Recitals will be given afternoon and evening, thus affording the music-loving public a rare treat. It is the only instrument of its kind in the entire state of Oklahoma and weighs in the neighborhood of 6,000 pounds.
Reading through the puffery, it appears that this is a reopening after a remodel, rather than the opening of a new building.
What isn't clear is where this was. In 1910, the Bijou Theater sat at the corner of 4th and Main. In 1917 (according to Sanborn Maps), the new, new Majestic was built next door at 406 S. Main, and remained standing until demolished for the present occupant, a parking garage that takes up the north two-thirds of the block between Main, Boulder, 4th and 5th. Tulsa was small enough, and the business district was compact enough, that there was no need to clutter up a theater ad with an address.