Oklahoma primary election day 2014
Results should start rolling in soon after 7 p.m. The Oklahoma State Election Board website will update results as they are received from the county election boards. Although results are posted on each precinct door shortly after the polls close, a precinct's results have to be taken to the county election board to be read into the state election computer system. Be aware that the county election boards will not process and transmit the tallies from individual precincts to the State Election Board computers until all absentee ballots (both in-person and by mail) are counted and posted. This was the cause for a significant delay in November 2012. Some media outlets may employ runners to go to the precincts directly in order to post initial results before Election Board numbers are ready.
A few resources as you go to vote: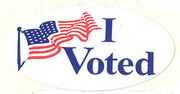 Happy Election Day! Polls open across Oklahoma at 7 a.m. and close at 7 p.m.
If you run into any difficulty voting or spot any irregularity, contact your county election board. The phone number for the Tulsa County Election Board is 918-596-5780.
Take it away, Leon!
Bob Wills and His Texas Playboys perform "Election Day" by Cindy Walker in the movie Wyoming Hurricane, starring Russell Hayden. Leon McAuliffe on vocals; Cotton Thompson, Bob Wills, and Jesse Ashlock on fiddle, Junior Barnard on guitar, Luke Wills on bass. And from the same movie, here's Cotton Thompson to deliver Cindy Walker's message for many of our candidates:
I hear you talkin', yes, I do,
But your talk-talk-talkin' don't ring true,
I'm listenin' politely, too,
But I don't b'lieve a word you say.

I hear you talkin', tellin' lies,
I can see it in those great big eyes.
I hear you talkin' wise,
But I don't b'lieve a word you say.

You say that I'm your honey-love,
That I'm all you're thinkin' of,
I hear you talkin', dove,
But you ain't been foolin' me.
Posted in the wee hours of Tuesday, June 26, 2010. Postdated to remain at the top of the blog through poll closing time.
MORE: For your amusement, the story of when Mary Fallin's first husband proposed to her -- at the Playboy Mansion.
0 TrackBacks
Listed below are links to blogs that reference this entry: Oklahoma primary election day 2014.
TrackBack URL for this entry: http://www.batesline.com/cgi-bin/mt/mt-tb.cgi/7243