Will Holland Hall's "Unfriendly Philosopher" keep Republicans from winning the Senate?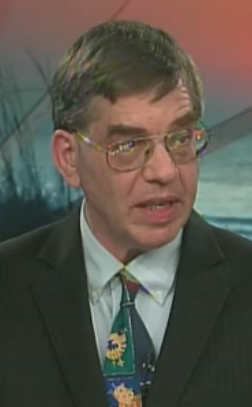 An alumnus of Tulsa's Holland Hall School may hold the key to control of the U. S. Senate. Sean Haugh, Holland Hall Class of 1979, is the Libertarian nominee for Senate in North Carolina. He is on the ballot with Democrat incumbent Kay Hagan and Republican State House Speaker Thom Tillis.
While Hagan is consistently polling below 50%, she still leads Tillis by 3.4% percentage points in the latest RCP average. In the latest Rasmussen poll, Hagan leads Tillis 48% to 46%, with 2% preferring "another candidate." A month ago, the gap was 45 to 39 with 6% preferring another candidate. The latest USA Today poll has a 0.4% lead for Hagan, with 4% preferring Haugh. NBC News' latest, from a week ago, had Hagan up by 4%, with 7% preferring Haugh.
Republicans are concerned that Haugh may act as a spoiler; if he were out of the race, the theory goes, most of his voters would prefer the Republican to the Democrat. The third-party spoiler effect has been claimed in the 1992 presidential election, with Ross Perot drawing disaffected Republicans; the 2000 presidential election, with Green Party nominee Ralph Nader accused of taking votes from Al Gore; the 2002 Oklahoma governor's race between Brad Henry, Steve Largent, and Gary Richardson; and last year's Virginia governor's race. The counterargument is that third-party candidates attract many voters who would otherwise stay home.
The Third Party candidate may not be drawing support in the way observers assume. In that USA Today poll, 9 of the 22 respondents who preferred Haugh said they would vote for Hagan if Haugh were out of the race, while only 4 would move their vote to Tillis; the other 9 were undecided or refused to answer. That's an exceedingly small subsample with a very high margin of error, but it suggests that Haugh may be helping to keep the race close rather than helping to protect the Democrat incumbent.
Sean Haugh graduated from Tufts in 1983 and spent much of his post-college life working as a Libertarian Party organizer and activist. He served as the executive director of the North Carolina Libertarian Party and the political director of the national party. He was the party's Senate nominee for this seat in North Carolina in 2002. He retired from politics in 2010 and now delivers pizza for a living.
Haugh's campaign manager is Rachel Mills, who served for six years as Ron Paul's communications director in his Washington office and worked on his presidential campaigns. In a blog entry, Mills explains that she offered her skills to Republican Greg Brannon, who lost to Tillis in the primary, and then offered to help Tillis, but both campaigns ignored her:
I met with (Republican Senate primary candidate) Greg Brannon first in January of 2013 and detailed my experience, and let him know I was available to him in any capacity he needed. Anything at all. He seemed really enthused, thankful - blessed, even - to have someone like me available for his team. But as soon as he brought on an official campaign manager, I got the old "We'll call you." treatment. I never heard back. When I finally said heck with it and volunteered to help with a mailing, it was made very clear to me that I was not welcome to even do that. Perhaps I'll never know why I was good enough to work side by side with Ron Paul for 5 years, but not good enough to lick envelopes for Brannon. Greg Brannon lost.

After it was clear Brannon wasn't having me, I approached Tillis. Told him I'd like to help him reach out to the liberty folks and bring the party together. I'm a pragmatic type and see this as a great approach. If you want them, let me help you understand them and figure out how to appeal to them. Let's ask for their vote. "That sounds great. We'll call you." I waited a long time. I even went to his primary victory party and met all the key people in person. I was sincere in my offers to help. I understand though, that he had a ton of resumes flying around his head, of course, and by no means was I a shoe-in or entitled there either. I do think I would have been a smart hire. Fine to disagree.

Then Sean called. Together we developed a very simple way to spread a tangible, common sense liberty message, straight to the people, non-focus grouped, what you see is what you get, delivered by an everyman, not a politician. Sean and I together have the political experience to know the rules enough to properly break them - hence the beer on camera, the casual demeanor, etc. We are also on a shoestring so we have to consider what Sean can do well - and that is to just be himself.

Sean might not win, but look what we've accomplished together! A Washington Post reporter flew down JUST to interview Sean in my toy-strewn basement! And that was just the beginning. He's had lots of national attention on all the major networks and is polling much stronger than expected. He's even included in a debate! It's been very professionally, though not financially, gratifying.
Mills concludes that the Republican establishment may have to learn the hard way, through some lost elections, that they can't take libertarian-oriented voters for granted.
Sean Haugh's YouTube channel is the heart of his voter outreach efforts.
About the title of this blog post: Sean was two years ahead of me at Holland Hall. It's impressive to see how little he seems to have aged. A few grey hairs, deeper lines on the face, perhaps, but otherwise much as I remember him. It looks like the haircut and glasses are pretty much the same style. We reconnected some years ago when he was back in Oklahoma on behalf of an initiative petition to improve ballot access for Libertarians and other third parties. More recently I've been keeping up with his opinions on Facebook and Twitter (@EmperorSean).
When we were both in school, a freestanding chalkboard was left in the Commons, next to the southeast stairwell, after a school-wide lecture, students began to use it as a kind of graffiti wall. Jim Ringold began writing short, upbeat commentaries on the board, signing his essays with "The Friendly Philosopher." Sean Haugh responded with a cynical take on school life, signing his screeds with "The Unfriendly Philosopher." At some point, I began writing on the board, becoming "The Unfriendly Philosopher's Apprentice" and inheriting the title when Sean graduated.
Toward the end of sophomore year, I had decided to run for student council vice president. The vice president was in charge of stocking and maintaining the school's pop machine. (I don't remember if it was Coke or Pepsi or a mixture of the two, but the families who owned the rival bottling plants each had children at HH.) Sean agreed to support me, but he insisted that, if I won, he'd be able to load the machine with Foster's Australian Lager, as a sort of final, pre-graduation act of defiance. I didn't win (Stacy Schusterman and Pam Bloodgood did), and even if I had, as a teetotaler in a teetotaling Baptist family, I wasn't likely to let that happen.
MORE:
Haugh, Hagan, and Tillis were part of a televised Senate debate tonight -- watch it online here. Tillis seems to say, "Sean is exactly right," as part of every answer.
Rebecca Berg of the Washington Examiner has a sympathetic profile of Sean Haugh. Berg confirms my impression of the non-evolution of Sean's style from his days at HH.
On Wednesday, Sean Haugh had just finished a live interview with Fox News when he headed to breakfast at a Waffle House outside of downtown Raleigh.

"I'm pretty sure I know exactly what I want," Haugh said, glancing quickly through his 1970s-relic glasses at the laminated menu....

Haugh is a perplexing and interesting political oddity. He dresses like he hasn't shopped for new clothes for decades. His campaign has consisted mostly of YouTube videos in which he drinks beer in his campaign manager's basement and chats about politics. He recently berated one commenter on his Facebook as an "ignorant moron."

And, in recent public polling, he has been winning as much as seven percent of the vote.