"Hancock's Half Hour" recreated episodes on BBC Radio 4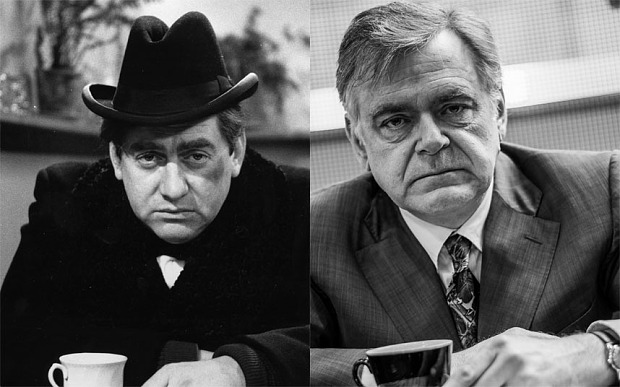 BBC photo. Tony Hancock and Kevin McNally, who plays Hancock in the recreated episodes.
On November 2, 1954, the BBC radio sitcom "Hancock's Half Hour" made its debut. Starring comedian Tony Hancock and written by Alan Simpson and Ray Galton, the show quickly became appointment radio across the UK. The Galton and Simpson team went on to write "Steptoe and Son," a TV series about a junk man and his restless son, on which the US series "Sanford and Son" was based.
Of the 102 episodes broadcast over six series, only 77 or so survive, with many missing from the first three series. Recently a cache of scripts has been discovered, including a number of the missing episodes. Earlier this year, BBC Radio 4 recorded five of the scripts, selected by Galton and Simpson, with a cast of comic actors recreating the voices of Hancock and company. The recreated "Missing Hancocks" are airing this month, once a week, in honor of the show's 60th anniversary.
Miranda Sawyer of the Grauniad loves the Missing Hancocks":
Anyway, the first of these new episodes - The Matador - aired this week. And my misgivings disappeared. I am very glad that these shows have been redone. I thought that the new actors might be off-putting, but Kevin McNally sounded astonishingly like Tony Hancock, as did Robin Sebastian as Kenneth Williams. Simon Greenall, who plays Sid James, was a teeny bit out; but only a teeny bit, not enough to stop you listening. Anyhow, the real delight was the script. Written by Galton and Simpson, both now in their 80s, it was a proper winner. Great one-liners, fantastic flights of fancy, a consistency of character that led to joke upon joke (I loved Hancock, shoved into a Spanish bullfight by a series of Sid James's set-ups, only being annoyed with the bull for spoiling his gags: "That animal completely ruined my set.").

Comedy geeks have long had it that the Hancock shows are the first ever sitcoms. Before Hancock, comedy programmes consisted of sketches punctuated by other variety acts. Hancock's Half Hour, with its regular, and regularly frustrated, characters, became the blueprint for every sitcom that followed. From the evidence of this programme, that blueprint hasn't often been bettered.
Gillian Reynolds of the Telegraph calls it a failure:
The Missing Hancocks (Radio 4, Friday) is a valiant effort, remakes of five Hancock's Half Hour shows from the original Galton and Simpson scripts. No recordings of these shows are known to exist although they may one day, as many old programmes do, surface from someone's cellar. Meanwhile, Kevin McNally does his best to sound like Tony Hancock while Kevin Eldon stumbles over Bill Kerr's lines and Simon Greenall can't quite capture the spirit of Sid James. The closest to the original is Robin Sebastian as Kenneth Williams, but then all Williams's voices were character performances in the first place.

The laughs are still there in the lines and the studio audience responds to them, even to allusions to such ancient totems as Wilfred Pickles. I can't laugh. Hancock's Half Hour broke the mould of radio comedy by pretending to be naturalistic (in contrast to the contrived situations of Bandwagon, Up the Pole and ITMA), putting us beside Hancock and James and Kerr wherever they were. This doesn't. It is, as The Goon Show used to say, a cardboard replica.
My own opinion: The scripts are brilliant and worth bringing back from oblivion. Our family has listened to the first two and found them laugh-out-loud funny. McNally, Eldon, and Sebastian all do very well as Hancock, Kerr, and Williams, respectively; they all have the right cadence, timbre, and timing. Suzy Kane, who plays Andrée Melly in the first two "Missing" episodes, sounded more like Series 1 girlfriend Moira Lister at the beginning of the first episode, but by the end of the episode, she had more of Melly's French-tinged accent.
Simon Greenall doesn't get Sid James at all. Yes, Sid is part of the demimonde, but he rarely sounds like a gravelly-voiced hoodlum announcing his intention to mug you. Sid's a charmer. Someone with a musical ear would have noticed the melodic, sing-song quality of his voice, particularly when Sid is at his most oleaginous. "You don't want to worry about that." "Shhherrr-tainly!"
The new recordings are available for listening online for one month after the initial broadcast:
Episode 1: The Matador (originally Series 2, Episode 12)
Episode 2: The Newspaper (originally Series 3, Episode 17)
Episode 3: The Hancock Festival (originally Series 1, Episode 5)
In addition to these re-recordings on Radio 4, Radio 4 Extra has a couple of special broadcasts available.
Steve Punt's Hancock Cuttings: This three-hour collection of audio and commentary includes the October 19, 1951 episode of "Educating Archie" (with a song by 16-year-old Julie Andrews, when her voice was still operatic); Tony Hancock's infamous "Face-to-Face" interview from 1960; "''Ancock's Anthology," a Christmas Day 1964 broadcast in which Tony introduces favorite music and reads humorous short fiction, a 1965 Pye Records rerecording of the Hancock's Half Hour TV episode "The Missing Page" (about Hancock's frustration that the last page of a murder mystery has been torn out of the book), and the first episode of the radio series, from November 2, 1954.
("Educating Archie," like the "Charlie McCarthy Show" in the US, starred a ventriloquist's dummy as a cheeky schoolboy. Tony Hancock was one of several comedians who did a stint as Archie's tutor and foil. Hancock's love interest was Hattie Jacques, who would play Hancock's harridan secretary Griselda Pugh in the fourth and fifth series of "Hancock's Half Hour.")
The New Elizabethans: Tony Hancock: One in a series of 10-minute profiles of "men and women whose actions during the reign of Elizabeth II have had a significant impact on lives in these islands and/or given the age its character, for better or worse."
It's possible to play these streams in an external application like VideoLAN VLC (and even save them locally for offline listening), if you have the direct URL to the stream. The iPlayerConverter site will take an eight-character BBC program ID and generate the direct stream links. Because streams older than a week aren't findable via iPlayerConverter, here are direct links to streams of the programs mentioned above, which you can use in applications like VLC: