Tulsa Boy Singers Holiday Concert tonight (2015/12/17)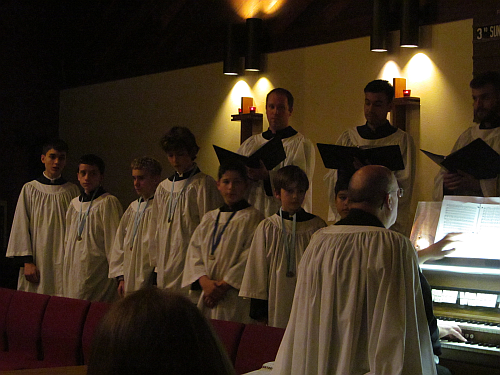 The Tulsa Boy Singers will perform their annual holiday concert tonight, Thursday, December 17, 2015, at 7:30 pm, at Trinity Episcopal Church, 5th & Cincinnati in downtown Tulsa. (Park and enter from the south side of the church.) Admission is $10 for adults; no charge for children.
The boys will perform Christmas songs and other seasonal favorites, including:
Ave Maria
Winter Wonderland
Pat-a-pan
White Christmas
In the Bleak Mid-Winter
The very best time of year
Also included will be an organ solo version of the French carol "Bring a torch, Jeanette Isabella" and the American folk carol, "I wonder as I wander" as a piano solo.
I had a sneak preview of some of their music this past Sunday night, when they traveled to Norman to sing in a service of Advent Lessons and Carols at St. Thomas More Parish. Though few in number, the seven trebles did a beautiful job on Bach's "Zion hört die Wächter singen," which they will perform at Thursday's concert, accompanied by Casey Cantwell, TBS director and Trinity choirmaster, on the organ.
These young men are well-trained musicians -- the ribbons they wear indicate levels of achievement in the Royal Society for Church Music's "Voice for Life" training program -- and they produce a clear and straight tone, which resounds throughout Trinity Episcopal Church's beautiful Gothic Revival sanctuary.
A reception with savory and sweet snacks will follow the concert.
As always, boys that might be interested in joining TBS can be auditioned immediately after the concert. Auditions are brief, and no need to prepare -- just a quick test of your ability to match pitch. Both of my sons have benefited greatly from their participation in TBS: Fundamental skills of musicianship, poise and confidence in front of a crowd, following direction and blending your efforts as part of a team, and developing an appreciation for great music.