You've Been Trumped: Donald Trump bullies Scottish homeowners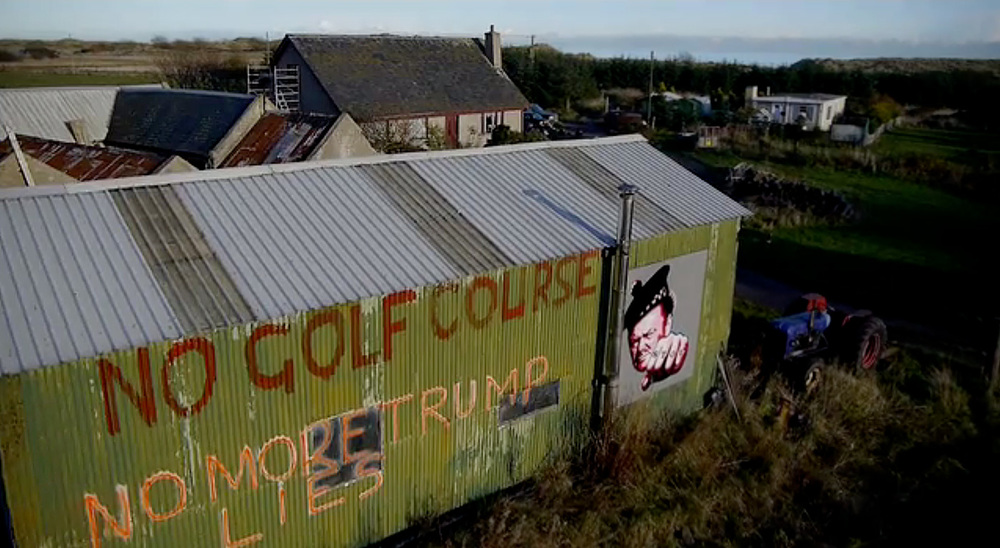 Donald Trump's habit of using government to hound people from their homes to make way for his schemes isn't limited to the US. Ian Tuttle has documented Trump's efforts to make life miserable for neighbors of his grand Scottish golf resort -- a resort that has failed to live up to the ambitious claims made for it.
The story is like a replay of Local Hero, which was filmed just 35 miles to the north, but without the happy ending. In the movie, an American tycoon with Scottish roots wants to buy out a village on the North Sea coast and replace it with an oil refinery. The tycoon (played by Burt Lancaster) visits the site to close the deal with the lone holdout, a hermit who lives in a shack on the beach, to which he holds title. The tycoon falls in love with the seaside village and instead builds a marine research laboratory.
In the Trump version of the story, the tycoon bulldozes the dunes and blockades the "local heroes" who refuse to yield to his demands. A documentary about the ordeal, You've Been Trumped, was released in 2012 and is available for free online viewing on Hulu. (The photo above is a still from the follow-on film, A Dangerous Game, about the environmental and social impact of the golf resort industry around the world.)
In 2006, Trump proposed to build a golf resort on the North Sea coast in Aberdeenshire, Scotland. When local government denied his application to wreck a designated Site of Special Scientific Interest (a shifting dune-scape unique to Scotland) to build his course, he went over their heads to the Scottish Executive which overruled local government. Alex Salmond, the local member of the Scottish Parliament and later leader of the Scottish National Party, facilitated the deal, claiming the project would generate 6,000 jobs nationally, 1,400 locally, but those plans haven't materialized.
As local MSP, Mr Salmond personally rang Scotland's chief planning officer while he was with the Trump lawyer after the plan was rejected by the local infrastructure committee in his Aberdeenshire constituency.

The man leading Scotland's drive for independence has seen little political or economic reward for his efforts, however. Mr Trump's plans for the Menie estate should have created thousands of jobs by building two golf courses, a five-star 450-bed hotel, 500 homes and 950 short-term lets.

To date, Mr Trump's own representatives put the number at only 200 new jobs - and Panorama estimates on the basis of the latest accounts (to December 2011), that only £25m has been spent with just one golf course and a temporary clubhouse to show for it so far.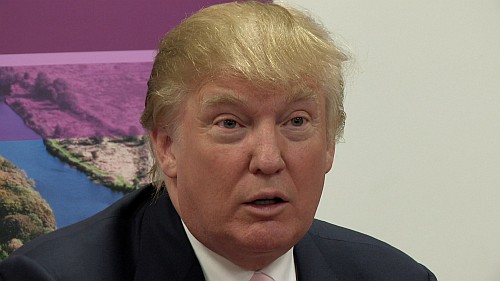 Once Trump had pushed local government out of the way, he tried to use government muscle to shove his neighbors out of the way, pushing the local government to get Compulsory Purchase Orders (equivalent of eminent domain) to buy out neighbors whose properties were not as grand and glorious as Trump thought they ought to be. When local government deferred, Trump began harassing his neighbors in various alleged ways: Cutting off water with construction "accidents," ignoring property boundaries, and building berms that blocked their view of the ocean:
During a visit to his Scotland project on an episode of Donald J. Trump's Fabulous World of Golf, a short-lived reality show that aired on the Golf Channel in 2010-11, Trump announced that "there are some houses quite far away from the course" that "I don't want to see." The camera panned to David Milne's home, high on its perch. Announced Donald: "We are berming some of the areas so that you don't see the houses." And sure enough, construction crews spent a week piling earth in a "bund," a large ridge, around Milne's home, removing it from view -- and cutting off his view of the sea. (Similar bunds were piled up around Forbes's house, and around Munro's.) "Nobody has a problem with it!" said Trump, on Trump's Fabulous World of Golf. He then conceded, with a shrug: "I guess maybe the people who live in the houses have a problem with it."
The Aberdeen Voice published an update last month, ten years after Trump announced his plans for the area. Quoting local councilor Martin Ford:
"Mr Trump's grandiose and extravagant promises of jobs, money and enhanced reputation for the region - parroted by First Minister Alex Salmond's Scottish Government - have failed to materialise. "At Menie, little of the proposed resort has been built. None of the 950 timeshares. A 19-bedroom hotel in an existing country house instead of a 450-bedroom new build. One golf course, not two. A much smaller clubhouse than originally proposed. Under 100 jobs, not 6000. Around £30 million spent instead of the £1 billion investment pledged.

"Meanwhile, the unique dune system at Menie, a protected Site of Special Scientific Interest, has been sacrificed - the justification being the economic benefits Mr Trump and the Scottish Government said would come from the resort that hasn't been built.

"Mr Trump's neighbours on the Menie estate have had their lives disrupted by bullying and intimidation for most of the last decade.
Tuttle's story concludes:
It would be an extraordinary irony if Donald Trump secured the Republican nomination riding a groundswell of working-class anger toward "elites." In Scotland, Trump teamed up with "elites" in the local and national government in an attempt to railroad working-class residents out of their homes. In Scotland, Donald Trump was not against "special interests." He was special interests. As Susan Munro told Anthony Baxter: "I've been here a long time, near on three decades, that's a long time. Most of my adult life's been spent in this house, brought my family up here, my family was born here. And then this man, this foreigner, because he's got a few pounds American in his pocket, a bit of a name, and we're just cast aside, we're in the way."
MORE:
Local opposition website Tripping Up Trump (archived). The site includes accounts of other problem-plagued Trump developments around the world.
Website for the Trump International Golf Links. There is a single 18-hole course, a small hotel, and a couple of restaurants.
London Review of Books review of You've Been Trumped
Carol Craig's review of You've Been Trumped:
What emerges is the story of ordinary basic humanity versus greed and hubris. The local people value their heritage, community and environment but are pitted against those who are enthralled to wealth, fame, and power. The locals act with integrity and decency; the best that can be said about Trump is that he is a man who cannot be trusted.

Watching this film, the ordinary people of Scotland (and some local artists) are a credit to the country. But institutional Scotland comes out of it very badly. It isn't simply Trump, and by extension, the politicians who supported him that are shown in a negative light: the local police, local university (who gave Trump an honorary degree), and Scottish arts organisations, who refused to fund or show the film, are also discredited. The mainstream Scottish media who failed to cover the story adequately are also shamed by this film.
Yesterday, on Twitter, Trump issued a veiled threat against the Ricketts family, which owns the Chicago Cubs, for donating to an anti-Trump super-PAC.
I hear the Rickets family, who own the Chicago Cubs, are secretly spending $'s against me. They better be careful, they have a lot to hide! 8:42 AM - 22 Feb 2016
News reports note that the donation was not secret at all but has been disclosed in accordance with federal election laws.
UPDATE:
HBO Real Sports has done a segment about Trump's broken promises in Scotland:
Hat tip: The Right Scoop.