New BatesLine advertiser: G. N. Taylor, Oklahoma artist
BatesLine is proud to welcome a new advertiser: Durant-based artist G. N. Taylor, whose website offers paintings of scenes from Oklahoma history and the American West.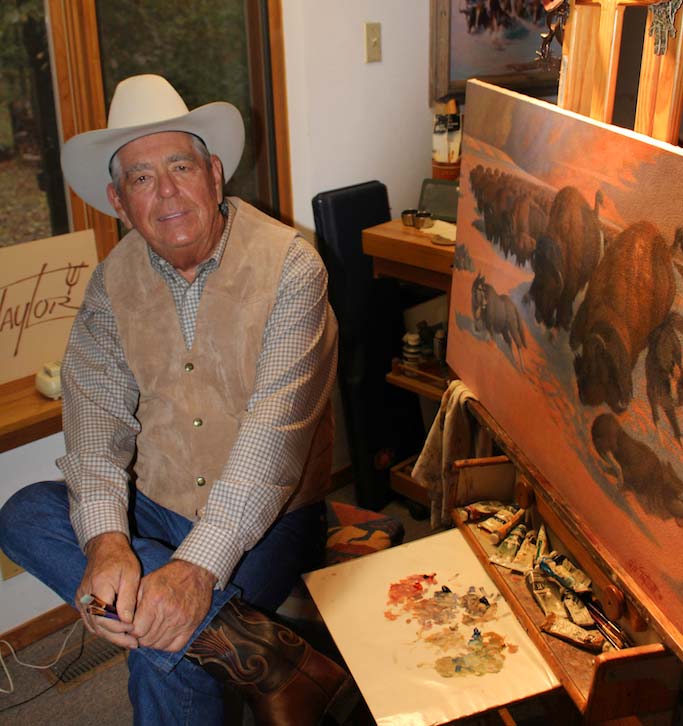 Neal Taylor is an accomplished sculptor and painter. A bronze sculpture by Taylor, "The Spirit of '89," was presented to President Ronald Reagan and is on display at the Reagan Presidential Library, with a casting on display at Will Rogers World Airport in Oklahoma City. The Franklin Mint selected his design for the Oklahoma Bicentennial Medallion, and recently, he was associated with the U. S. Mint as one of nine master designers. His paintings have won numerous blue ribbons at juried shows and are on display in museums, galleries, banks, and institutions around Oklahoma, Texas, and New Mexico.
Taylor's work is rooted in his love of Oklahoma and its history and reflects his own first-hand-experience working with horses and cattle. Paintings depict land runs, cattle drives, buffalo hunts, oil discovery, and the hardships and joys of frontier life. Taylor has done a series of portraits of the principal chiefs of the Choctaw Nation, of which he is a member.
Faithful readers may recall an earlier BatesLine article which featured Taylor's depiction of the only naval battle to take place within Oklahoma's boundaries, when Confederate troops under Stand Watie's command attacked a Union supply steamboat on the Arkansas River at Pheasant Bluff. Taylor's eye for detail brings this uniquely-Oklahoma historic event to life.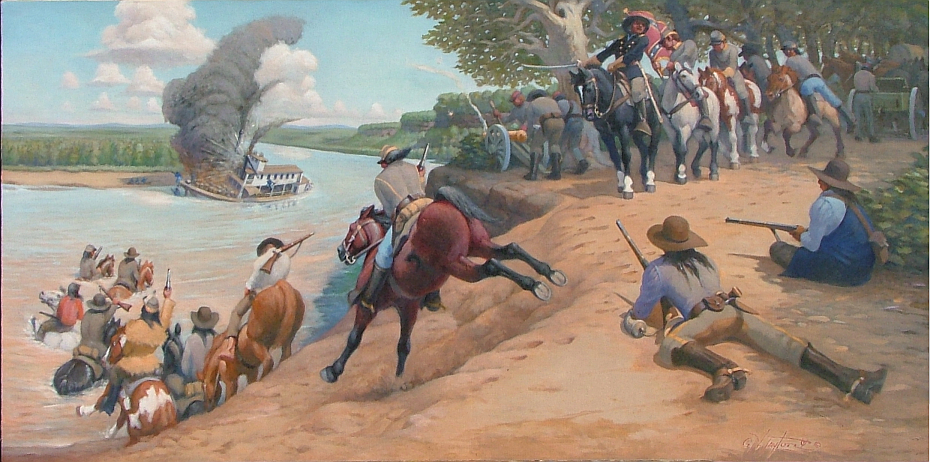 Painting of the Confederate attack on the J. R. Williams by Durant artist Neal Taylor, on display in the Oklahoma History Center.
Christmas is not that far off, and it's not too early to think about unique gifts for a loved one. Instead of buying something that will wind up in the bottom of a drawer, why not choose a gift that will be on display, providing daily enjoyment and a reminder of Oklahoma's rich history?
Through Taylor's website, you can purchase the oil-on-canvas originals or giclée prints on canvas or archival paper of Taylor's paintings. Print prices are quite affordable. Please take a few minutes to click through the ad and browse through the wide selection of paintings. You may find the perfect painting for your den, lobby, or classroom or the perfect gift for someone who loves the American West.