Explaining the American election on Australian radio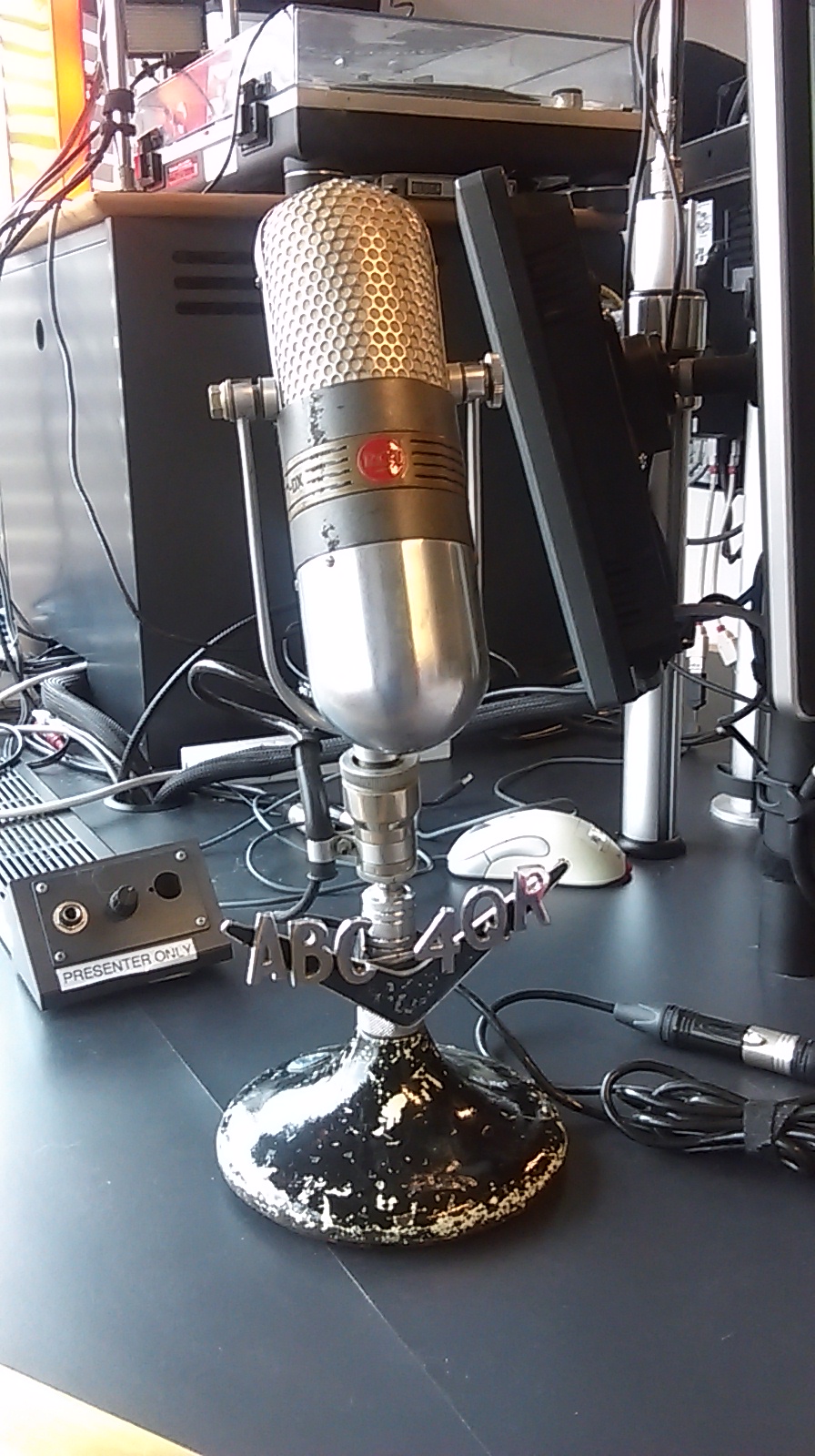 A series of encounters led to an opportunity to appear on 612 ABC Brisbane (the Australian Broadcasting Corporation's locally focused station) to talk about the aftermath of the U. S. presidential election.
In late October, I was walking in the Spring Hill neighborhood north of the Brisbane CBD, looking for an affordable alternative to the hotel's unaffordable laundry service. I came across two young men standing on a street corner with a small metal easel sign identifying one of them as Trevor Evans, the Member of Federal Parliament for Brisbane, who was holding a "mobile office" -- making himself available to any of his constituents who might want to bend his ear. I stopped and introduced myself, and we talked about the recent Australian elections, the looming US election, and the excitement I'd witnessed at Prime Minister's Question Time in Canberra the previous week. As the conversation wound down, I asked Mr. Evans if he knew where Brisbanites interested in American politics might gather to watch the returns. He had heard something about a gathering at the Norman Hotel -- thought it was being sponsored by AmCham, the American Chamber of Commerce in Australia -- but he'd be in Canberra on the day.
It wasn't AmCham -- I called, and they knew nothing about it -- but it took me until the day of the event to find out that the sponsor was the Australian American Association. The deadline had passed a week earlier. A phone call went to voice mail, but someone responded to a Facebook message and said come ahead.
As the results started to roll in, a 612 ABC reporter doing a live report from the party wanted comments from a Republican and a Democrat, so I volunteered. The Democrat was a woman who had moved to Australia 20 years or so previously but still voted back in the US. The reporter asked if Trump's apparent win was the last gasp of the white conservative Christian male.
A couple of days later, one of the AAA leaders phoned to say 612 ABC had contacted him in search of a Republican to participate in a studio discussion about the election. I was interested, so he connected me with Sunday morning host Rebecca Levingston, who filled me in on the topics she wanted to discuss. Rebecca told me that her go-to Republican had moved to Perth, and she likes to have guests in studio for these discussions.
Sunday morning I strolled across the Victoria Bridge to the 612 ABC studios in South Bank. Rebecca was at her desk in the bullpen, prepping for the show, and she showed me to the green room, where I was joined a few minutes later by my Democrat counterpart, Peter Axelrod, an aviation attorney originally from New York by way of San Francisco, who had settled in Brisbane about 15 years ago, and his wife, a native Aussie. We had a nice chat, and I was surprised to learn how small the general aviation sector is in Australia, given the vast distances that have to be covered. (This is a country where your doctor may make house calls by plane, and you might talk to your school teacher over the radio.) Regulation holds back the industry.
(Somewhat related: I met some Americans at the hotel who were private pilots and would be touring Australia by air -- this sort of thing. They had to do a checkride on their first day in country to qualify for the trip.)
We were led into the studio by the producer. Peter had come prepared with an article from NPR and some other material, which he had sent to Rebecca ahead of time, and which he let me look over. (It reminded me of the way I used to show up to my weekly slot on KFAQ with pages of background material.) Here's Peter and Rebecca in the studio: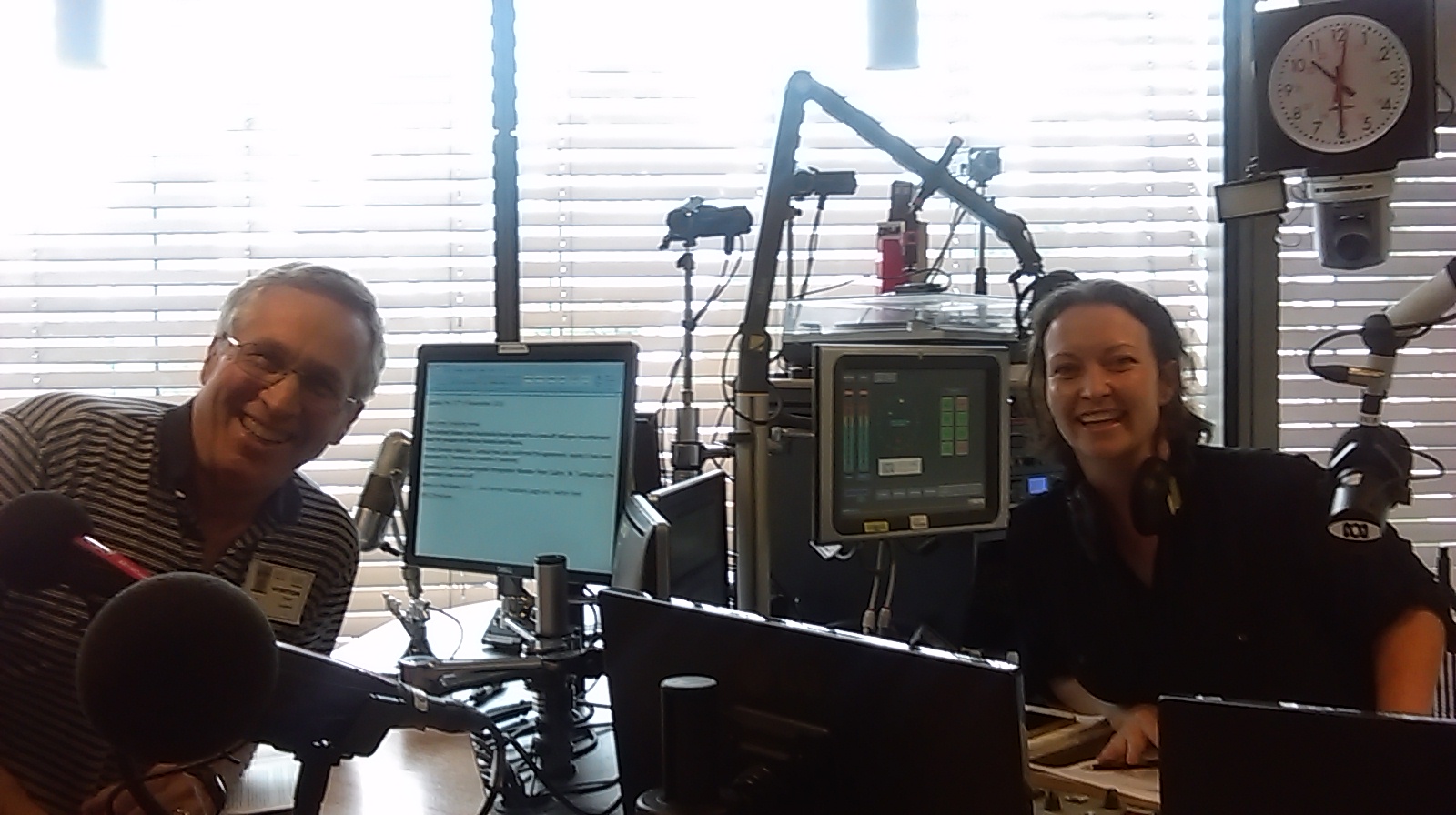 Rebecca was a very gracious host, who asked intelligent questions and was fair and balanced. If she had a political leaning, it wasn't apparent.
The conversation began with Rebecca asking for our reaction to the results. I said that I was relieved that Hillary Clinton would not be president, but apprehensive that Trump will be president. We also discussed prospective appointments (Newt Gingrich and Rudy Giuliani were still possibilities in that first week after the election), presidential power and checks and balances on those powers, filibusters, Obamacare, the electoral college, election turnout, the National Popular Vote proposal, and the need for reform of the nominating process. The final section of the conversation was about the prospects for Trump's promises.
My favorite moment was using a cricket analogy to explain the electoral college and getting a laugh and a complement from Rebecca. The context: South Africa had beaten Australia in the first match of a three-match test series by 177 runs, the latest failure in a long string of Australian losses in international cricket. But if Australia would win the remaining two matches by one run each, they'd win the series, even though their run total would still be 175 less than South Africa's. That's because the series is won by winning a majority of matches, not by getting the highest run total. If the winning criteria were different, you'd use different strategy. (As it happened, Australia lost the second match, too, failing to score as many runs in two innings as South Africa managed in one. After a massive overhaul of the lineup, Australia won the third test handily by seven wickets.)
Here's the whole segment, which runs about 20 minutes.
612 ABC Brisbane was my preferred listening when driving around town or on excursions around southeast Queensland. I appreciated the conversational approach -- where guests had time to develop ideas -- and the variety of serious and silly topics. As I find them online, I hope to share some of the segments that I found particularly interesting.
You can listen to 612 ABC Brisbane on their website or via various apps. ABC Radio has an archive of interviews and conversations on Soundcloud, as does 612 ABC Brisbane.
My other favorite radio station was 1296 4RPH -- Reading for the Print Handicapped. Most of the station's schedule consists of volunteers reading articles from the local and national newspapers and a variety of magazines and books. The articles are often long-form essays, including political analysis, book reviews, and arts criticism. It was real food for thought while driving or taking care of routine tasks. They also carry BBC World Service during the overnight hours and daily broadcasts from two American evangelical broadcasters -- John MacArthur ("Grace to You") and Chuck Swindoll ("Insight for Living"). You can listen to 4RPH via the TuneIn radio app.