Mandolin Special: Johnny Gimble, Tiny Moore, Jethro Burns, Eldon Shamblin
These seem to vanish as soon as they're posted, but here's a series of clips from a 1981 Austin City Limits episode featuring three virtuoso mandolinists, playing blues and swing:
The line up, from left to right, front to back:
Johnny Gimble - mandolin and fiddle
Tiny Moore - mandolin and fiddle
Jethro Burns - mandolin
Eldon Shamblin - guitar
Tom Prisk - drums
Rob Wasserman - bass
Track list:
Blues in G / Fat Boy Rag
How High the Moon
Tiny's Rag
Jethro's Tune
Fiddle medley:
Swing 39
Groovin' High
Thanks to YouTube channel "Rare Tracks" for posting these.
Note that Jethro has a traditional eight-string mandolin -- each string doubled -- while Johnny plays a four-string electric, and Tiny has his Bigsby five-string solid body mandolin, a.k.a. "the biggest little instrument in the world," which adds a low C to the range.
That link is to an essay by Deke Dickerson on Tiny Moore's career and his unique approach to the mandolin, and also features a photo of Eldon, Tiny, and Johnny with Bob Wills and His Texas Playboys, probably from 1949, 32 years before the above videos, in which they're still going strong.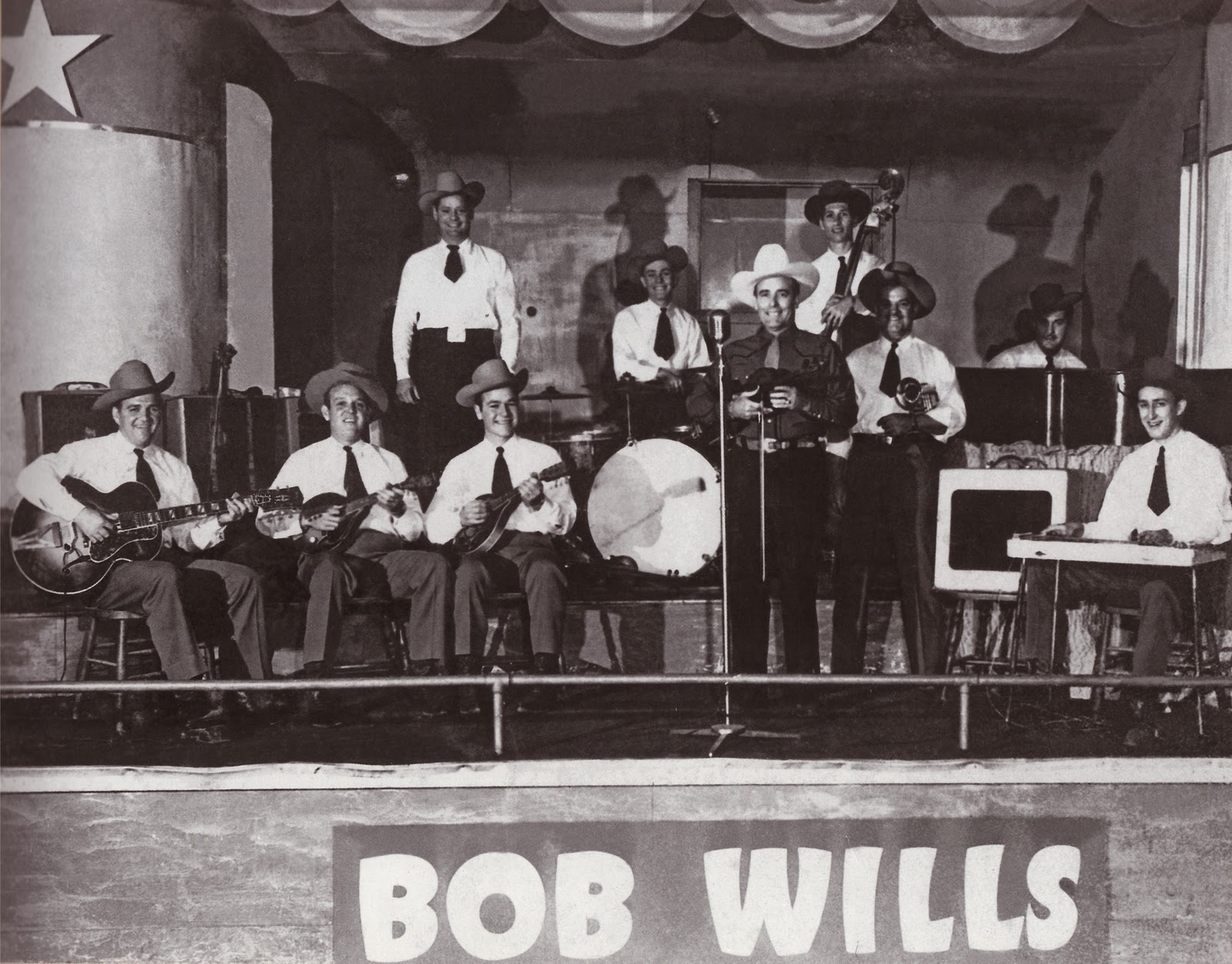 Front row: Eldon Shamblin, Tiny Moore, Johnny Gimble, Bob Wills, Alex Brashear, Herb Remington. Back row: Luther J. "Luke" Wills, Billy Jack Wills, Jack Loyd, Doc Lewis. This was the lineup for the Texas Playboys' second session for MGM, in May 1949, and their first session without Tommy Duncan.
MORE:
A page and photos about Tiny Moore on eMando.com.
Here's some info from western swing historian Buddy McPeters about the earlier Gibson mandolins played by Moore and Gimble and how they were modified for amplification.