Oklahoma Bar Association subsidizes repressive Communist regime
The Oklahoma Bar Association, the leftist monopoly guild that has an effective veto over judicial appointments in our state, will be funneling money to the totalitarian Communist Castro regime with the organization's "President's Cruise" to Cuba this summer. Linda Thomas, mentioned in the flyer, is the current OBA president.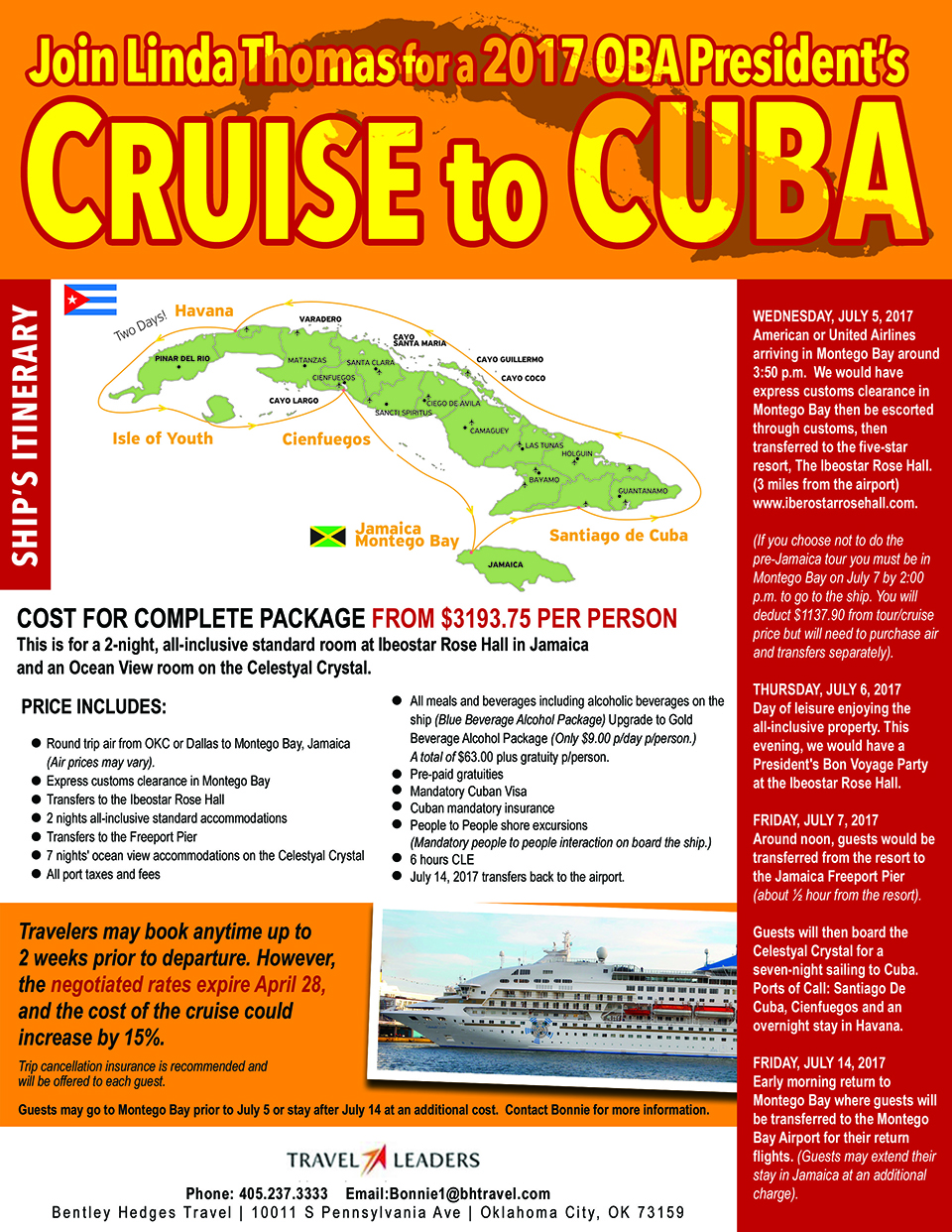 At the bottom of this post are the contents of an email sent to Oklahoma attorneys, urging them to sign up for this cruise -- which includes 6 credit hours of Continuing Legal Education! The OBA, which claims to stand for the rule of law, is planning a luxury trip to a country where law is used as a tool to suppress dissent.
Yesterday was the 100th anniversary of Lenin's arrival in Petrograd and the beginning of the Communist takeover of Russia. Over the subsequent century, Communist regimes have butchered over 100 million people, and even today one of every five people on the planet lives under single-party Communist control in China, Cuba, Laos, North Korea, and Vietnam.
From Freedom House's 2017 report on Cuba:
Cuba is a one-party communist state that outlaws political pluralism, represses dissent, and severely restricts freedoms of the press, assembly, speech, and association. The government of Raúl Castro, who succeeded his brother Fidel as president in 2008, monopolizes the bulk of economic activity within centralized and inefficient state enterprises. Increased engagement with the United States under the administration of President Barack Obama did not result in the lifting of restrictions....

Arbitrary detentions reached more than 9,000 during the first 10 months of 2016, the highest level in seven years. Government repression of the island's increasingly dynamic independent digital press also increased....

Political dissent, whether spoken or written, is a punishable offense, and dissidents are systematically harassed, detained, physically assaulted, and frequently sentenced to years of imprisonment for seemingly minor infractions. The regime has called on its neighborhood-watch groups, known as Committees for the Defense of the Revolution, to strengthen vigilance against "antisocial behavior," a euphemism for opposition activity. This has led to the use of "acts of repudiation," or supposedly spontaneous mob attacks, to intimidate and silence political dissidents....

Official obstacles hamper religious freedom in Cuba. Churches may not conduct ordinary educational activities, and many church-based publications are plagued by state as well as self-censorship....

Academic freedom is restricted in Cuba. Teaching materials commonly contain ideological content, and affiliation with PCC structures is generally needed to gain access and advancement in educational institutions. On numerous occasions, university students have been expelled for dissident behavior, a harsh punishment that effectively prevents them from pursuing higher education. ...

The Council of State has total control over the courts and the judiciary. Laws on "public disorder," "contempt," disrespect for authority," "pre-criminal dangerousness," and "aggression" are frequently used to prosecute political opponents.

A report this past week from the Inter-American Commission on Human Rights (an arm of the Organization of American States) has Cuba and Venezuela on the human rights "blacklist."
Regarding Cuba, the report details the high levels of repression, as well as excessive restriction on protests as well as dismissals and threats to government employees if they manifest any opposition to the policies implemented by the ruling party.

They also mention that the island remains on the list for "persistent restrictions on political rights, freedom of association, freedom of expression and dissemination of thought, lack of independence of the judiciary and restrictions on freedom of movement," which the report stresses, "continue to systematically limit the human rights of the inhabitants" of Cuba.


A few examples from the most recent report by Human Rights Watch:
Detention is often used preemptively to prevent people from participating in peaceful marches or meetings to discuss politics. Detainees are often beaten, threatened, and held incommunicado for hours or days. Members of the Ladies in White (Damas de Blanco)--a group founded by the wives, mothers, and daughters of political prisoners and which the government considers illegal--are routinely harassed, roughed up, and detained before or after they attend Sunday mass.

Lazaro Yuri Valle Roca, a blogger and videographer who often covers the Sunday demonstrations of the Ladies in White, wrote that police arbitrarily detained him on June 7 and drove him 30 miles from Havana, where they took him from the car at gunpoint, made him kneel on the grass, and put the gun to his neck, telling him he was "on notice" to stay away from the demonstrations....

A small number of journalists and bloggers who are independent of government media manage to write articles for websites or blogs, or publish tweets. However, the government routinely blocks access within Cuba to these websites, and those who publish information considered critical of the government are subject to smear campaigns and arbitrary arrests, as are artists and academics who demand greater freedoms....

Despite the release of the 53 political prisoners in conjunction with the agreement to normalize relations with the US, dozens more remain in Cuban prisons, according to local human rights groups. The government prevents independent human rights groups from accessing its prisons, and the groups believe there are additional political prisoners whose cases they cannot document....

The government restricts the movement of citizens within Cuba through a 1997 law known as Decree 217, which is designed to limit migration to Havana. The decree has been used to prevent dissidents from traveling to Havana to attend meetings and to harass dissidents from other parts of Cuba who live there....

In November 2013, Cuba was re-elected to a regional position on the UN Human Rights Council, despite its poor human rights record and consistent efforts to undermine important council work. As a member of the council, Cuba has regularly voted to prevent scrutiny of serious human rights abuses around the world, opposing resolutions spotlighting abuses in North Korea, Syria, Iran, and Ukraine.

Did anyone within the OBA leadership oppose making Cuba this year's vacation destination? If you're an OBA member -- and every practicing attorney in Oklahoma is required to be a member -- and don't publicly express opposition to this decision, it's reasonable to assume that you approve.
MORE:
Last year, Cuban dissident Armando Valladares marked the return of cruise ships to Cuba with a report on ongoing human rights abuses:
Just weeks before Carnival's maiden voyage to Cuba, hundreds of government workers in eastern Cuba surrounded and demolished the Strong Winds Ministry Church of Las Trunas and threatened to throw its pastor, Reverend Mario Jorge Travieso, in jail for seven years if he said a word about it. The church's crime? Failure to register with the government. Strong Winds was the fourth church to be destroyed by the government in 2016.

The Cuban government is especially good at violating the human rights of its people, and then labeling the victims as the criminals. I spent 22 years in Castro's gulags for the simple crime of refusing to place a sign on my desk that read: "I'm with Fidel." I lost 22 years of my life, and countless friends and family, for that sin against the regime. I spent eight of those years naked, when I refused to wear the prison uniform of a criminal. Of his treatment at the hands of the Cuban authorities, after they had destroyed his church and the house of worship for many more, Rev. Travieso said he was made to feel "like a common delinquent."


The text of the OBA email (on the jump page):

ALL ABOARD!! LAST CHANCE TO RESERVE A SPOT FOR THE PRESIDENT'S CRUISE TO CUBA VIA MONTEGO BAY, JAMAICA!!!

CONTACT Bonnie J. Hedges no later than Monday, May 1st
[Phone number and email redacted.]

Wednesday, July 5th on American or United Airlines arriving in Montego Bay around 3:50 p.m. with express customs clearance then transferred to the all-inclusive, five-star resort, The Ibeostar Rose Hall, click here to go to the Ibeostar website. (3 miles from the airport)

Thursday, July 6th day of leisure enjoying the all-inclusive property. This evening, we would have a President's Bon Voyage Party at the Ibeostar Rose Hall.

(If you choose not to do the pre-Jamaica tour you must be in Montego Bay on July 7th by 2:00PM to go to the ship. You will deduct $1137.90* from tour/cruise price but will need to purchase air and transfers separately).

Friday, July 7th around noon guests would be transferred from the resort to the Jamaica Freeport Pier (about ½ hour from the resort).

Board the Celestyal Crystal for a seven-night sailing to Cuba. Ports of Call: Santiago De Cuba, Cienfuegos and an overnight stay in Havana.

Friday, July 14th early morning return to Montego Bay where guests will be transferred to the airport for return flight.

(Guests may extend their stay in Jamaica at an additional charge).

Cost per person for complete package from $3193.75* per person in a standard room at Ibeostar Rose Hall and an Ocean View room on the Celestyal Crystal.

(Single Supplement third and fourth person in room/cabin available.)

Price includes:
- Round trip air from Oklahoma City or Dallas to Montego Bay, Jamaica (Air prices may vary).
- Express customs clearance in Montego Bay
- Transfers to the Ibeostar Rose Hall
- 2 nights all-inclusive standard accommodations
All meals and beverages including alcoholic beverages (Blue Beverage Alcohol Package)
- Upgrade to Gold Beverage Alcohol Package for only $9.00 per day per person . . . $63.00 plus gratuity
- Transfers to the Freeport Pier
- 7 nights ocean view accommodations on the Celestyal Crystal
- All port taxes and fees
- All meals on the ship
- Pre-paid gratuities
- Mandatory Cuban Visa
- Cuban mandatory insurance
- People to People shore excursions (Mandatory people to people interaction on board the ship.)
- 6 hours CLE
- July 14, 2017 transfers back to the airport.

The only other purchases would be souvenirs, gambling and items of personal nature.

Trip cancellation insurances is recommended and will be offered to each guest.

Guests may go to Montego Bay prior to July 5 or stay after July 14 at an additional cost.

Oklahoma Bar Association CLE
1901 N. Lincoln Blvd.
P.O. Box 53036
Oklahoma City, OK 73152-3036
Email us | 405.416.7029 | Visit our website