Farewell to Mod's Coffee & Crepes
This coming Saturday, December 16, 2017, Mod's Coffee and Crepes will close its doors after seven years in business.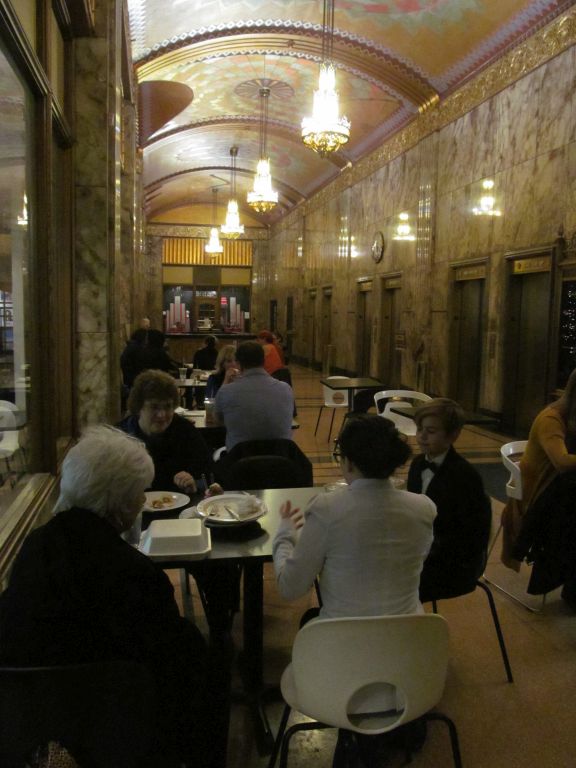 Yesterday was the last chance to enjoy one of the things we love about Mod's -- gluten-free crepes available on Tuesdays. A week ago Tuesday we gathered there to celebrate one child's victory in a speech contest (she won first place in the local competition and will go on to district) and the other's successful cello jury. We had our favorite crepes (the kids like the club, I'm partial to the smoked salmon, cream cheese, and dill crepe) and enjoyed them under the Art Deco splendor of the Philcade lobby. After dinner we went back to the counter to get some gelato, which we enjoyed as we perused the Tulsa Art Deco Museum exhibits of stylized clothing, building ornamentation, and household appliances in the arcade's display windows. We came back again this Tuesday, had dinner and gelato again, and ordered a pan of the stuff (mixed berry, 5.5L for $45) to pick up later in the week.
Mod's was a favorite place to go after downtown music lessons or after a concert at the PC. Sometimes I'd hang out there during lessons to drink coffee and use the wifi. I appreciate the choice of coffees (roasted by Nordaggio's) which almost always included an exotic, flavorful single-origin from Ethiopia, Tanzania, or Sumatra, plus their "Nox Atra" (Latin for "really, really dark night") dark roast blend. Some Thursday evenings after music, I'd take my youngest son to Mod's, we'd sit in the back alcove (near the outlets, and a bit quieter than the Philcade lobby), eat crepes, critique his essay for that week, and then top it off with gelato, taking some home for the rest of the family.
There are some awkward aspects to the space. In the evenings the arcade entrances are closed, and you can only get in through the cafe itself. Restrooms are in the old Amoco building next door, down a long corridor and past a security guard. Parking can be an issue too, especially as downtown improvements have eliminated some nearby street-side spaces. I don't mind walking around the block for a treat, as we did tonight, but I suppose others might be put off.
From the building directory, it appears that IBM is the sole occupant of the Philcade above the first floor. If the building is full of employees who show up at 8, leave at 5, and sit in front of a computer all day (my speculation), it wouldn't generate much foot traffic for the retailers on the first floor.
Contrast that with the 1932 building directory in a historical display about the Philcade in the corridor off the main lobby -- dozens of small oil-industry companies, railroad offices, and professional offices, which would have employees, clients, customers, business associates, and couriers coming and going throughout the day. In the Philcade shopping arcade, you could buy a ticket on the Frisco railroad, fill a prescription, buy cigars, send a Western Union telegram, get a haircut and a shoe shine.
In 1957, the first floor of the Pan American Building (as it was then known, after the Pan Am Petroleum Corp. that occupied its top two floors) was home to Bob Evans Drugs, Nan Pendelton Shop (women's clothes), American Airlines, Continental Airlines, the Pan Am Cigar Stand, Daniel, Daniel, Ennis & Co accountants, Pan Am Barber Shop, Margo's Gift Shop, Donovan & Warren optometrists, Johnson's Travel Service, DeShane's Tailors, and Braniff International Airways. The upper floors housed Tuloma Gas Products, Diamond Drilling, Indiana Oil Purchasing Co, Oklahoma Log Exchange (oil well log libraries), Fred Phillips Oil Co, geologist Howard Clark, oil operator William D. Phillips, Frisbie Drilling, Noble Drilling, Goff Leeper Drilling, Falcon Seaboard Drilling, Union Wire Rope, Kobe Inc (oil field equipment), Dr. Wilkie Hoover, dentist Paul H. Ramsey, lawyers Steven Smith and Stanley D. Campbell, Williams & Morgan Insurance, consultant Ralph Dieter, and the Red Crown Credit Union. The three-story building just to the south, now attached to the Philcade with no street entrance, had the Tulsa Book Shop, the Tulsa Record Shop, Carson Attractions (for many years, the source for tickets for Tulsa events), and the Catholic Information Center.
I suspect that as the Deco District (which Mod's helped establish) has become more popular, rent has increased. Food prices have risen sharply over the last seven years. Looking back over Mod's Facebook timeline, I notice that they put their food truck up for sale in October of this year and announced the decision to focus on the Philcade store.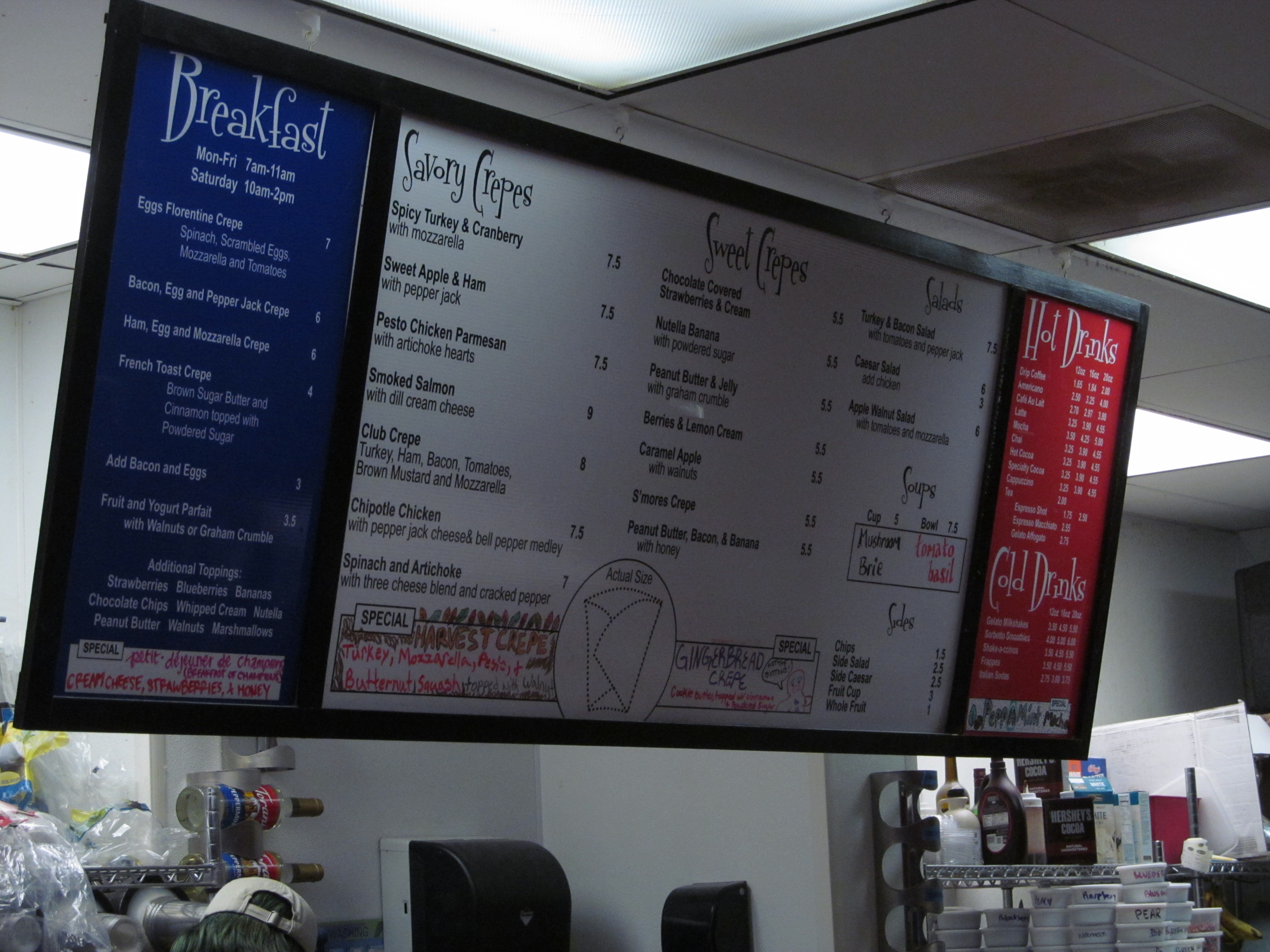 Seven years is a very good run for a small eatery. It suggests that the idea was a solid concept and that the restaurant was well managed. In 2010, owner Rusty Rowe won two Tulsey awards -- entrepreneur of the year and restaurateur of the year.
Surely some smart restaurateur could save this unique dining experience, even if it means we customers have to pay a little more. The farewell note indicates that the owners are open to inquiries about "keeping the concept alive."
Mod's will be open until 10 pm the remainder of this week. Stop by and enjoy it while you can. All the best to Rusty, Colleen, and family and the Mod's team in their future endeavors.
UPDATE 2017/12/16: Tulsa Business and Legal News covered Mod's last day in business:
The owner of Mod's Coffee and Crepes cites recent oil and gas layoffs as probably the biggest reason he's closing his downtown eatery.

"The oil and gas layoffs hurt us really bad," Rusty Rowe said. "As the price per barrel dropped, so did the number of regulars we had coming in."...

Some of the impetus for closing is personal, Rowe said. His wife, who has a full-time job, is also going to law school, and the couple have two young children.

But the bottom line is, well, the bottom line. Rowe said Mod's revenue fell 20 percent from 2015 to 2016 and another 20 percent from 2016 to 2017.

"Forty percent of our sales is gelato," he said. "That's a hard sell in winter when it's too cold for people to be out walking around."

The idea is to break even in the winter, "and then summer pulls us out of the hole," Rowe said.

For the past two years, that hasn't happened.

Rowe brings up a negative side effect of downtown redevelopment: the novelty factor, new businesses drawing customers away from old favorites, a problem made worse by the state's economic downturn.
With a new business opening every month, he said, customers are less likely to patronize the places that are more established.

"If you like something in the Deco District, go support it, he said. "I'm not the only one having a hard time right now.

MORE: Here's the farewell note posted to Mod's Facebook page:
Mod's is CLOSING after December 16th. Please share so everyone has a chance to use any gift cards they have or just to come say goodbye.

Dear Tulsans,

It has been our distinct pleasure to serve you over the last seven and a half years. We have so enjoyed becoming a part of your memories. Birthdays, weddings, first dates, family outings, parade stops, marathon after parties. These occasions spent at Mod's will live in our hearts for the rest of our days.

That is why it's so heartbreaking to tell you that after many sleepless nights we have decided to close the store. December 16th at 10pm we will close our doors and say goodbye to the Mod's at 5th and Boston. The Deco District has been such a wonderful and iconic neighborhood. To watch it grow and be a part of that has been thrilling. We aren't sure yet what this means for the future of Mod's - those are details we have not worked out yet. But we do know that it's time for the next great adventure.

We should all remember how lucky we are to live in a community with such vibrant small business owners. They are not only amazing business men and women, they are amazing people. Support them. Buy local. Eat local. Feed your community and it will respond ten-fold.

If you would like to stop by for one more gelato or crepe, please do. We would love to say goodbye and hear your stories. Endings are also beginnings and while we are devastated, we still want to give you a chance to say goodbye. Who knows what the future holds.
If you or someone you know would like to inquire about keeping the concept alive, please email us at modscrepes@gmail.com.

Thank you again for a great run. We couldn't have made it this far without you.

With love and gratitude,
Rusty Rowe & Colleen McCarty
0 TrackBacks
Listed below are links to blogs that reference this entry: Farewell to Mod's Coffee & Crepes.
TrackBack URL for this entry: http://www.batesline.com/cgi-bin/mt/mt-tb.cgi/8118