Blogosphere: February 2012 Archives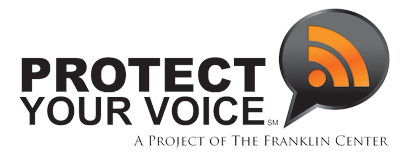 The Franklin Center for Government and Public Integrity has launched a petition drive to ensure that citizen journalists and bloggers enjoy the same legal protections that cover traditional news media. The initiative is called "Protect Your Voice."
It makes sense for a group interested in public integrity to get involved in this issue. As the Protect Your Voice website notes, citizen journalists are stepping into the gap left as mainstream media outlets shrink and redirect their resources toward stories more entertaining than, say, financial shenanigans at the State Capitol or crony capitalism at City Hall. These citizen voices could easily be driven out of the public sphere by legal threats.
I've been told that local politics and development are the riskiest topics you can blog about -- the cyber-equivalent of skydiving. It's easy for a U. S. Senator or U. S. President to ignore one pesky blogger; in a small town a single critic may be enough to launch the ouster of a town mayor or expose an underhanded school contract.
While the First Amendment freedoms of speech and the press, and the case law that protects those liberties, apply to all Americans alike, some states also have journalist "shield" laws that date back to the pre-Internet era and don't explicitly include those who publish news and opinion online or who write and publish independently of a traditional media institution. And too many public figures, judges, and lawyers need to be educated to understand that the First Amendment is for all of us. Nearly every state needs a tougher anti-SLAPP law to protect free speech against meritless lawsuits designed to intimidate critics into silence.
In a Washington Examiner op-ed, Franklin Center president Jason Stverak writes:
Media shield laws must be revised to make clear that bloggers and all citizen-journalists deserve the same protection as the city hall beat-writer at the local newspaper.

This is especially important, as technology and new economic realities have forced newspapers all over the country to cut staff drastically and in many cases, close up shop. The public now relies on citizen-journalists to perform an invaluable service to our democracy -- serving as government watchdogs.

While I encourage the updating of media shield laws for the sake of clarity, it is important to realize that blogs and all new media outlets were granted journalism credentials in 1938.

In the case of Lovell v. City of Griffin (Ga.), Supreme Court Chief Justice Charles Evans Hughes defined the press as, "every sort of publication which affords a vehicle of information and opinion."

The delivery vehicle at the time of the ruling was a pamphlet being handed out by a Jehovah's Witness. I believe all reasonable people will agree that an electronic medium such as a website is at least on par with a sheet of paper when it comes to serving as a "vehicle of information and opinion."
I'd quibble with the phrase "granted journalism credentials" -- more accurate to say that Chief Justice Hughes formally recognized a universal freedom already inherent in the First Amendment.
If you appreciate what sites like BatesLine, Muskogee Politico, Roemerman on Record, WelchOK, and obscure local social blogs add to the public dialog, I urge you to sign the petition and lend your voice to protect our voices as citizens.