Blogosphere: February 2014 Archives
This coming Saturday, February 15, 2014, Americans for Prosperity Oklahoma, the Tulsa 9.12 Project, and OCPA Impact will present the first Oklahoma Growth & Opportunity Summit, a series of talks and panels on how to "make Oklahoma the place to prosper." Speakers include Attorney General Scott Pruitt, Congressman Jim Bridenstine, State Sens. Rick Brinkley and David Holt, State Reps. Leslie Osborn and Tom Newell, former Kansas state budget director Steve Anderson, OCPA policy VP Jonathan Small, and Travis Brown, the author of How Money Walks: How $2 Trillion Moved Between the States, and Why It Matters.
Growth and Opportunity Summit
Saturday, February 15, 2014
9:00 a.m. - 3:00 p.m. (Doors open at 8:00 a.m.)
Tulsa Tech - Lemley Campus
3420 S. Memorial Drive
Tulsa, OK 74145
Admission: $12 (includes lunch)

Brown's book, How Money Walks, is about the forces behind the migration of people and their incomes from one place to another. The How Money Walks website includes an interactive map that allows you to explore the movement of wealth between states and counties over the last 20 years. The maps are based on IRS statistics. From 1992 to 2010, Oklahoma's annual adjusted gross income has dropped by $972 million. That represents a slight recovery since 2005, when Oklahoma was down by over $1.2 billion a year. (In 2005, Oklahoma approved what was, at the time, the largest income tax cut in Oklahoma history. An even larger cut was approved in 2006.) Oklahoma lost $1.27 billion in annual AGI to Texas, but has made some of that back with gains from California of $699 million. In general, income flowed from high-state-tax states to states with no income tax or low income tax rates.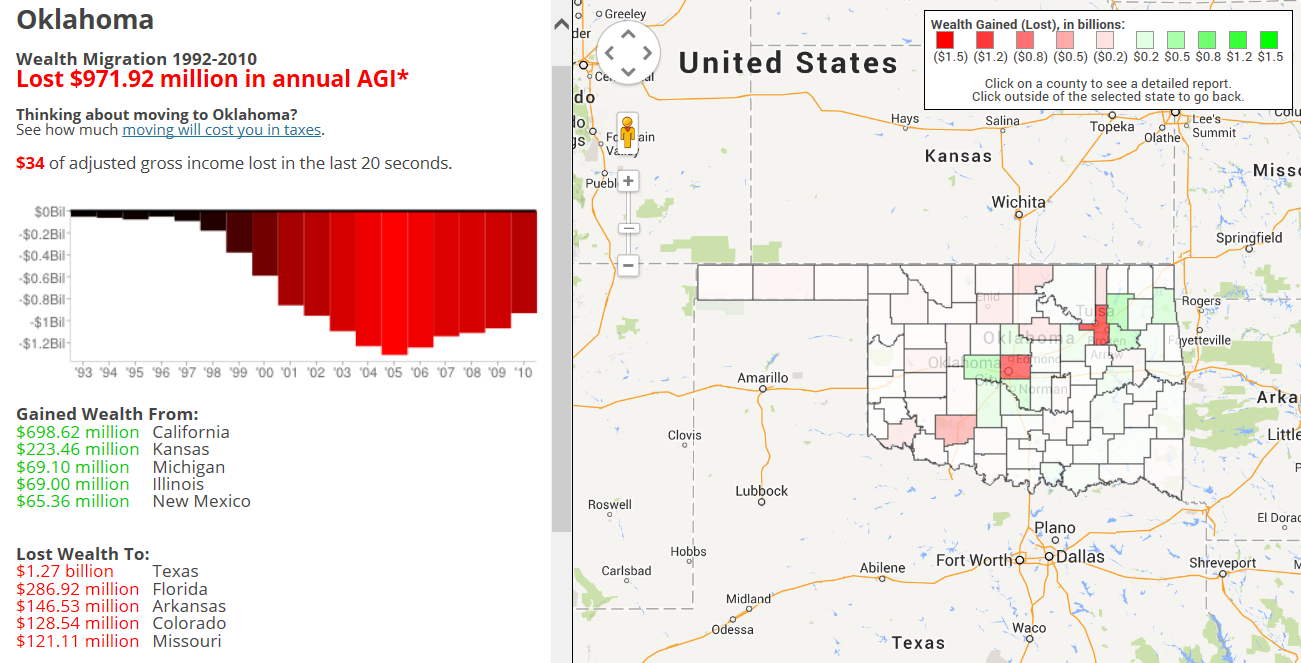 Kansas is an interesting case. Former state budget director Steve Anderson will speak Saturday on "the Kansas Path to Zero Income Tax and Limiting Government Growth." For the last three years, under the bold leadership of Gov. Sam Brownback, the state has put itself on course for total elimination of its state income tax. When "moderate" Republicans in the legislature blocked the cuts Brownback wanted, he campaigned for their primary opponents and defeated them. Oklahoma may soon find itself in a vise grip, squeezed between two no-income-tax states competing for our businesses and our labor pool.
There are county-by-county stats as well. Tulsa County is the biggest loser in Oklahoma at $1.08 billion in annual AGI. Oklahoma County isn't far behind with a drop of $963 million. (So much for Vision 2025 and MAPS.) Tulsa's wealth has fled just across the county line to Wagoner County ($268 million), Rogers County ($258 million), and Creek County ($89 million) but also across the Red River to Texas's Harris County ($112 million) and Dallas County ($83 million).
You can purchase tickets for Saturday's summit ($12, admission includes lunch) at www.OKGrowthSummit.com