Family: October 2006 Archives
THE NATIONAL CHILDREN'S FORECAST CENTER HAS ISSUED A SEVERE BABY WARNING FOR PORTIONS OF NORTHWESTERN ARKANSAS AND SOUTHWESTERN MISSOURI UNTIL 6 AM TOMORROW MORNING. THIS BABY MAY BE ACCOMPANIED BY HEAVY DROOL, CUTE DIMPLES, AND HIGH-PITCHED SQUALLS. IF YOU ARE IN THE PATH OF THIS BABY, TAKE SHELTER IMMEDIATELY.
THE BIG SISTER ADVISORY FOR CENTRAL OKLAHOMA REMAINS IN EFFECT UNTIL 10 PM. BE ON THE LOOKOUT FOR BALLERINA-LIKE ROTATION.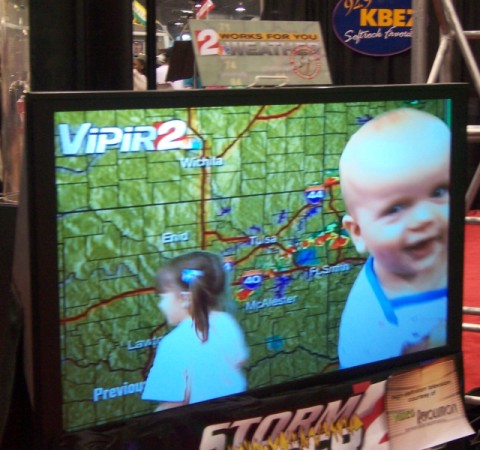 (A bit of fun with the green screen at the KJRH booth at the Tulsa State Fair last Saturday.)