Family: May 2013 Archives
We had one fewer gift to buy this Mother's Day, one fewer card to send, one fewer phone call to make. A little more than two months ago, my mother-in-law, Marjorie Marugg-Wolfe, Ed. D., died after a two-year battle with breast cancer at the age of 79.
In lieu of that gift, that card, that call, it seems fitting to remember her and, in particular, her decades of dedication to the needs of single parents. She was a remarkable woman. Everyone gets the one-line notice on the Births and Deaths page of the paper, some may get a paid obituary, but there aren't many whose passing rates a news story and an editorial commendation for a "life well spent."
From the Rogers Morning News editorial column, Friday, March 8, 2013:
... the deck is often stacked against single parents and their families. Marjorie Marugg-Wolfe of Rogers began to understand those barriers in the 1970s, first while studying at the University of Arkansas and later through her work as a vocational counselor helping students find ways to pay for higher education.

"There was one group I couldn't help, and it haunted me," Marugg-Wolfe once said of her realization single parents faced tremendous obstacles.

Nobody knew a movement to help single parents was about to be born. Since, that movement has provided nearly 30,000 scholarships valued at nearly $16 million. What happened was a perfect coalescence of a need, an idea of how to address it and the people with passion, energy and drive to make a difference. Marugg-Wolfe was their inspirational leader....

"What Marjorie has been able to do is change the lives, in one generation, of multiple generations," Jim Von Gremp, a board member of the Benton County program, said at a 2012 University of Arkansas event at which Marugg-Wolfe was named a distinguished alumna. "The families study together. The children study because the mother studies. The children see the mother work to achieve, and in one generation, you develop a second set of college graduates."...

Marugg-Wolfe was quick to note she didn't do it all on her own. What he did, however, was nurture an idea into its full realization. Where others might have seen a problem too big to solve, she saw an opportunity to help those she could.

Although she received award after award for her devotion, the real prize for her work live on in the improved circumstances of thousands of single parents who have been, and continue to be, affected, and the future generations whose lives have been forever improved.

We'd call that a life well spent.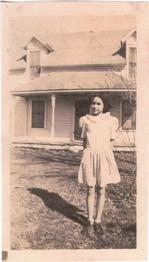 Marjorie grew up on a dairy farm on Pleasant Grove Road in the Bellview community southwest of Rogers in Benton County, Arkansas, the sixth of nine children. As a high school senior, Marjorie was society editor for the Rogers Daily News, co-edited the school yearbook, and class valedictorian.
In the middle of her senior year, her mother died of leukemia. At 17, she was the oldest child still at home. She deferred her dreams of college and scholarship offers to serve as homemaker for her bereft father and surrogate mother to her younger siblings. When her father remarried, she went on to college, earning a bachelor's degree from the University of Arkansas.
While in college she met and married Navy veteran Alfred F. Marugg from Texas and the two moved to the Maryland suburbs of Washington, where they raised two daughters. She earned a master's degree from the University of Maryland. When Al retired from civil service, the family moved back near Rogers, to an acreage just a mile from where Marjorie grew up.
With her daughters off to college, Marjorie went back to school, too, to earn an Educational Specialist degree, with a focus on "displaced homemakers," stay-at-home moms who suddenly find themselves divorced or widowed and needing a job.
As coordinator of the Homemakers in Transition Program at Northwest Vo-Tech, Marjorie found that unexpected expenses could deter single parents from pursuing the education they needed in order to escape poverty. A student might have a full-ride scholarship, but that wouldn't cover an expensive car repair.
To meet the need, Marjorie worked with countless generous volunteers and donors to start the Single Parent Scholarship Fund of Benton County in 1984. (Helen Walton was an early and generous supporter.) Marjorie co-founded the Arkansas Single Parent Scholarship Fund, and the program has spread to 70 Arkansas counties.
After her husband Al's death in 1990, Marjorie went back to school once again, earning a doctorate of education at the University of Arkansas in 1993. In 1992, she was remarried to John Wolfe, a high school classmate who had also been recently widowed. They traveled to Europe and the Far East and across America and enjoyed boating on Beaver Lake and Rogers Class of '51 gatherings.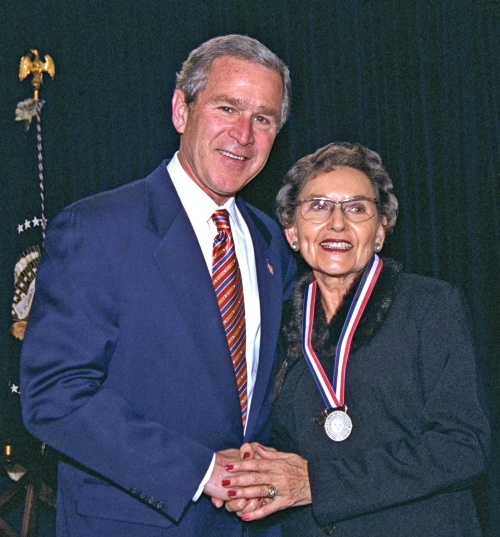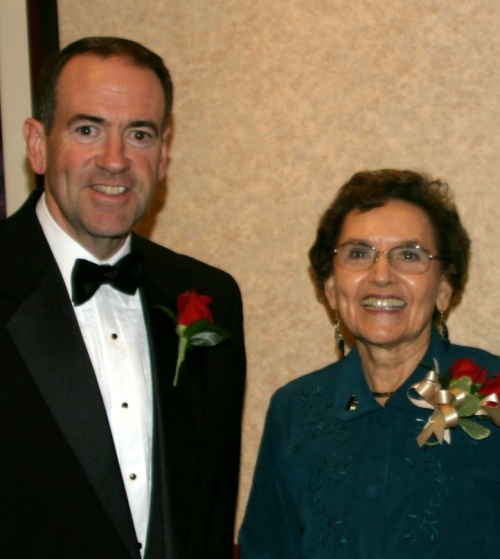 Her advocacy for single parents was recognized by President George W. Bush at the White House in 2002, when she received the President's Community Volunteer Award from the Point of Light Foundation. (The photos above and to the left show her on that occasion.) In 2005, she received the Community Service Award from the Arkansas Department of Human Services and Governor Mike Huckabee.
In 2008, Marjorie became the founding president of ASPIRE (Assisting Single Parents in Realizing Education), a nationwide support network for single parent scholarship programs across the country.
Marjorie (in purple dress, center) with Benton County Single Parent Scholarship Fund students at the 2009 awards banquet.
In 2012, the University of Arkansas College of Education and Health Professions recognized her as Outstanding Alumna in Education.
Marjorie had a deep and abiding faith in Jesus Christ as her Savior, rooted in her upbringing at Little Flock Primitive Baptist Church, where her father led shape-note singing. She was an early and active member of Fellowship Bible Church of Northwest Arkansas, where she served in the women's ministry and helped start the GriefShare program.
Passionate about family history, Marjorie contributed the Grady Ford article in History of Benton County, Arkansas. At reunions, Marjorie was known for gathering everyone around to share family stories with younger generations.
Marjorie loved organizing large gatherings and serving her guests outdoors on her deck. She collected cookbooks and historical books on the daily lives of women. She loved teaching her daughters and grandchildren about nature, visiting the seashore, and watching the colorful visitors to her bird feeders, which she always kept filled.
In recent years, Marjorie became increasingly concerned about the direction of our country and culture, often sending letters to the editor and circulating emails to friends and family to express her views. Last November's election results were deeply disheartening to her. The connection between nutrition and health was another abiding concern of hers.
Marjorie was a devoted wife, sister, aunt, mom, and grandmother, too, concerned about the well-being of her extended family, attending as many of her grandkids' performances as she could and taking pride in their achievements. My daughter spent a cherished week with her grandmother right after Christmas 2011, learning her grandmother's sewing techniques. For many years she sent out a monthly update to the far-flung Ford clan with prayer requests and that month's birthdays and anniversaries.
Here is video of that May 2012 University of Arkansas awards ceremony. Jim von Gremp, a long-time member of the Single Parent Scholarship board, introduces Marjorie Marugg Wolfe, who describes the history and challenges of the single parent scholarship fund. Ralph Nesson, Director of Development at the Arkansas Single Parent Scholarship Fund, who worked with Marjorie from the beginning, concludes the tribute.
There are reports of extensive fire damage to the Rolling Hills Shopping Center, on Admiral Pl west of 193rd East Ave in far east Tulsa.
Assistant Fire Marshal Rick Bruder told reporters that a discount store and a pizza restaurant were likely destroyed as the fire caused their roofs to collapse. Also damaged is a clothing store, an insurance agency and an auto parts store.
It's telling that none of the news reports name the center. There once was an impressive sign at the Admiral Place entrance, but it's been long gone.
When my family moved to Rolling Hills in 1969, the Rolling Hills Shopping Center was the only such place for miles around. (The next nearest shopping center was Wagon Wheel at Admiral and Garnett.) County Assessor records say that it was built in 1968. Here's the lineup, from east to west, as I remember it:
OTASCO (not there in 1969, but built on in the 1970s)
Red Bud Supermarket
Raley's Pharmacy
Mini-Mall (with barber shop)
T. G. & Y.
Liquor store
Dry cleaners
Lon's Laundry (around the corner, facing west)
And then the freestanding buildings:
Tastee Freeze (built in 1965, northwest corner)
Roll-In Lounge (east side, facing 193rd)
Phillips 66 (corner of Admiral and 193rd)
There was an MFA insurance agent in there somewhere, too. Roll-In Lounge was a beer joint (B. Y. O. L.). The mini-mall had a space where my sister took tap and ballet lessons. In high school, she worked for Raley's.
Before we had our own washer and dryer, we'd take our laundry to Lon's. The fellow who ran it (Lon, I suppose) was white-headed, tall, and skinny, and he whistled tunes that I didn't recognize. It was hot and steamy, especially in the summer, and there was the smell of soap powder and the taste of a cold bottle of Grapette from the Pepsi machine. I don't recall that it was air conditioned. I can remember sitting in Lon's in a shell-backed metal lawn chair, with a notebook, a 4-color pen, and a road atlas, plotting out an upcoming family vacation, while we waited on the next load to finish.
The T. G. & Y. -- 5¢ to $1.00 -- was where you went for school supplies, fabric, and simple toys. They lasted until not long after Wal-Mart built their first Tulsa store (assessor records say 1972, but that seems too early to me), about 40,000 square feet, less than half the size of a SuperCenter. I recall T. G. & Y. posting defiant "we will not be undersold!" signs. The Wal-Mart building is now some sort of light industrial business. The T. G. & Y. space became a C. R> Anthony store and then (much later) Dollar General.
When OTASCO closed, Red Bud took over the space. At some point, they became Marvin's. Old-timers will remember a stand near the entrance that sold Hillbilly Barbecue sandwiches.
Although the center has been in the City of Tulsa's limits since 1966, it's always been associated with Catoosa, as most of its patrons were in the town of Catoosa or its school district. Rolling Hills east of 193rd was unincorporated back then, but in the Catoosa school district.
It's been sad to see the decline of the center, but it has followed the same downward path as similar centers built in the same era. The presence of the Hard Rock Casino seems to have drawn all the new development to the Catoosa side of I-44 (which is the Tulsa/Catoosa and Tulsa County / Rogers County boundary).