Family: July 2014 Archives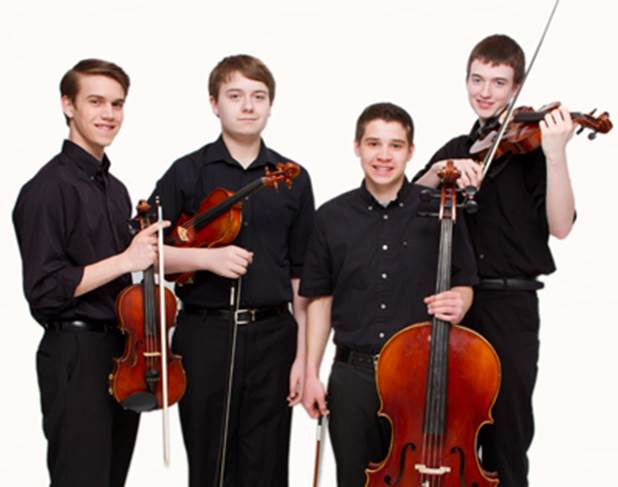 The BBCM Quartet, an award-winning young string quartet from Tulsa, will perform as part of the Summerstage Festival tomorrow night, Friday, July 18, 2014, at 7:30 p.m. in the Charles Norman Theater of the Tulsa PAC. Tickets are $12 for adults, $10 for seniors and students, $8 for 12 and under.
The quartet -- Joseph Bates and Nicholas Bashforth on violin, Anthony Conroy on cello, Quinn Maher on viola -- will present a variety of genres, including classical chamber music and movie themes.
The program includes:
"Hedwig's Theme" (Harry Potter), John Williams (arr. Cameron Patrick)
What Wondrous Love is This?, traditional (arr. Dana Fitzgerald Maher)
Eine Kleine Nachtmusik, K. 525, Mozart
String Quartet No. 1, Andante cantabile, Tchaikovsky
The Magnificent Seven, Elmer Bernstein (arr. Cameron Patrick)
Canon in D, Pachelbel
Raiders March, John Williams (arr. Cameron Patrick)
Wexford Carol, traditional (arr. Dana Fitzgerald Maher)
Blarney Pilgrim, traditional (arr. Dana Fitzgerald Maher)
String Quartet "Lobkowitz", Op. 77, No. 1, Haydn
The four study music at Barthelmes Conservatory under instructors John Rush, Sheri Neubauer, and Krassimira Figg.
The BBCM Quartet won first place in the 2014 Tulsa Young Chamber Artist Competition (sponsored by Tulsa Camerata and Chamber Music Tulsa) and finished second in the Buttram String Quartet competition sponsored by the Oklahoma City Philharmonic. All four members of the group are in the Tulsa Youth Symphony and were at Quartz Mountain last month as part of the 2014 Oklahoma Summer Arts Institute orchestra.
Here's their appearance on Fox 23's Tulsa Live this morning. The sound is a little unbalanced because of the use of lapel mics rather than standard instrument pickups.
MORE: The BBCM Quartet is available for weddings, banquets, and other functions. Contact them through their Facebook page.

One of the films created at the recently concluded Oklahoma Summer Arts Institute involved my favorite violinist.
The film was directed and produced by Matt Hanisch and Shauna Rathbun. The music is "River Flows in You" by Yiruma. The setting is Quartz Mountain Resort on Lake Altus-Lugert in southwest Oklahoma.
The Einstein quote from the film:
"Everyone is a genius, but if you judge a fish by its ability to climb, it will live its whole live believing that it is stupid."