Global News: September 2014 Archives
Tattoo photos in the Facebook profile of someone calling himself Jah'Keem Yisrael matches tattoos named in the Department of Corrections record of Alton Alexander Nolen, the man eyewitnesses say beheaded a worker at a food processing plant in Moore, Oklahoma, on Thursday.
A number of websites uncovered the profile and suggested that it belonged to Nolen. Like Nolen, Yisrael graduated from Idabel High School and went to Langston University for college. The "selfies" in the profile strongly resemble the Oklahoma Department of Corrections mugshots of Nolen. But there has been some doubt, because the the profile uses "alton.threadgill" in the custom URL.
The Facebook profile shows an intensifying interest in Islam over the last year or so, praises Osama bin Laden, includes a cover photo of heavily armed Taliban, and praises sharia law and beheading.
But a photo in Jah'Keem Yisrael's August 15, 2010, Facebook post shows a man (apparently the owner of the Facebook profile) with arm tattoos that match the DOC's records for Nolen. (Click to see full size.) The left forearm shows the word "JUDAH" in script capitals. The right forearm shows a tattoo of praying hands.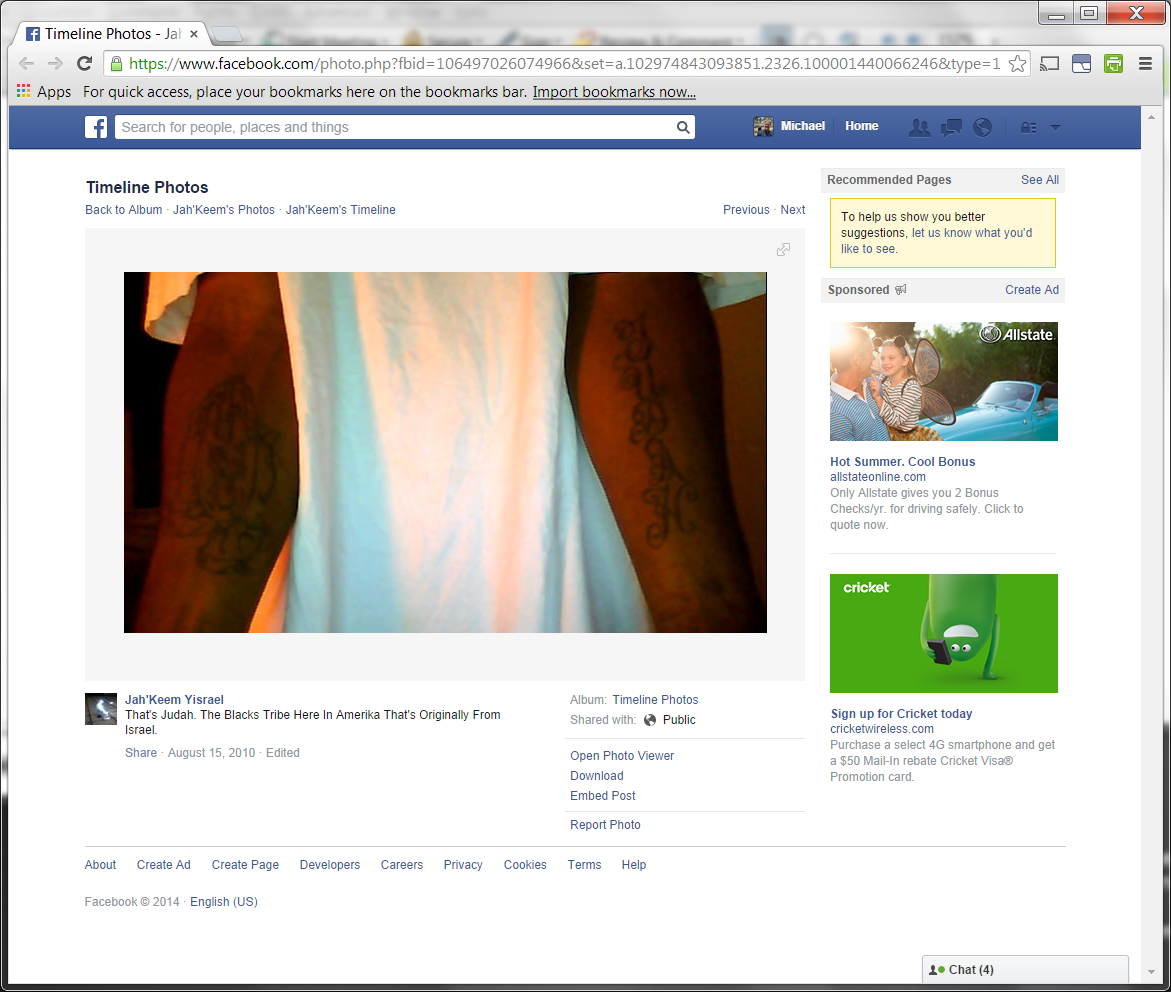 The DOC record for Alton A Nolen, DOB 08/16/1984, lists the following "Body Marks":
TAT ABDOM: NCIC AS-SALAAMU ATAIKUM
TAT CHEST: NCIC JESUS CHRIST
TAT L ARM: NCIC RIP LIL KRIS, JUDAH
TAT R ARM: NCIC PRAYING HANDS
The gaps in Jah'Keem Yisrael's Facebook timeline match up with the DOC record. No posts from September 20, 2010, until August 23, 2012, when he writes, "Feelin So Gud 2 B N Da City At Da Halway House....At dis moment im walkin round wit my shirt off n boi boi lol Yeh jst got thru job untin and she said sho my chest." The tone of his posts is in that vein until April 3, 2013, when he posts, "Allahu Aikbar Allahu Aikbar....." After about October, the posts are almost exclusively Islamic-themed.
Another confirmation of the tattoo: In a February 5, 2014, post, Jah'Keem Yisrael writes that the Twelve Tribes of Israel are today black Africans, Latin Americans, and American Indians and says in a comment (evidently responding to someone whose comments are not visible to the public),
The true jews that's here in Amerika today known as the black man was sold to the white man by the Africans because we weren't from there. Were from Israel. The Roman persecution put an end to the biblical jews known as the tribe of Judah which is tatted on my left forearm lol.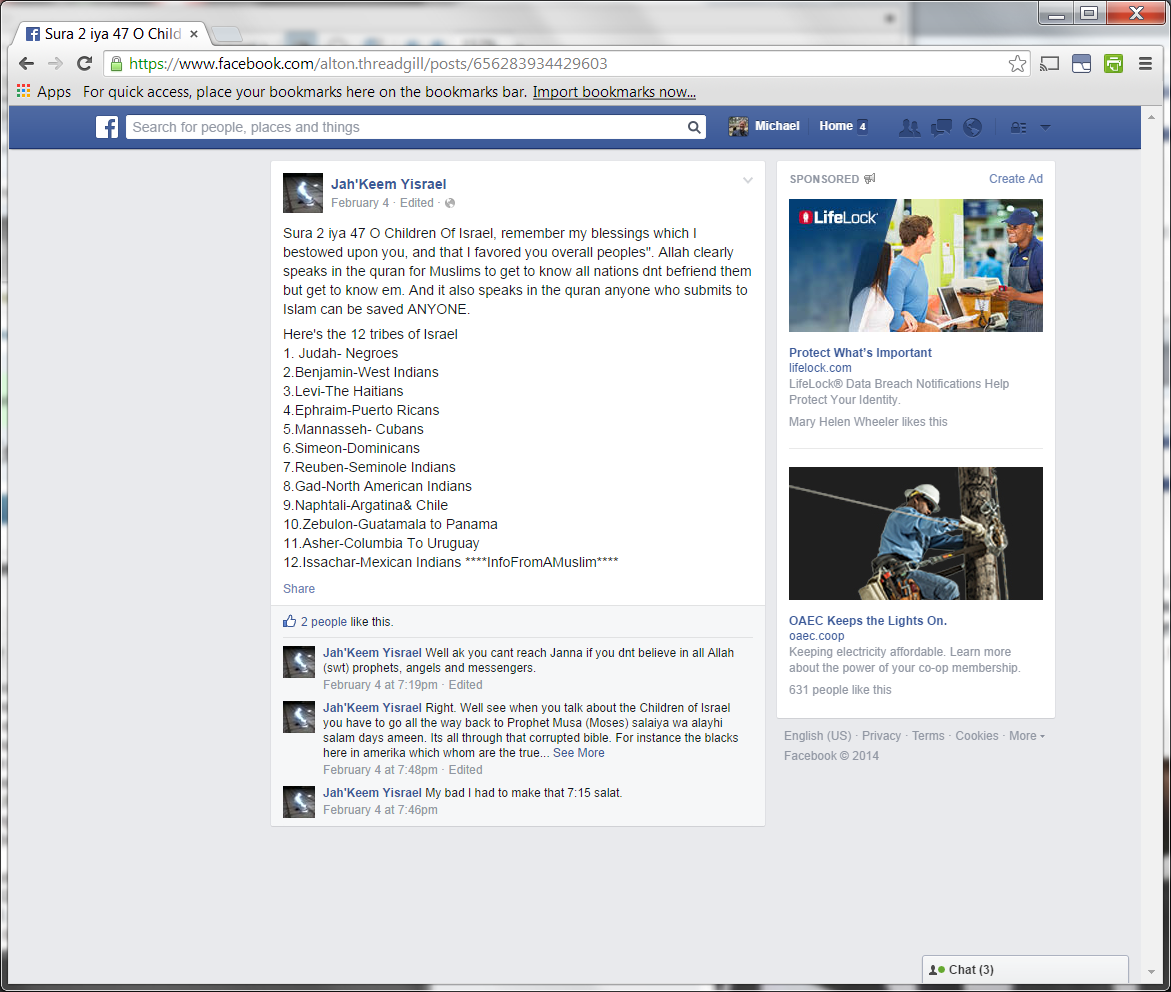 Among the more alarming recent Facebook entries:
On March 7, 2014, Jah'Keem Yisrael posted a set of three photos, writing:
Sharia Law will takeover (aka) Allah swt Law -Matthew 5:30 Cut the hands off the thieves, Deuteronomy 22:23-24 Stone to death the adulters, Any woman showing her hair in public must be shaved off 1st Corithians 11:5-7.. If your against the Sharia Law your against God. Now you know what freedom u guys are fighting for.

Islam is the true religion
****InfoFromAMuslim****

The photos include a man holding a newspaper headline, "Islam will dominate the world / Freedom can go to hell", a graphic photo of a decapitation, and a photo of a woman in white middle-eastern dress being whipped in public by a hooded figure in black. (Click the links to view a screenshot of these photos posted to Facebook. WARNING: Photos are graphic.) The caption embedded in the decapitation photo reads,
Thus do we find the clear precedent that explains the peculiar penchant of Islamic terrorists to behead their victims: it is merely another precedent bestowed by their << Prophet >>:

"I will instill terror into the hearts of the Unbelievers: smite ye above their necks and smite all their finger-tips off them." Qur'an 8:9-13

On the same date, he posted two more photos, one showing two boys prostrating themselves in prayer, the other showing four young boys in white head-coverings firing handguns.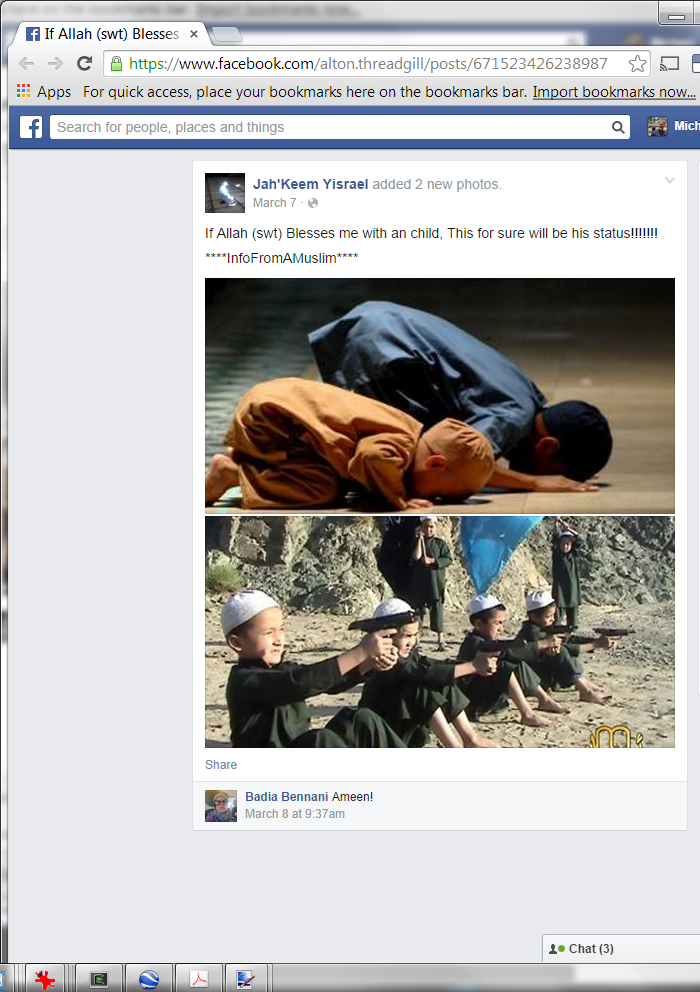 He wrote:
If Allah (swt) Blesses me with an child, This for sure will be his status!!!!!!!
On March 30, 2014, he posted a salute to Osama bin Laden, writing:
"Do not say that those slain in the cause of God are dead. (They are alive, but you are not aware of them)" (2:154).

Osama Bin Laden (Salayi Wa Alayi Salaam Ameen)
****InfoFromAMuslim****
The phrase in parentheses seems to be some form of the Arabic phrase meaning "Peace Be upon Him," a phrase often used in connection with Muhammad and other prophets.
Polls are now closed in Scotland, but it will be several hours until all the votes are counted in the referendum to decide whether its 307-year-old membership in the United Kingdom will be dissolved in favor of independence. The question on the ballot is simple: "Should Scotland be an independent country?"
Paul Monies, a Scotsman and British subject who reports on energy news for the Oklahoman, offers a summary of the arguments for and against and offers his own opinion and prediction:
Scotland's vote Thursday on a referendum for independence has been cast as a choice between the head and the heart.

The heart says the nation of 5.3 million people is strong enough and confident enough to dissolve the 307-year-old union it has with England and the rest of the United Kingdom. The head says the economic risks are too great for a small country in the global economy....

The No campaign, which calls itself "Better Together," says breaking up a political and monetary union will be messy, and the Yes campaign hasn't offered enough concrete details on how it will happen. Pensions, splitting up the U.K.'s national debt and how an independent Scotland will continue to use the pound as its currency are among the issues to be negotiated if Scots vote Yes.
Results will be tabulated and reported by each of Scotland's 32 local government areas. I don't think individual polling place results will be reported. According to Oliver O'Brien's map of estimated declaration times, first results are expected at 2 a.m. BST (8 p.m. Tulsa time) from Perth & Kinross, Moray, North Lanarkshire, East Lothian, the Western Isles, and the Orkneys. The big cities will declare a result at 5 a.m. BST.
You can listen to BBC Radio 4's coverage of the Scottish referendum results live online starting at 4 pm Thursday Tulsa time.
#indyref is the Twitter hashtag.
MORE:
Cute bit of satire: The USA writes an open letter, calling on Scotland to show a "decent respect for the opinions of mankind."
Peter Hanraty, vice president of Oklahoma's constitutional convention and mining safety activist, was an immigrant from Scotland.
The Telegraph has a series of photos of Scottish referendum demonstrations and campaign activities:
Former Labour PM Gordon Brown campaigns for maintaining the union. He looks more than a bit like the late comic actor Tony Hancock. "Does Magna Carta mean nothing to you? Did she die in vain?"
London mayor Boris Johnson pleads in Latin: "Londonienses amamus Caledoniam! Nolite nos relinquere!""
This young man had the best protest sign: "My dad made me come here!"