War on Terror: October 2015 Archives
I follow Israeli Prime Minister Benjamin Netanyahu's Facebook page. While he often addresses grave matters like terrorism, many of his posts are about happier events relating to his responsibilities. For example, today he wrote about his speech celebrating the launch a plan to build 32,000 new housing units in the growing city of Ashkelon.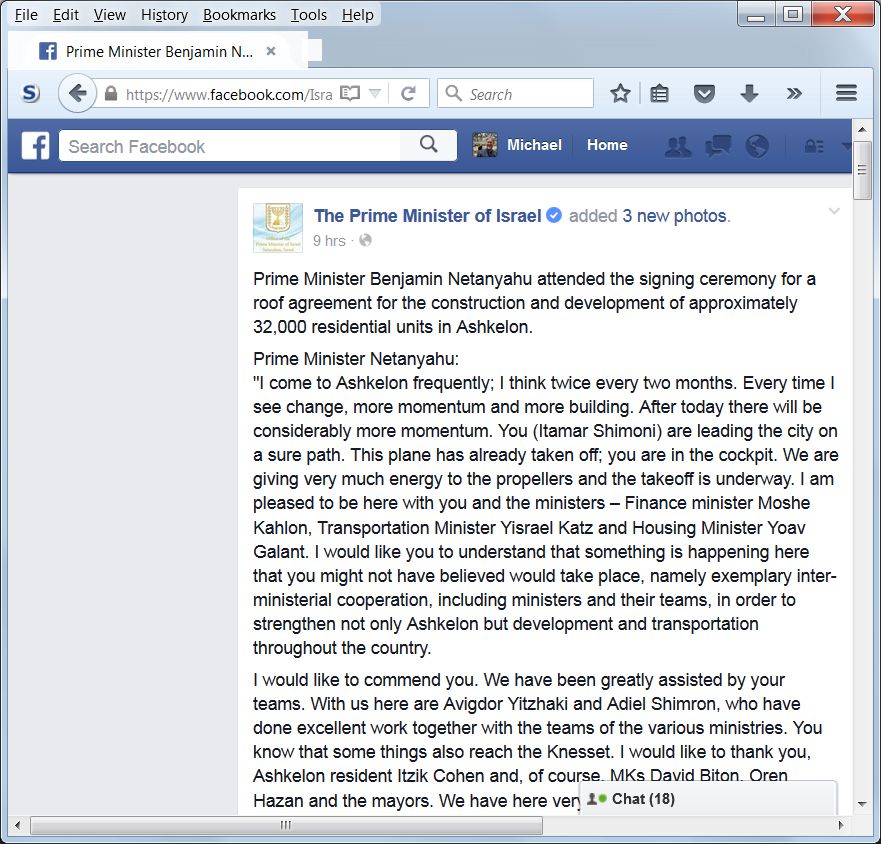 Netanyahu spoke about his vision to build stronger links between the different regions of Israel:
My vision is simple. My vision is to - to a great extent - cancel the term 'periphery' and link everything into one vibrant bloc. What I said several weeks ago, that my vision is to see Be'er Sheva with 500,000 residents in 12 years, I say to you Itamar, and to all of you, Ashkelon will be a city of at least 250,000 residents within 12 years. This is not only possible, it is happening before our eyes. It is a very great thing that is happening here. Of course this depends on many things. What we are doing today is essential. The transportation link, not just to Ashkelon, but in the south and throughout the country, is to link up everything, from Dan to Eilat, without a single red light. It won't be a two lane road but a multi-lane highway, and trains. Now from Ashkelon we are 50 minutes by train to Tel Aviv and to Be'er Sheva, and we will yet reduce this.
Most of the comments were supportive and celebratory, but one hostile comment stood out. It was from a Facebook user whose profile picture showed the Ayatollah Khamenei and the Iranian flag:
Mohammad Erdem

Masjid Al-Aqsa is a holy place of worship for the Muslims
Iranian army liberate the Al-Aqsa.
Jerusalem will be the capital of a future Persian Empire.
We are going to murder all 7 million Jews in Israel!!!!!
https://www.facebook.com/100010517441764/videos/117658968594684/
The post was timestamped at Thursday, October 29, 2015 at 4:02 pm CDT.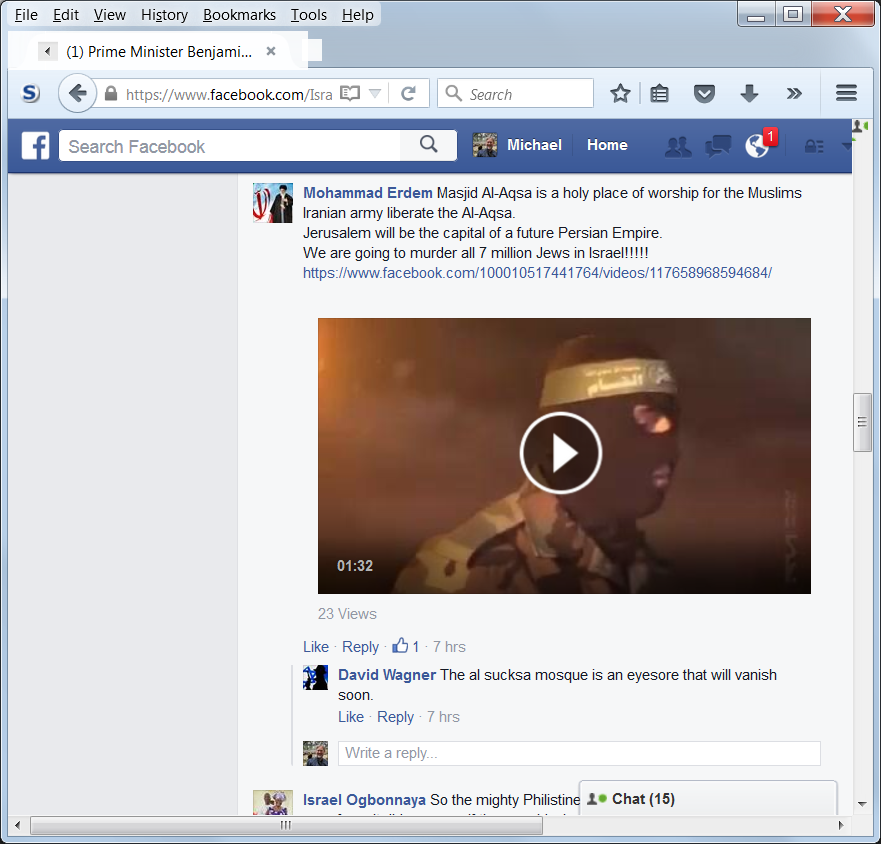 The video shows a soldier in camouflage fatigues suiting up, with close up cuts to putting on unit insignia, placing a book (a Qu'ran?) in one pocket and a handgun in another. Dramatic music plays in the background. The production values remind me of a commercial for the U. S. Army. The final scenes shows a growing mass of soldiers overlooking Jerusalem's Temple Mount, the Dome of the Rock, and the al-Aqsa mosque. I'm curious to know what the words at the end of the video say. Is this an official Iranian government message?
I have reported the comment to Facebook as hate speech. As of this writing it has not been removed.