Music: May 2008 Archives
Here's a reminder that tonight at 7:30 is the second and final performance of the Tulsa Boy Singers spring 2008 concert at Trinity Episcopal Church, 5th & Cincinnati, downtown Tulsa.
I went Friday night and heard some wonderful music -- both classical and modern, sacred and secular. They opened strong with a challenging piece by Benjamin Britten. The text, "Rejoice in the Lamb," was written by Christopher Smart, described in the program as "an eighteenth century poet, deeply religious, but of a strange and unbalanced mind." Here is one lovely section of the poem, sung as a treble solo tonight by Jacob Davis:
For I will consider my cat Jeoffry.
For he is the servant of the living God.
Duly and daily serving him.

For at the first glance
Of the glory of God in the East
He worships in his way.
For this is done by wreathing his body
Seven times round with elegant quickness.
For he knows that God is his saviour.
For god has bless'd him
In the variety of his movements.
For there is nothing sweeter
Than his peace when at rest.

For I am possessed of a cat,
Surpassing in beauty,
From whom I take occasion
To bless Almighty God.

Other highlights include anthems by English renaissance composers Thomas Tallis and William Byrd, an arrangement of "Loch Lomond" (with a solo by my son), and a medly from the musical Oliver!. TBS also performed a song in Hebrew which they sang at the Holocaust Remembrance Service a few weeks ago.
In addition to wonderful music, there is a silent auction to raise money for TBS. The twenty donated items are impressive, and include tickets to Tulsa Opera's La Boheme, gift certificates for the Melting Pot, the Polo Grill, and Billy's on the Square. There will also be a raffle with five items to give away. And as always, following the concert there will be a reception with food, wine, and punch.
Treat yourself to a wonderful evening of music in a beautiful setting (pictured above).
Here is video of another song on the program, Mi Shebeirach, which TBS also performed at this year's Holocaust memorial service at Temple Israel a few weeks ago.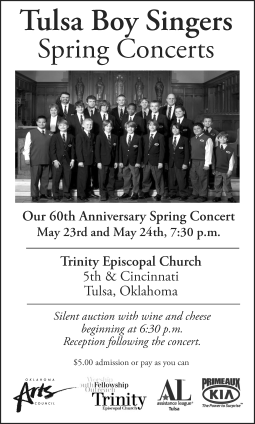 The Tulsa Boy Singers will present their 60th Anniversary Spring Concerts Friday and Saturday, May 23 and 24 at 7:30 p.m., at Trinity Episcopal Church, 5th and Cincinnati, Downtown Tulsa.
Music will include:
Rejoice in the Lamb - Benjamin Britten
Magnificat and Nunc Dimittis in G - Charles V. Stanford
Panis Angelicus - César Franck
Salvator Mundi - Thomas Tallis
Locus Iste - Anton Bruckner
Loch Lomond - Arr. Jonathan Quick
Medley from "Oliver!" - Lionel Bart
Before each concert there will be a raffle and silent auction with wine and cheese at 6:30 p.m. Proceeds go to support Tulsa Boy Singers. There will be a reception following each concert.
Admission is $5.00 per person or pay as you can.
Underwriting for these concerts is provided by the Oklahoma Arts Council, the Assistance League of Tulsa, Primeaux Kia, and Trinity Episcopal Church.
Here is a video from their June 2007 tour of Britain, performing "O Nata Lux" by Thomas Tallis and "Lord, For Thy Tender Mercies' Sake" by Richard Farrant: