Music: December 2015 Archives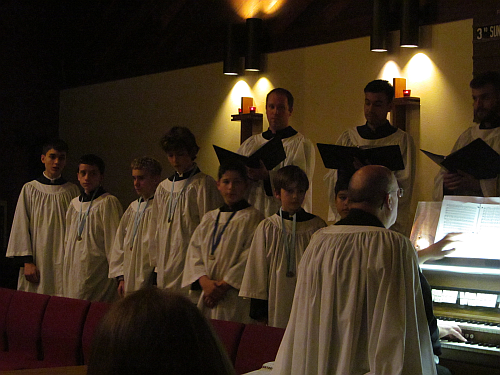 The Tulsa Boy Singers will perform their annual holiday concert tonight, Thursday, December 17, 2015, at 7:30 pm, at Trinity Episcopal Church, 5th & Cincinnati in downtown Tulsa. (Park and enter from the south side of the church.) Admission is $10 for adults; no charge for children.
The boys will perform Christmas songs and other seasonal favorites, including:
Ave Maria
Winter Wonderland
Pat-a-pan
White Christmas
In the Bleak Mid-Winter
The very best time of year
Also included will be an organ solo version of the French carol "Bring a torch, Jeanette Isabella" and the American folk carol, "I wonder as I wander" as a piano solo.
I had a sneak preview of some of their music this past Sunday night, when they traveled to Norman to sing in a service of Advent Lessons and Carols at St. Thomas More Parish. Though few in number, the seven trebles did a beautiful job on Bach's "Zion hört die Wächter singen," which they will perform at Thursday's concert, accompanied by Casey Cantwell, TBS director and Trinity choirmaster, on the organ.
These young men are well-trained musicians -- the ribbons they wear indicate levels of achievement in the Royal Society for Church Music's "Voice for Life" training program -- and they produce a clear and straight tone, which resounds throughout Trinity Episcopal Church's beautiful Gothic Revival sanctuary.
A reception with savory and sweet snacks will follow the concert.
As always, boys that might be interested in joining TBS can be auditioned immediately after the concert. Auditions are brief, and no need to prepare -- just a quick test of your ability to match pitch. Both of my sons have benefited greatly from their participation in TBS: Fundamental skills of musicianship, poise and confidence in front of a crowd, following direction and blending your efforts as part of a team, and developing an appreciation for great music.
Ol' Blue Eyes came into the world on December 12th, 1915. In honor of his centenary, here are a couple of links for your enjoyment:
This year, columnist and vocalist Mark Steyn has expanded his "Song of the Week" feature to twice a week, so that he could cover 100 of Sinatra's best songs. Each entry discusses the lyricist and composer, how the song came to be, who performed it before Sinatra, how Sinatra came to record it, who helped him (producers, arrangers, musicians), and how it was received. Often Steyn provides a personal anecdote from his conversations over the years with the people involved. It's a tremendous intro to the Great American Songbook and its foremost male expositor. (Ella Fitzgerald would be its foremost expositor, period.) Entry No. 100, "One for My Baby, and One for the Road," includes a list of and links to each song in the series, which began with "It Was a Very Good Year."
Also on Steyn's site, as part of a Sinatra centenary weekend, Mark considers Sinatra's movie career and talks with Vincent Falcone, Sinatra's pianist and conductor, in a two-part interview (Vincent Falcone part 1, Vincent Falcone part 2). As supplementary listening, Steyn offers a two-part collection of his interviews with composers and lyricists of some of the songs Sinatra sang: Part 1 (Mitchell Parish, Phil Springer and Betty Comden and Adolph Green), Part 2 (Irving Caesar, Ann Ronell and Alan Jay Lerner).
(Mark Steyn's latest vocal outing is an album of cat-related songs, Feline Groovy: Songs for Swingin' Cats.)
The Daily Telegraph has a collection of 28 photos covering the course of his career, including this one of Sinatra in 1947, wearing the uniform of his softball team, The Swooners.
In the Weekly Standard, William H. Pritchard reviews a new book about Sinatra and his music, Sinatra's Century: One Hundred Notes on the Man and His World by David Lehman. Pritchard confesses his preference for Sinatra's early oeuvre:
I was pleased to note that some listeners still prefer the timbre of Sinatra's youthful voice, including his granddaughter, Nancy Sinatra's daughter. And with those listeners, I align myself--feeling that, for all the fine tunes he would record and re-record, the early 84 sides on which he sang with Tommy Dorsey's orchestra are unsurpassed. It may be that, growing up in the 1940s myself and playing in a dance band, I detect greater force and life in those songs, partly because I have projected my own satisfactions and disappointments from long ago onto the songs that seemed to embody them.

The recordings with Dorsey begin with a lovely, completely forgotten song of 1940, "The Sky Fell Down," and end in 1942 with "Be Careful, It's My Heart" (Irving Berlin's song in Holiday Inn) and "There Are Such Things" ("So have a little faith, and trust in what tomorrow brings, / You'll reach a star, because there are such things"). Along the way we get a rollicking jitterbuggy "Let's Get Away From It All," and "Snootie Little Cutie," in which the Pied Pipers (Jo Stafford singing) and cute little Connie Haines supplement Frank's performance.
Earlier this year, Michael T. Nelson reviewed a book that discussed Sinatra's role in creating the Great American Songbook:
Early discs could only play one cut per side, so these writers learned to compose to an AABA form (two choruses, the bridge, then another chorus, each eight bars long), benefiting from that discipline of form as surely as sonnet writers have from theirs. Then, in the 1920s, along came radio to provide a mass audience for these records, which were often performed by big bands. Microphones, another innovation, meant that a band's singer didn't have to belt to be heard. Record makers, radio programmers, jukebox owners (they bought half of all records in the late thirties), and the big bands all placed a premium on new songs, the assumption being that no one wanted to hear (much less buy) numbers they'd heard before. Popular songs, even from movie musicals or the stage, generally were dismissed as ephemera: all the rage today, tossed in a drawer tomorrow.

Frank Sinatra was the young band singer in the early 1940s who figured out that modern audiences would appreciate hearing forgotten gems from old Broadway shows by writers like Porter and Kern. Recklessly, or so it was thought at the time, he left the popular Tommy Dorsey Orchestra to strike out on his own. Tenderness, not fervor, was what a wartime nation was looking for, Sinatra calculated. And so the typical songs in his early repertory as a soloist--sung conversationally, even intimately, into a microphone and played on a record or over the radio--were old Broadway compositions originally written for heartsick female characters: "Someone to Watch Over Me" (the Gershwins), for example, or "My Funny Valentine" (Rodgers and Hart) or "All the Things You Are" (Kern).

It's not too much to say that, in resurrecting them, Sinatra was inventing the whole idea of standards and, thereby, creating the Great American Songbook.