Western Swing: January 2008 Archives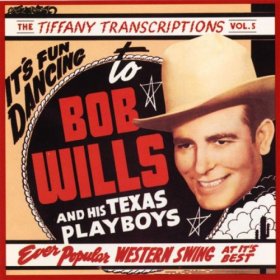 There are far more important things to write about, but this news is too, too exciting.
The Tiffany Transcriptions feature some of the most exciting, liveliest Texas Playboys music on record. These selections were recorded in San Francisco in the mid '40s for use by radio stations. Those who were around then have said that the Tiffanies come closest to capturing the band's live sound. Songs that were left off Bob Wills's commercial recordings -- such as covers of popular big band tunes like "Take the A Train" -- found a place here, featuring Eldon Shamblin's tight arrangements for steel, mandolin, and guitar. Even standard western swing tunes got special treatment, with longer and more spontaneous improvisations, like Junior Barnard's proto-rock-n-roll guitar solos.
Nine of the 10 discs were first issued by Kaleidoscope as LPs, then reissued by Rhino as CDs. A 10th disc, featuring the vocals of the McKinney Sisters, was only issued on CD. Over the last three or four years, Rhino has dropped one disc at a time from their catalog, leaving only Vols. 1, 2, and 5 in print last I checked. Out-of-print volumes have been fetching $60 to $100 on Amazon.com.
But very recently, Warner Music Group began selling DRM-free MP3s via Amazon, and that includes the Rhino catalog. All 10 volumes are available for download at the low, low price of $9.99 each. (Vol. 10, which has twice as many songs as the other volumes, is $10.99.) You can buy individual songs for 99 cents each.
I bought a couple of later Bob Wills albums via Amazon MP3 for my dad's birthday (Together Again and Mr. Words and Mr. Music, both from the early '60s when Bob Wills and Tommy Duncan reunited for a time), and I was pleased with the quality (256 kbps) and the ease of downloading. Because the files are DRM-free, there are no obstacles to playing them on any digital media player.
Volume 5, linked on the image above, is my favorite so far, but I haven't heard them all yet.
A little break from politics:
Our littlest one turned two years old on Friday. His use of words has exploded in the last few months, although he mostly says the beginning sound of each word, which is adorable, of course. (That's him in the photo, during a visit to Pops on Route 66 back in November, smiling after a sip of Boylan Natural Cane Cola.)
Fire truck becomes fie kuh, for example. Train is "tshoo tshoo wai." Initial S isn't there yet -- snake, snowman, and snowflake become nay, no-mah, and no-feh, respectively. Sock is chah, where that first ch is a voiceless velar fricative pronounced in the back of the throat like a Hebrew "ch." So before he can "go ou-chai" (go outside) he "nee chah an tsioo" (needs socks and shoes).
Some of his most endearing words are starting to evolve. "Da-da" is becoming "da-dee." "Ja-ja" has become "gwahmah" and will be "grandma" before too long.
For months, he would hear and understand the word "car" but he would always pronounce it by making a car sound -- vocalizing on a high and rising pitch and vibrating his lips together. "Do you see the big car?" "Beeg blblblblblblbl!" But about a week ago he stopped, started saying "cah" consistently, and even substituted a less impressive "vroom" for his standard car noise. I managed to cajole the old sound out of him last night, but he did it almost sheepishly.
As we would look at books and pictures, every man with a long white beard he would call "Bah" -- my dad, his grandpa. Pictures of Santa Claus were "Bah", too, which is easy to understand. Now, after Christmas, he makes the distinction between his grandpa and "Sah Caw."
Still, every man with a hat in a black and white picture is "Dah Whee." We were looking at old family photos on the wall, and I was showing him pictures of me and my wife when we were small. He would say the names as he looked at the photos. There's a black and white one of me next to my grandparents' house in Nowata, probably about three years old, wearing a little hat and suit. So he called the boy in the picture "Dah Whee."
"Dah Whee" is Bob Wills, whose music is often heard in our house. Our two-year-old recognizes the cover of Wills's For the Last Time album, which shows a 68-year-old Wills in a cowboy hat, but he also recognizes as Bob Wills the smiling man in the big cowboy hat, as depicted on the cover of Charles Townsend's biography of Wills, San Antonio Rose. The boy will sometimes request "Dah Whee" music when he's eating in his high chair or when it's naptime. (Leon McAuliffe and Johnnie Lee Wills are acceptable substitutes.) Sometimes he will ask to sit in my lap when I'm at the computer and ask to watch a Bob Wills video (like this one from 1951 of the "Jo-Bob Rag" and "Liberty"). (But his favorite website is the one with the funny kitty pictures.)
Last night, my wife was putting him to bed. He wanted to hear the "Blue's Clues" CD, but his older brother, sleeping in the same room, protested, and Mom was worried that it wasn't conducive to sleep. When she asked, "How about something else?" the toddler said "Dah Whee," which was just fine with our eleven-year-old fiddler. She started the CD and walked out of the room to the opening notes of the Texas Playboy Theme. As she passed the crib, she heard a little voice saying "Ahhhh-haaaa!"