Western Swing: June 2009 Archives
Red dirt, rockabilly, and western swing with Oklahoma ties are on tap this summer at Cain's Ballroom:
Wanda Jackson, the Queen of Rockabilly, from Maud, Oklahoma, was inducted into the Rock and Roll Hall of Fame back in April. After playing dates in London, Glasgow, and Interlaken, Switzerland, the rest of this month, she'll be at Cain's on July 7 with Nancy Apple and Ronnie Elliott, presented by the Woody Guthrie Coalition. Tickets are $24 for general admission, $39 for Gold Circle (tables down front).
(Wanda will play a Summer Breeze concert in Norman on July 12, and the Poncan Theater in Ponca City on September 19.)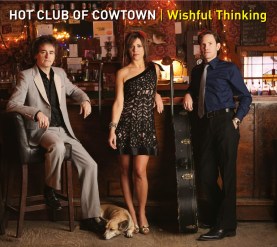 Hot Club of Cowtown -- Elana James on fiddle, Jake Erwin on bass, and Tulsa resident Whit Smith on guitar -- bring their blend of Bob Wills and Django Reinhart to Cain's second stage on August 19. Tickets are $12. Hot Club's new album, Wishful Thinking, is due out this summer. The album will include the song, "Hey, Beautiful," whose lyrics are taken from a letter by Staff Sgt. Juan Campos, in Iraq, to his wife Jamie, back home in McAllen, Tex. Campos died in the line of duty in May 2007:
Campos' words were among those published in a New York Times article on March 25, 2008, under the headline "Six of the Fallen, in Words They Sent Home." One of the readers was Elana James, singer and violinist in the Austin band Hot Club of Cowtown; she was immediately struck by Campos' message.

"Here are people (who) have very modern ways of communicating, and yet they're so far away," James says. "I didn't think it was poetic, but I was bowled over by the writing and especially the one Campos letter. It was so beautiful; he said everything in that one brief letter. Also, none of it was about him -- it was about his caring for other people."

Stirred by the sentiments, James started thinking there was a song there. She worked out a melody, composed an arrangement, then recorded it with the band. It's a departure from Hot Club's usual Western swing and vintage jazz; James' voice floats breezily above a country-folkish melodic line, her violin underpinning it all. The tempo starts slowly, picks up in the middle, then winds down near the end. The song's mood exists in a zone between whimsical and mournful, ending up at matter-of-fact. It stays with you.

Hot Club is offering "Hey, Beautiful" as a free download on its Web site; James plans to include it on the band's upcoming album, to be released early in 2009, and is working out details for any royalties the song might generate to be given to Campos' family (she's been in touch with them via e-mail).

You can listen to "Hey, Beautiful" and clips from previous albums on the Hot Club of Cowtown website.
On August 28, the Red Dirt Rangers will celebrate their 20th anniversary with a free show at Cain's. Donations will be accepted with all proceeds going to charity. The band was recently the subject of an Urban Tulsa Weekly cover story by Mike Easterling.
All three shows begin at 8 pm; doors open at 7. All three shows are open to all ages.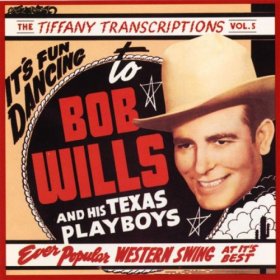 Jack Webb, of "Dragnet" fame, was the announcer for Bob Wills and His Texas Playboys? Yes, indeed! For a few months, at any rate.
Back in 1946, Bob Wills had a weekly half-hour radio show on San Francisco's KGO, broadcast live from the Oakland Auditorium Theatre. TiffanyTranscriptions.com, a website devoted to the mid-'40s for-radio-only recordings that captured the Texas Playboys at their swinging best, has a section on the KGO Bob Wills broadcasts, with a couple of sound snippets of Jack Webb and the Playboys and a script for a Hollywood broadcast for which Webb served as both announcer and MC.
In 1946, Webb starred in two radio series for KGO: The Jack Webb Show, a comedy show, and Pat Novak for Hire, a detective series.
The sponsor of the broadcast was Fisher Mills, maker of Zoom instant hot cereal. One of the jingles (you can hear it on this page, which also has a KGO Bob Wills show script) went like this:
For a breakfast that's delicious
That will banish morning gloom
Joe and Jane and Aloysius
All eat instant cooking Zoom.

The jingle concludes with a trademark Junior Barnard guitar lick. I'd like to shake the hand of the songwriter who rhymed "delicious" and "Aloysius" -- brilliant! The singers are probably Evelyn McKinney, Dean McKinney, Eldon Shamblin, and Tiny Moore -- the four sing together on "It's a Good Day" (which you can find on the Tiffany Transcriptions: McKinney Sisters disc) and the sound is very similar.
RELATED FOUND STUFF:
Excerpt from Dirty Linen magazine interview with Tom Diamant on how he and Jeff Alexson, his partner at Kaleidoscope Records, brought the Tiffany Transcriptions back to life in the 1980s. (I've got a copy of the issue on order.)
Panhandle Country, Tom Diamant's weekly show on KPFA.
Diamant recommends the Collectors Choice reissue of the Tiffany Transcriptions but notes some history missing from the set:
I have two complaints which I have expressed to Collectors Choice. The Tiffany Transcriptions were rescued from a basement in Oakland California by Kaleidoscope Records owners the late Jeff Alexson and me, Tom Diamant. We dubbed them, chose the songs for those first 9 albums plus the McKinney sisters one, sequenced them, arranged for the notes by the original musicians, supervised the whole thing, and originally released them on Kaleidoscope Records yet we are not credited by name on the Collectors Choice issue, except for doing a couple of interviews. Also, the marvelous art work that appears on the original albums and the covers of the Collectors Choice CDs was done by Elizabeth Weil, who is also not credited. We receive no royalties for these later reissues, but it would have been nice to have a line of type acknowledging our efforts.
On Eric Banister's Tiffany Transcriptions box set review, Diamant explains what's not in the box set:
There were over 460 recorded items, by Bob Wills for the Tiffany Transcriptions including false starts, incomplete takes, intros and outros, mic checks, a Zoom Cereal jingle, etc.

There were over 360 or so complete takes recorded. Many are not so good but are interesting just the same. A chronologicaly ordered, complete box set would not be easy listening and for fanatics only. Those first 9 CDs were the cream of the crop (there is a volume 10, but it was never issued and that's another story. The McKinney Sisters was part of a different series and not considered Volume 10. Although everyone seems to call it that.)
Ted Gioia's Jazz.com on Bob Wills and the Tiffany Transcriptions
A.V. Club review of the Tiffany Transcriptions box set
The Wall Street Journal review of the Tiffany Transcriptions box set features steel guitarist Herb Remington on his guitar trios with Tiny Moore and Eldon Shamblin:
The new center of action, however, is an unprecedented three-part-harmony string section made up of Eldon Shamblin on electric guitar, Tiny Moore on electric mandolin, and Mr. Remington on steel. To Wills's country-breakdown dance numbers, such as "Stay a Little Longer," and the blues and pop tunes like "What Is This Thing Called Love?" that the band always had played, this lineup adds string-dominated turns on songs of Duke Ellington ("Take the 'A' Train"), Benny Goodman ("Mission to Moscow") and other leading lights of Swing.

"That wasn't an accident," Mr. Remington recalls. "We were all trying to do session work, and these tunes were in our minds and bodies from listening to the Big Bands. We had DC power and an amplifier in a little room in the back of Bob's new bus -- and the three of us would work out things like 'At the Woodchoppers' Ball,' but with strings only. By the time we got to the job we could play it, but then Bob might get drunk or something and never call the tune." Some of those "never called live" bus-born arrangements would become Tiffany session tracks -- and without the time limitations of recordings of 78 rpm singles, there's time for the solos as well as those instrumental harmonies.
Blurt Online review of the Tiffany Transcriptions box set: A few missed facts (the box set has the same tracks as the Kaleidoscope releases, and Oklahoma Hills is Jack Guthrie's song, not his cousin Woody's), but some good insights.
From Bob, what might have seemed corny, contrived and phony from someone else was, well, corny, sometimes contrived but hardly false. Bob Wills had loads of charm and a love of music making that transmitted easily to live audiences and are just as much in evidence on record, especially in this almost dauntingly comprehensive collection.

...There were better fiddle players and singers, more prolific songwriters and certainly there were more graceful dancers but somehow Bob Wills caught lightning in a bottle. He was that rarest of musical people; a great bandleader. They are generally good to great musicians but more than that they are strategists, spokesmen, focal points and sometimes even jesters and clowns.
Time's March 15, 1954, cover story on Jack Webb covers his KGO years
More about Pat Novak for Hire, Jack Webb's first crime series
Pat Novak for Hire -- 23 episodes at the Internet Archive. With Raymond Burr as the obnoxious cop!
Loads of great noir narration from Pat Novak for Hire:
"He was a tough, hard cop, with a heart big enough to hide behind a piece of birdseed."
"The street was deserted except for a couple of winos, near the corner, trying to buy back 1926 at a dollar a jug."
"So far it was working out like a crossword cut in half."
"She had nice hair, and the dress helped too. It was dark blue and had a V-neck, but the designer believed in big letters."