Western Swing: July 2011 Archives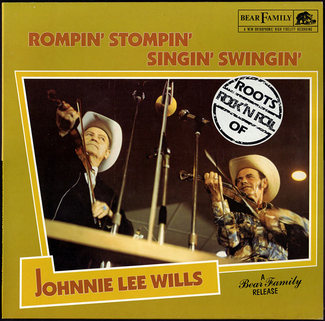 This Thursday night, July 21, 2011, the Oklahoma Jazz Hall of Fame will host a Tulsa western swing reunion to pay tribute to fiddler and vocalist Julian "Curly" Lewis, who performed for many years with Johnnie Lee Wills and His Boys, Leon McAuliffe's Cimarron Boys, and Hank Thompson's Brazos Valley Boys. Up until recently, Lewis regularly played fiddle with the Texas Playboys for the annual Bob Wills Birthday bash at Cain's Ballroom.
(That's Curly on the right on the cover of Rompin' Stompin' Singin' Swingin', a Bear Family LP collecting Johnnie Lee Wills' 1952 and 1953 recordings for RCA.)
Western swing historian John Wooley interviewed Lewis recently for the July 2011 issue of Oklahoma Magazine about his long career, beginning with his victory in a Bob Wills fiddle contest at the Coliseum (which was on the east side of Elgin between 5th and 6th) in 1936, when Lewis was 11 years old.
Not only a fine fiddler, Lewis's smooth voice was featured on many of Johnnie Lee Wills' singles in the 1950s. Here's one of my favorites, the 1952 novelty tune "The Thingamajig."
And here's one more Curly Lewis vocal, Blackberry Boogie:
Tickets are $15, available online at okjazz.org.
MORE: The Schmitt Transcriptions were 15-minute radio programs recorded by Johnnie Lee Wills and His Boys (including Curly Lewis) in 1950 and 1951. You can download many of the programs from the Western Swing on 78 blog:
Johnnie Lee Wills radio programs part 1
Johnnie Lee Wills radio programs part 2
Johnnie Lee Wills radio programs part 3
Johnnie Lee Wills radio programs part 4
Johnnie Lee Wills radio programs part 5