Western Swing: June 2013 Archives
About four years ago, Lee Roy Chapman set out on a quest to find Bob Wills's 1948 Flxible Clipper tour bus. He found Bob's bus, and a companion -- the bus of Wills's good friend, western swing bandleader Hoyle Nix -- rusting in a field near Big Spring, Texas, Nix's home base. Chapman reached a deal with the owner to hold the option on the bus until he could raise the money to pay the asking price and bring the bus back to Tulsa. The hope was to exhibit it here, near Cain's Ballroom, the house that Bob built, and take it on tour as well.
It seemed like an impossible dream at the time.
On Tuesday, June 11, 2013, Bob's bus came home, thanks to the help of Loren Frederick. Here's a photo from his Facebook page of the bus entering Tulsa County at the Turner Turnpike terminus.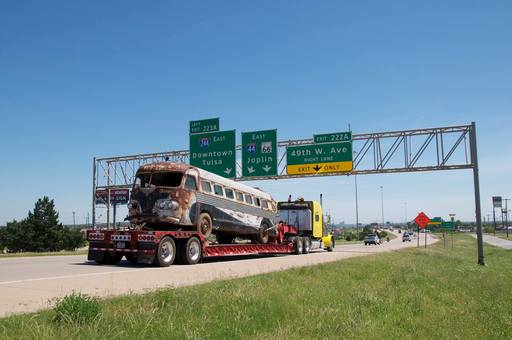 I hope to have more of the story soon, but in the meantime western swing fans can look forward to the day when we can once again "Ride with Bob."
MORE: Lee Roy Chapman also put forward the idea that the arts district north of the Frisco tracks in downtown Tulsa should be marketed as the Bob Wills District, rather than the Brady Arts District, named (indirectly, by way of Brady Street and the Brady Theater) for Tulsa founder, segregationist, Democratic National Committeeman, and Klansman (but I repeat myself) Tate Brady. Read his This Land Press investigative report on Tate Brady's role in vigilantism, the 1921 Tulsa Race Riot, and its aftermath.
A little break from politics:
Sunday after church, we had a special treat waiting in the Fellowship Hall. The Edison High School chamber orchestra, preparing to leave for a tour of England the next day, performed their program for us, as a final dress rehearsal on this side of the pond. The program included a mix of old and new songs, many adapted from British folk tunes. One number, featuring Vintage Wildflowers harpist Dana Maher, caught my attention. (Dana is also music director at Christ Presbyterian Church, and mom to one of the Edison musicians.)
It's called "Swan LK 243," and it's by Scottish harpist Catriona McKay. It was inspired by and named for a sailboat, but on Sunday afternoon it was the perfect soundtrack, warm and wistful, for looking out the window to the church's playground, as children chased and climbed and swung and as their parents chatted and smiled and enjoyed the sunshine and a respite from the threat of storms.
Here is "Swan LK 243," performed by Catriona McKay on harp, Aly Bain on fiddle, Jerry Douglas on dobro, Donald Shaw on piano, and Russ Barenberg on guitar.
MORE: Here's the same fiddler, Aly Bain, and a couple more, doing an instrumental version of "Lily Dale," a song written by Billy Jack Wills, Bob's youngest brother.