Western Swing: January 2016 Archives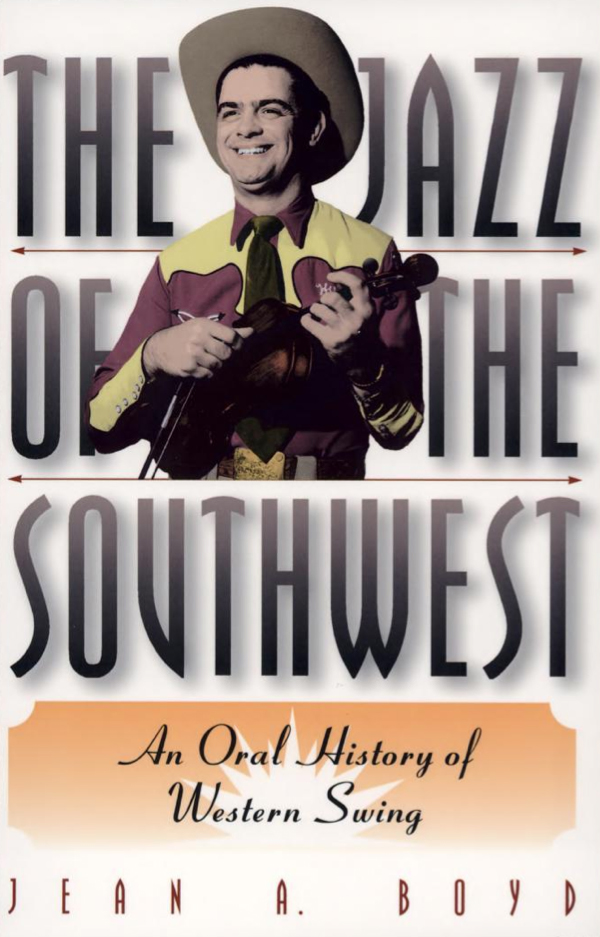 I've been reading a very interesting book, The Jazz of the Southwest: An Oral History of Western Swing by Jean A. Boyd (1998, University of Texas Press). Boyd is professor of musicology at Baylor University. The book begins by tracing the overall history of the genre, as it began in Texas in the 1930s, the musical streams from which it drew, and the men who shaped the music in its infancy.
Each of the remaining chapters of the book is devoted to a particular instrument. Boyd provides a historical overview of the instrument's involvement in western swing and the early musicians who helped to define its role. She then tells the story of several players, drawn from her interviews with them. For example, the chapter on fiddlers spotlights Cliff Bruner, Carroll Hubbard, Buddy Ray, Jimmy Thomason, Johnny Gimble, Bobby Bruce, Curly Lewis, Clyde Brewer, and Bobby Boatright. While Bob Wills and his many Texas Playboys sidemen are prominently featured, Boyd's book has introduced me to bands and musicians that are new to me and whose music I hope to find at some point.
The Baylor University Institute for Oral History has made complete transcripts of many of the interviews available online. While there is a Western Swing collection, that tag doesn't include some interviews with western swing musicians, so the best way to find all of them is to search for interviews conducted by Boyd or by historian David Stricklin (son of original Texas Playboys pianist Al Stricklin).
Interviews by Jean Boyd
Interviews by David Stricklin
Here are direct links to a few among many interesting transcripts:
Betty Anderson Wills, wife of Bob Wills
Original Texas Playboys: Smoky Dacus, Al Stricklin, Eldon Shamblin, Joe Frank Ferguson, Leon McAuliffe (1985)
Eldon Shamblin, guitarist, arranger, band manager (1992)
Herb Remington, steel guitar
Curly Lewis, fiddler and vocalist
Cindy Walker, songwriter
Dean Moore, vocalist and widow of mandolinist Tiny Moore; Truitt Cunningham, vocalist; Burl Taylor
Some entries (e.g. Dean Moore, Curly Lewis) have the recordings available on the right sidebar for online streaming.
MORE: The Baylor University Institute for Oral History has helpful resources for anyone wanting to learn to conduct, transcribe, and preserve oral history interviews.
Jean Boyd has written two more books of western swing history: We're the Light Crust Doughboys from Burrus Mill, and Dance All Night: Those Other Southwestern Swing Bands, Past and Present.