Oklahoma: August 2014 Archives
UPDATE 2015/11/04: Larry Latham's recovery was all too brief. He succumbed to cancer on November 2, 2014, at the age of 61. Before his passing, Latham wrote that he had plotted out the remainder of the story and was working with other artists to . Upon announcing his death, his widow wrote, "He was so appreciative of his readers and did not want to leave the story unfinished. I ask for your patience as I attempt to carry out his wishes and resume posting new issues in the near future with the help of many talented friends." So far, nothing has happened to that end. The lovecraftismissing.com domain has expired, so I have updated links to point to the Internet Archive, which seems to have captured the entire site.
Lovecraft is Missing, a page-a-week webcomic by Oklahoma artist and writer Larry Latham, is back in production after a hiatus due to Latham's treatment for cancer. (Latham reports that signs are encouraging, pending further tests.)
Born and raised in Oklahoma City and educated at OU, Latham spent the last quarter of the 20th century in Hollywood, producing, directing, and storyboarding Saturday morning cartoons for Hanna Barbera and Disney. His credits include Talespin, Duck Tales, Smurfs, and Super Friends. He returned to Oklahoma in 2001.
Lovecraft Is Missing tells the story of Win Battler, an aspiring young writer from a small town in 1920s Oklahoma, who goes to Providence to meet his pen pal and fellow writer of strange tales only to find that, yes, H. P. Lovecraft is missing. The search takes Battler and his companions -- tough-as-nails, resourceful Father Munsford Jackey and skeptical, cynical archivist Nan Mercy -- into a demi-monde populated by the noxious characters and eldritch horrors of Lovecraft's stories. The pages are beautifully drawn, and the plot is intriguing, as it takes the protagonists through a world where Lovecraft's writing is closer to journalism than fiction.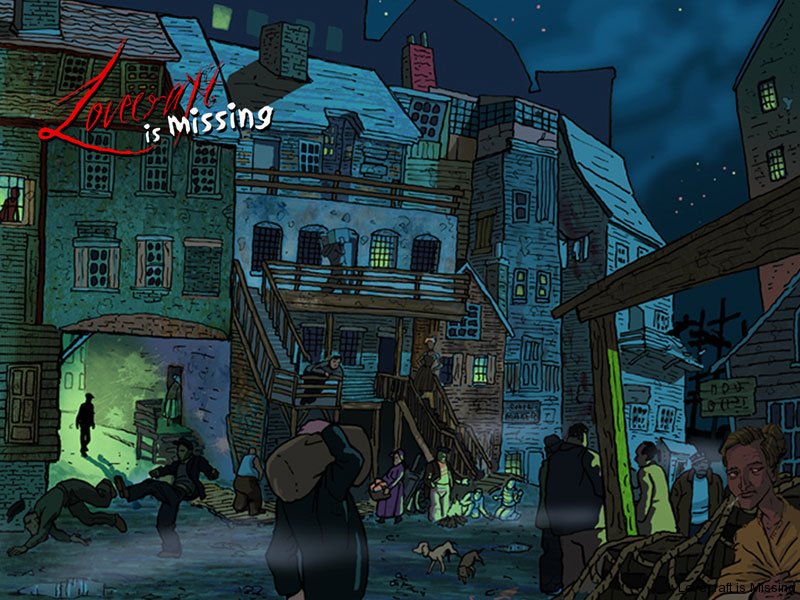 The story is in the middle of the fifth book of a planned six. Unanswered questions are starting to head to a resolution. This is an excellent time to start at the beginning of the story and catch up.
The accompanying blog -- Noxious Fragments from the Pnakotic Manuscripts -- features links about Lovecraft's stories, other works of the same vintage and genre, and the cultural milieu from which they arose.
Latham, a longtime Lovecraft fan, was involved in fundraising efforts for a memorial plaque and grave marker for the author. Latham had been kicking the idea for Lovecraft Is Missing around for a long-time, first pursuing it as a CD-ROM game mystery, then optioning it for a development deal, and finally launching it as a webcomic in 2008, after he realized there was no other way to get it made in line with his creative vision.
Earlier this year, Latham wrote a series of articles on How to Create a Webcomic?. His thoughts on plot and character development would be useful to any aspiring author who wants to create a fictional world; other advice is more specific to the challenge of telling a story with pictures as well as words and the work of building an audience for a website and bringing them back on a regular basis.
MORE:
In 2009, Matthew Price of the Oklahoman interviewed Latham about his career in animation and the origins of Lovecraft Is Missing.
In 2011, Latham was interviewed by All Pulp. Would that more people in entertainment agreed with his definition of "adult":
I originally conceived it as an animated project, and it was in development for a year or so at Film Roman in L.A. My first notion was that I wanted to try and make a truly 'adult' animated series, meaning complex story and characterization rather than T and A and profanity. I wanted to do a horror show, and I am a big Lovecraft fan, but I've never much cared for Lovecraft adaptations, be they film or comic book. I wanted to express what I got out of those stories, but I really didn't want to adapt any of Lovecraft's actual stories, so I came up with my own. There were a few clichés I really wanted to stomp on, like everybody in the universe having a copy of the Necronomicon. In my story, no one, at least of the good guys, have ever even heard of it. Same with Cthulhu. The magic and mystery of these things is that they are very, very obscure.