Oklahoma History: October 2016 Archives
A bit of good news to break up the election stuff:
Wayne McCombs, local baseball historian and executive director of the J.M. Davis Arms & Historical Museum in Claremore, is the subject of a profile in GTR Newspapers.
The profile by Terrel Lester begins with the story of McCombs's first encounter with the Davis collection, when he was a nine-year-old boy and the collection was still housed in the lobby of the Mason Hotel in downtown Claremore:
On a summer afternoon, air-conditioning and guns would be an inviting and double-barreled treat for rambunctious boys still shy of their teenage years.

They entered the lobby, cautiously, stealthily, if not so quietly. Looked around for the boss man.

Considering themselves alone, the boys encircled one of the most enticing pieces of Davis' collection of guns: The Gatling gun, rapid-fire linchpin of 19th-century army brigades and star of so many western movies.

As ringleader of the youngsters, Wayne McCombs remembered that he and his pals began imitating cavalry troops, rattling off sounds they thought mimicked the actions of the Gatling gun, whooping, jumping. One of his confederates even fell to the floor as if shot and wounded.

That was enough to rouse the heretofore silent and unseen James Monroe Davis.
"He stood up from behind his desk," McCombs said. "He saw us come in. He let us play for a little bit, but then it was time to get out.
The profile goes on to describe McCombs's career in radio at KWPR and KVOO, his work as University of Tulsa athletics promotion director during the exciting early '80s, his books on baseball history, his efforts as a Claremore civic leader, and his work, for the last seven years, to promote the J. M. Davis Museum.
McCombs routinely calls upon his marketing background for events to put, and keep, the museum in the public eye.

Along with the monthly appearance of western re-enactors, McCombs has installed such short-term exhibits as a collection of John Wayne movie posters and a tribute to the radio career of Billy Parker. In October, McCombs hosted a book-signing for former New York Yankees pitcher and Chelsea native Ralph Terry. Once or twice a year, McCombs plays host to a BB-gun shooting contest for youngsters.

"I was tired of hearing people say, 'I've been to the museum, but it's been a while. I haven't been back in years.'

"Well, I am trying to get people to come back to the museum," McCombs said.
When they do return, or even make their first trip, to the museum, patrons will find what McCombs and others often refer to as "an Oklahoma gem."
I've known Wayne going back to his time at TU, through Hal O'Halloran's Sports Night show on KXXO. It's always heartening to see someone find a role that is such a good fit for his skills and passions.
BatesLine is proud to welcome a new advertiser: Durant-based artist G. N. Taylor, whose website offers paintings of scenes from Oklahoma history and the American West.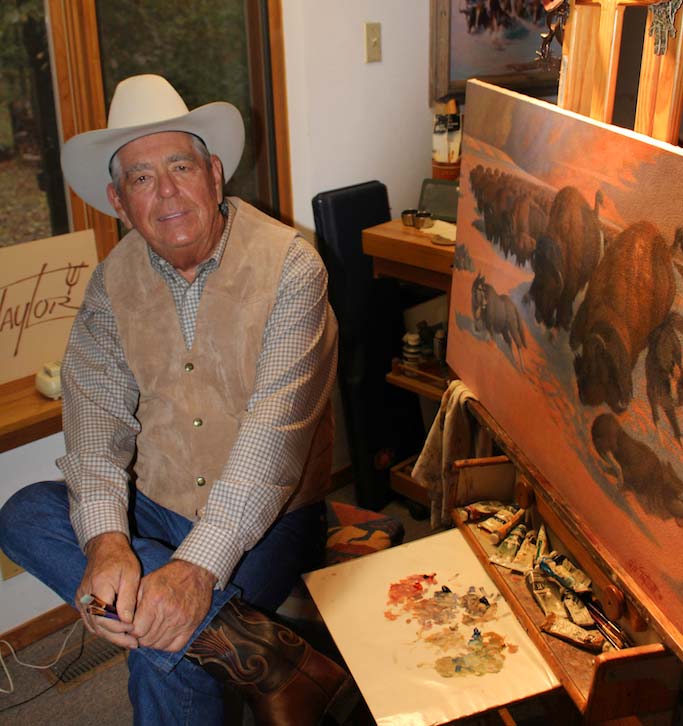 Neal Taylor is an accomplished sculptor and painter. A bronze sculpture by Taylor, "The Spirit of '89," was presented to President Ronald Reagan and is on display at the Reagan Presidential Library, with a casting on display at Will Rogers World Airport in Oklahoma City. The Franklin Mint selected his design for the Oklahoma Bicentennial Medallion, and recently, he was associated with the U. S. Mint as one of nine master designers. His paintings have won numerous blue ribbons at juried shows and are on display in museums, galleries, banks, and institutions around Oklahoma, Texas, and New Mexico.
Taylor's work is rooted in his love of Oklahoma and its history and reflects his own first-hand-experience working with horses and cattle. Paintings depict land runs, cattle drives, buffalo hunts, oil discovery, and the hardships and joys of frontier life. Taylor has done a series of portraits of the principal chiefs of the Choctaw Nation, of which he is a member.
Faithful readers may recall an earlier BatesLine article which featured Taylor's depiction of the only naval battle to take place within Oklahoma's boundaries, when Confederate troops under Stand Watie's command attacked a Union supply steamboat on the Arkansas River at Pheasant Bluff. Taylor's eye for detail brings this uniquely-Oklahoma historic event to life.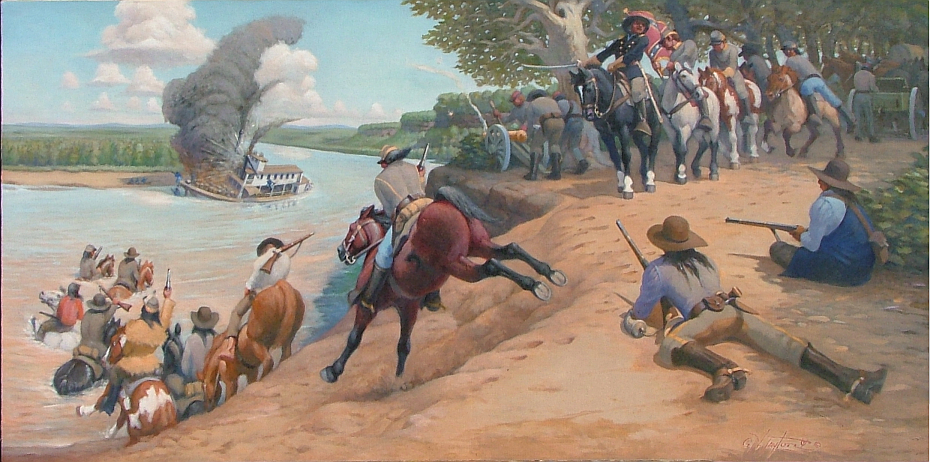 Painting of the Confederate attack on the J. R. Williams by Durant artist Neal Taylor, on display in the Oklahoma History Center.
Christmas is not that far off, and it's not too early to think about unique gifts for a loved one. Instead of buying something that will wind up in the bottom of a drawer, why not choose a gift that will be on display, providing daily enjoyment and a reminder of Oklahoma's rich history?
Through Taylor's website, you can purchase the oil-on-canvas originals or giclée prints on canvas or archival paper of Taylor's paintings. Print prices are quite affordable. Please take a few minutes to click through the ad and browse through the wide selection of paintings. You may find the perfect painting for your den, lobby, or classroom or the perfect gift for someone who loves the American West.