Oklahoma Politics: July 2009 Archives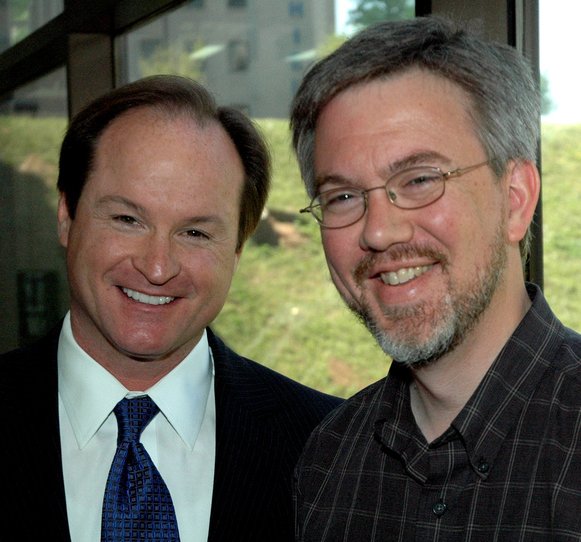 Monday evening I attended a reception welcoming Congressman John Sullivan back from his month at the Betty Ford Center. Sullivan checked himself into the center for rehabilitation for alcoholism. Since his return, he has made himself widely available for interviews with print and broadcast media about the impact of alcohol on his life and his reasons for dealing with the problem proactively. (See below for links.)
Sullivan has said that he sought treatment because of the effect alcohol was having on his relationships with his family, and in particular that he wanted to set a better example for his oldest son, who is now a teenager.
The event was attended by his three Oklahoma Republican colleagues in the U. S. House -- Frank Lucas, Tom Cole, and Mary Fallin, each of whom spoke briefly in appreciation of Sullivan's work in Congress.
I've heard negative comments from a number of Republicans, in person and via e-mail, suggesting that it's time for Sullivan to step aside or expressing an intention to support a primary challenge against him.
If someone has a beef with Sullivan over his vote on the bailout last fall, I can understand. It was a significant lapse for him and for Sen. Tom Coburn, and I think that time has shown that the bailout was the wrong move for our economy. But I have to weigh that against Sullivan's consistent record as the most fiscally conservative of Oklahoma's House delegation, as a solid social conservative, and as someone willing to take a stand in support of genuine and effective enforcement of laws against illegal immigration, a position that puts him at odds with the Chamber of Commerce types. While I think his record is overwhelmingly positive on balance from the conservative perspective, it's certainly a conservative voter's right to decide use the bailout vote as a litmus test, although I think that's short-sighted.
But it would be wrong to push John Sullivan out the door because he sought rehabilitation for alcoholism. If Sullivan is punished at the polls for seeking treatment, it will encourage others in public life who are dealing with a personal problem like substance dependency or marital strife to keep hiding, instead of seeking help, until the problem blows up into a huge career-ending, family-wrecking scandal. Sullivan has been open about his decision to seek help for his problem with alcohol in hopes that others who need help will find the strength to seek it out.
It's telling that, of all John Sullivan's most vocal political enemies, on the left and on the right, not one has come forward with a damaging rumor alleging scandalous behavior on his part. If something were out there, it would have surfaced on one web forum or another. As I wrote in late May, when he announced that he had admitted himself to the Betty Ford Center, "I had never seen anything in his behavior even hinting at a problem and had never even heard rumors of a problem."
Some have complained about Sullivan's being on leave during the House's vote on the "Cap and Trade" bill. The margin was wide enough that Sullivan's lone vote would not have made the difference. The Democratic leadership's last-minute substitute bill made it obvious that they would keep rewriting the bill until they persuaded enough of their own members to vote yes for something. What passed was a 300-page substitute that isn't even complete. An entire section -- the heart of the plan -- hasn't even been written, much less approved. The Senate will pass a different version (maybe -- Sen. Jim Inhofe says it's dead in the water), there will be a conference committee, all sorts of unholy, corrupt provisions will be quietly inserted into the bill by the conferees and their staffers, and then it will go back to the House and Senate for approval. There are plenty of opportunities yet to kill this thing, and once the teeth are in the bill, there will be some substance that Sullivan and others can use to convert yes voters to no voters. Sullivan will be there when it matters.
Congratulations to John on seeking help when he needed it and on his successful completion of rehab. I'm happy to have Congressman Sullivan back in Washington representing Oklahoma's 1st District.
MORE:
KTUL: Sullivan Got Sober for Family
Sullivan will tell you drinking did not hurt him that much. Even when he was drinking, he said he worked-out regularly and got his job done. It was his loved ones who paid a price.

"They wanted to do things, and I wouldn't the next day when I'm hung over or don't feel too good. I wasn't there for them either, and might be snappy with them, and tell them, 'Get outta here.' I'd argue with my wife, and I feel terrible about that. It's not the way I want to be." explained Sullivan.

For Sullivan failing his kids started with drinking when he was a teenager. He began by sharing some Coors Light with his high school buddies. He would drink on and off, binging and then giving it up for years. But abstinence was never permanent, so after breaking promises to quit he said he finally decided he had to put his family first.

KTUL: Sullivan: "People Or Things Didn't Make Me Drink"
"People or things didn't make me drink," he says. "That's not what it was. It wasn't like things were stressful. I just did. I'm an alcoholic ya know? And if I start drinking I want to drink more, not every time but eventually that does happen."

Sullivan says over time, the occasional binge evolved from light beer to vodka and a strain at home. He says he wants to make it up to his family and his constituents by turning it all into a positive.

"I'm sure some people are disappointed with me," he says. "But it's hard to apologize because I needed to get help and I did. And I wanted to come forward and do this in a way that was public because I want to help other people."
KOTV: Congressman Sullivan Discusses Time In Rehab
Sullivan said during his month long treatment he learned that he will face a long recovery, but that he can overcome it.

"I can't drink. When I drink, it goes in and I react differently than a normal person. The choice I have is to work hard, and do what I need to do, but also to not to drink the first one. It's not the tenth drink that gets me drunk. It's the first one that starts the process," said Oklahoma Congressman John Sullivan.
KOTV: Experts Say Sullivan's Battle Could Help Others
Sullivan says he appreciates all the support he's received, and pledges to remain honest about his treatment in hopes that others will choose to take the same steps he did.

"That's the reason I'm being so public about it, too. If it can help someone come forward to know that you need to get help, and you can get it. Don't be scared to do it, and you won't be judged or punished. But, come forward and do it," said Congressman John Sullivan.

(Photo above by John Tidwell, taken April 2006.)
This morning an off-duty Tulsa city planner tweeted a link to a "memorial" -- a petition seeking the impeachment of State Rep. Sally Kern. A number of the 150 or so signers commented that they consider Kern, who is, like Pres. Obama, Gov. Henry, and nearly every member of Congress and the State Legislature, an avowed opponent of same-sex marriage, an embarrassment to the state of Oklahoma.
Here's the text of the petition, which is intended to reverse the damage that the petition alleges has been caused by Kern to the state's image and reputation (emphasis added, but spelling and punctuation left as is -- consider the whole thing [sic]):
To the Honorable House of Representatives of the great State of Oklahoma

The petition of _____________________, a citizen of the State of Oklahoma, and of the United States, respectfully showeth:

That, Article III, Section 1, of the Constitution of the State of Oklahoma, sets forth the article for impeachment and that in such article it states "The Governor and other elective state officers, including the
Justices of the Supreme Court, shall be liable and subject to
impeachment for wilful neglect of duty, corruption in office,
habitual drunkenness, incompetency, or any offense involving
moral turpitude committed while in office."

That, Jefferson's Manual section LIII, 603, states that impeachment may be set in motion by charges preferred by a memorial, which is usually referred to a committee for examination; and

The memorial goes on to set forth that, Sally Kern has displayed to the citizens of her district and of the great State of Oklahoma incompetency while holding the office of State Representative; and

The memorial goes on to set forth that, the actions, public address, legislation, views of Sally Kern have had a negative impact on recruiting and retaining businesses to the State of Oklahoma; and

The memorial goes on to set forth that, Sally Kern has committed acts of moral turpitude while in office; and

The memorial goes on to set forth that, Sally Kern's primary agenda is insight hate and rage towards the citizens of the State of Oklahoma; and

The memorial goes on to set forth that, Sally Kern has violated the convent of the seperation between Church and State; and

The memorial goes on to set forth that, Sally Kern has wasted taxpayer dollars pening legilsation that has added no value to the great State of Oklahoma; and

The memorial goes on to set forth that, Sally Kern has shown support to repress the freedoms, rights, and privliges afforded to the citizens of the great State of Oklahoma by states constitution and the constitution of the Unites States of America.; and

The memorial goes on to set forth that, In all of this Sally Kern has acted in a manner contrary to her trust as State Representative, subversive of constitutional government to the great prejudice of the cause of law and justice, and to the manifest injury and oppresion of the people of the State of Oklahoma.

In conclusion the memoralist says:
Having thus submitted to your honorable body the facts of his case, your petitioner begs leave to observe that it appears from those facts:

First. That said Sally Kern is no longer viewed as a representative of the people of the great State of Oklahoma.

Second. That said Sally Kern has in the view of these people displayed incompetency in her ability to perform, enact, and carry out the duties of a Representative for the State of Oklahoma.

Third. That said Sally Kern has displayed poor judgement and moral turptitude in the her actions thus far as a Representative for the State of Oklahoma.

Wherefore, and inasmuch as the said Sally Kern has violated the most sacred and undoubted rights of the inhabitants of the State of Oklahoma, your petitioner prays that the conduct and proceedings in this behalf, of said Sally Kern, may be inquired into by your honorable body, and such decision made therein to impeach, to appoint managers to conduct the impeachment trial in the Senate, and to inform the Senate of these facts by resolution (Manual Sec. 607; Deschler Ch 14 Sec. 9) for trial and removal from office and disqualification to hold and enjoy any office of honor, trust or profit under the State of Oklahoma;

And your petitioner, as in duty bound, will pray.

Sincerely, We The Undersigned;

As serious as the allegations against Kern are -- violating "convents," moral "turptitude," "insights" of hate and rage, and "pening legilsation" (an act that looks awfully turptitudinous) -- someone needs to hold the authors and signers of this petition accountable for an assault on the English language. All y'all are making us look like a bunch of ignorant hicks.