Oklahoma Politics: November 2011 Archives
BatesLine is pleased to welcome an ad from the Oklahoma Republican Party for the 2012 Oklahoma Straw Poll:
As we recently announced, the Oklahoma Republican Party is holding our inaugural Oklahoma Straw Poll. Many states hold presidential straw polls every four years creating national publicity and financial support for their respective state, but we thought it was about time the reddest state in the country had one of its own!

Straw polls are important because many times they serve as the first indicator of the strength of a candidate's organization and message.

We want to give Republicans from all across Oklahoma an opportunity to make their voice heard.

From November 21st until December 5th, donate $5 to the OKGOP to vote in the Oklahoma Straw Poll. Many Straw Poll voters can end up paying hundreds with travel costs, etc in order to vote in their states' poll, but we are making a way for you to support your candidate and do it from the comfort of your own living room!

The deadline for voting in the Oklahoma Straw Poll is Monday, December 5, 2011, at 5:00 pm. Click the ad at the top of the page to vote.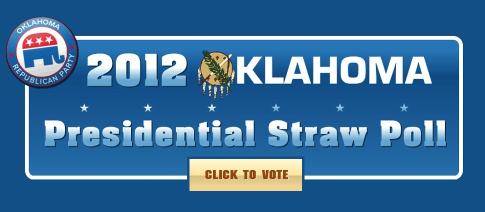 This is a great opportunity for Oklahoma Republicans to have a voice, and the money goes to a good cause. Whatever you may or may not like about the national party, the Oklahoma Republican Party is a low-overhead, grassroots-run organization that has produced amazing results.
There's a reason that the Republican nominee won all 77 counties in 2004 and 2008, that Republicans swept all statewide offices in 2010, and controls supermajorities of both houses of the legislature, after decades in the minority. Yes, Oklahoma voters are conservative, but a voter's views make no difference unless that voter turns out on Election Day. After a disheartening defeat in 2002, Oklahoma Republicans elected Gary Jones (now our State Auditor) as chairman, and Jones instituted a massive turnout effort for 2004, involving hundreds, perhaps, thousands, of local volunteers dropping voter information packets on the doorstep and making calls to remind people to vote. Matt Pinnell ran that successful program, and he's now chairman of the Oklahoma Republican Party.
Beyond turnout efforts, the state party provides training for potential candidates and their helpers and runs the state and district conventions that will elect Oklahoma's delegates to next year's Republican National Convention. You can vote in the Oklahoma Straw Poll and contribute your $5 (or more) knowing that the money will be used effectively.
Vote now!