Oklahoma Politics: March 2014 Archives
Rep. Jason Murphey (R-Guthrie) calls shenanigans on dumping more money in the American Indian Cultural Center and Museum (AICCM) money pit:
Several days ago the State Senate approved Senate Bill 1651 in another attempt to use taxpayer funds to complete the construction of the American Indian Cultural Center and Museum in Oklahoma City. The bill, if approved by the House and Governor, would spend another 40 million taxpayer dollars on the project.

The cultural center has already been provided with three allocations of $33M, $25M and $5M. The appropriations were funded with debt part of which still haunts the state budget and will continue to do so for many years....

Murphey went on to summarize a performance audit of the Native American Cultural and Education Authority by State Auditor Gary Jones that found "a number of inconsistencies and deficiencies that can be attributed to improper planning," a failure to implement best budgeting practices, and exploration of alternative plans and less expensive options. He writes, "It's hard to believe that Oklahoma lawmakers are so gullible as to suggest that the fourth time's the charm and this money will not also be wasted, contrary to all previous evidence." He reports that he has received more unprompted email from his constituents on this topic than any other, almost all opposed to putting more money into this failed project.
Oklahoma's tribal heritage is certainly worthy of celebration and promotion, and we have many museums, cultural centers, and historical sites, some run by the tribes, some under our state parks department or the state historical society, some under independent non-profits. Tulsa, in particular, ought to pursue tourists with an interest in American Indian history and culture, selling our city as the logical home base for day trips to Tahlequah, Muskogee, Okmulgee, Pawhuska, and elsewhere, not to mention our own sites of significance, like the Gilcrease Museum, Creek Council Oak, and Perryman Cemetery.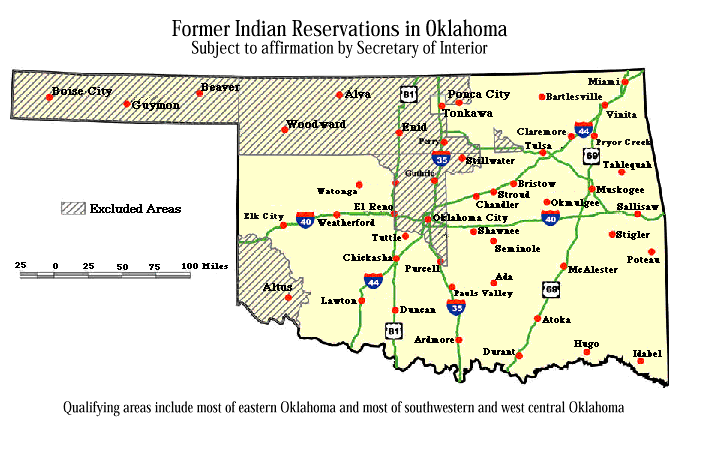 Oklahoma City, on the other hand, is in the Unassigned Lands, opened for settlement by land run 125 years ago next month. It's located in one of the few parts of the state (along with the Cherokee Outlet, No Man's Land, and Old Greer County) that isn't considered Indian Country under Federal Law.
It seems to me that placing a catch-all Indian museum in Oklahoma City is all about Oklahoma City cashing in on tribal tourism at the expense of the rest of the state, drawing tourists away from historic sites and tribal cultural museums in other parts of the state. If anyone should pay for the AICCM, it should be Oklahoma City taxpayers and philanthropists.
Rather than dump another $40 million into a new facility, Oklahoma's focus ought to be on better promotion of the sites that already exist. We should want to entice visitors to venture off of the interstates to our smaller cities and towns, rather than provide them an easy-on, easy-off, fast-food drive-thru version of our state's rich Indian history. The state could fund longer hours at our welcome centers and add small exhibits and brochures to help people find Indian heritage sites. The tourism department could provide an online guide and a mobile app for planning a visit to Indian sites and events.
State funding is for building up the whole state, not for fattening an imperial capital at the expense of the provinces.
MORE:
Don't miss Murphey's insight into the preeminent force behind this kind of spending:
It is never good when a government entity is suddenly empowered with a rapid cash infusion and the spending of millions of dollars of other peoples' money. The officials who oversee that entity all too often give in to the temptation to build an empire and spend the money of future generations at the suggestion of the massive army of vendors who benefit from the excessive spend.
From the NACEA audit:
The Board self-imposed certain challenges; the Legislature requested neither a world-class facility nor one that would draw hundreds of thousands of both international and domestic tourists to the southern side of Bricktown in Oklahoma City. The Board chose "the Vision Plan," the most elaborate and expensive of the options provided by the project architects in 2004. Projects on such a grand scale require substantial funding, however, and at no time has the Board's available funding closely approached its projected expenditures. It is reasonable to expect that funding shortfalls might lead to a reevaluation of the plans by the Board; if an everyday citizen loses his or her job, he or she might eliminate cable service, a gym membership, or weekly pizza night. The Board has taken the opposite approach, and rather than evaluating less costly options that would still allow construction of a world-class facility, has maintained their vision, with an expectation that taxpayers will foot the bill.
The audit's recommendations and six options for moving forward are worth reading.
On Monday, March 24, 2014, the Oklahoma State Senate's Education Committee unanimously passed a committee substitute for HB 3399, a bill initiated in the State House to repeal Oklahoma's adoption of Common Core national standards. (Click the link for the text of the bill, which shows deletions from current law as strikethrough text and additions as underlined text.)
The Senate committee substitute:



requires Oklahoma to develop its own state subject matter standards and assessments;


removes explicit references to the Priority Academic Student Skills (PASS) Curriculum, replacing them with references to state-adopted subject-matter standards;


removes requirements to adhere to K-12 Common Core State Standards, referring instead to "college- and career-ready" standards to be developed in consultation with the State Regents for Higher Education and the State Board of Career and Technology Education;


gives the Legislature the final say on any standards adopted by the State Board of Education (the Legislature may, by concurrent resolution, amend or return with instructions);


forbids the State Board of Education from "enter[ing] into any agreement, memorandum of understanding or contract with any federal agency or private entity which in any way cedes or limits state discretion or control over the process of development, adoption or


revision of subject matter standards and corresponding student assessments in the public school system, including, but not limited to, agreements, memoranda of understanding and contracts in exchange for funding for public schools and programs";


gives school districts the exclusive right to determine "the instructional materials, curriculum, reading lists and textbooks to be used in meeting the subject matter standards" and the discretion to "adopt additional supplementary student assessments";


bans standards and assessment questions that are "emotive in nature";

requires instructional material to be available for inspection by the parents or guardians of students.


"Priority Academic Student Skills (PASS) Curriculum" is the name for Oklahoma's implementation of Common Core standards, as shown by this Oklahoma Common Core adoption timeline on the State Department of Education website.
Restore Oklahoma Public Education ROPE), the bipartisan grassroots group working to repeal Common Core, supports the Senate substitute as a step in the right direction. There were initial indications that the Senate leadership would not allow an anti-Common Core bill to proceed, despite the overwhelming and bipartisan support in the House. Some Common Core opponents are therefore skeptical of any bill that could win the support of the Senate and Governor, but Jenni White, ROPE president, says that it's the first step in a long process which will require Common Core opponents to stay vigilant in this year's elections and in the State Board of Education's development of Oklahoma state subject matter standards.
MORE:
ROPE website
ROPE blog
Stop Common Core in Oklahoma on Facebook
Also, today Indiana Gov. Mike Pence signed a bill to repeal Common Core standards.
A Cato analysis of Oklahoma educational spending and achievement shows that per-pupil spending has nearly doubled in inflation-adjusted terms since 1972, but SAT scores have grown by only 2% in that same period, in raw terms, and have actually dropped by about 2.5% when adjusted for participation and demographics. (The adjustment rationale and methodology are described here.)
And here is Oklahoma Gov. Mary Fallin's rather underwhelming statement on Common Core Legislation from last Friday.
"Since then, I have listened to growing concerns from parents across the state concerning Common Core, the standards currently in the process of being implemented. In light of these concerns, I have worked directly with our legislators to accomplish the goals of increasing classroom rigor and accountability while guaranteeing that Oklahoma public education is protected from federal interference. My hope is that House Bill 3399, which is soon to be heard by the Senate Education Committee, will accomplish these goals. If it does so, without creating unintended consequences that would hamstring educators or invite more federal influence in education, it will have my support."