Oklahoma Politics: March 2017 Archives
If you haven't already, please read my little essay about the purpose of a political party. Grounded in the view that a political party ought to stand on principle above personality, tomorrow at the 2017 Tulsa County Republican Convention I'll be voting for David McLain for Tulsa County GOP chairman.
David McLain is a Skiatook resident, a small businessman in the construction industry, and a veteran of the U. S. Navy. David and Aleen, his wife of 26 years, have three grown children and two grandchildren. In the fall of 2015, McLain won the GOP nomination for the Senate District 34 special election, a grassroots candidate who defeated a heavily favored establishment candidate backed by Obama funder George Kaiser and the Chambercrats. McLain narrowly lost the January 2016 general special election to a popular Owasso high school coach who downplayed his party affiliation
Prior to his own campaign, McLain volunteered for conservative candidates around Skiatook, helping several to victory in Tulsa County and also in neighboring Osage County, protecting State Rep. Sean Roberts and electing a Republican Sheriff and County Commissioner in the traditionally Democrat county. McLain has emphasized the importance of volunteers to party success. Two announced chairman candidates have quit the race to support McLain, and one of them, Terry Flattem, a frequent volunteer at the county party office, is running for vice chairman on a ticket with McLain.
McLain's only announced opponent for the chairmanship is Monica Deon, a leader of the Trump 2016 campaign in Tulsa. Trump, you will recall, finished third in Tulsa County, behind Ted Cruz and Marco Rubio, despite his notoriety and wall-to-wall TV coverage. In the general election, Trump significantly underperformed Mitt Romney's 2012 effort and John McCain's 2008 performance in Tulsa County.
During a recent gathering of county party activists and leaders, Deon expressed disdain and contempt for the county party platform, agreeing heartily with someone who said that the platform was "asinine" and "hateful," and indirectly expressing disdain for the thoughtful activists who spent their spare time crafting it.
The RyanTrumpSwampCare mess of the past week is what you get when you eschew principle in favor of "just doing something." Trump was willing to embrace all the basic principles behind Obamacare and keep the country on the course to health care catastrophe just to say he got a bill passed. It was stunning to see Trump supporters defending a bill that entrenched many of the worst aspects of Obamacare, simply on the grounds that Trump supports it, and we must trust Trump.
We need party leaders willing to stand against bad ideas, even when they're being pushed by elected officials of our party.
Here is the slate I will be supporting at the 2017 Tulsa County GOP convention. All of these candidates understand the nuts and bolts of winning elections, understand the importance of pulling together various factions in the party, but at the same time have demonstrated by their actions that a party must stand for principle, if it's to have any meaning at all.
Chairman: David McLain
Vice Chairman: Terry Flattem
1st District Committeeman: Donny Tiemann
1st District Committeewoman: Amanda Teegarden
As of this writing, I don't know who all the candidates will be for Tulsa County's two seats on the State Committee, but I will either update this entry or post to my Twitter account once I make a decision on those races.
RESULTS:
Two candidates ran in five of the six races. Amanda Teegarden was unopposed for 1st District Committeewoman. The table below lists the raw vote (number of delegates present and voting for each candidate), the allocated vote (weighted per precinct, this is the vote that determines the winner -- see explanation below), and percentage of allocated vote. Victors are highlighted in bold font.
| | | | | |
| --- | --- | --- | --- | --- |
| Race | Candidate | Raw | Allocated | Allocated % |
| Chairman | David McLain | 163 | 240.9 | 68.82% |
| Chairman | Monica Deon | 77 | 109.1 | 31.18% |
| Vice Chairman | Terry Flattem | 157 | 230.8 | 66.50% |
| Vice Chairman | Mike Ford | 80 | 116.3 | 33.50% |
| StateCommitteeman | Mike McCutchin | 153 | 218.7 | 63.22% |
| StateCommitteeman | Michael Phillips | 88 | 127.3 | 36.78% |
| State Committeewoman | Lydia D'Ross | 122 | 176.6 | 51.04% |
| State Committeewoman | Alivia Rawls | 118 | 169.4 | 48.96% |
| 1st DistrictCommitteeman | Donny Tiemann | 168 | 240.6 | 69.54% |
| 1st DistrictCommitteeman | Dan Miller | 72 | 105.4 | 30.46% |
| 1st District Committeewoman | Amanda Teegarden | | | 100.00% |
A simplified explanation of allocated votes: Each precinct is allocated a certain number of votes, based on the number of votes cast by that precinct for the top of the ticket at the previous general election (in this case, for president). A precinct can have more delegates present than votes, in which case the votes are weighted proportionately. If a precinct has fewer delegates present than votes, the votes are also weighted proportionately, but only up to a maximum of two votes per delegate. During the precinct roll call, each precinct chairman announces the raw vote totals, a teller types the numbers into a spreadsheet, and the spreadsheet calculates the allocated totals.
Examples: Precinct 222 is allocated 3 votes, based on how well the Republican nominee. If 5 delegates are present, each delegate's vote counts for 3/5 (0.6) of a vote. If 2 delegates are present, each delegate's vote counts for 3/2 (1.5) votes. If only 1 delegate is present, each delegate's vote counts for 2 votes, as 2 is the maximum under state party rules.
Today, I was the teller, typing numbers into Excel and trying to distinguish between the names of the two candidates for state committeewoman, which share an almost identical sequence of vowel sounds and a few consonants, too.
Votes were cast by 103 out of 263 precincts.
In the process of typing in the numbers for each precinct, I picked up on some patterns in the voting.
Although the winning totals were very similar across four of the five competitive races, and although many of the winning candidates had the same group of supporters, there weren't full slates as such.
The vice chairman vote typically tracked with the vote for chairman -- not surprising since each chairman candidate endorsed a vice chairman as a running mate. There were some differences, however, and my guess is that, since one of the vice chairman candidates was the outgoing chairman, tickets were split based on experiences, positive or negative, with Ford himself. In 21 precincts, the two candidates had different totals, with a total magnitude of 25. (This count would not reveal a circumstance where two ticket-splitters in the same precinct cancelled out each other's votes, so the true number of ticket-splitters might be higher..) But the ticket-splitting balanced out overall, so that Ford received only 3 votes more than running mate Deon.
The closest race was for State Committeewoman. Lydia D'Ross has been involved in the local GOP for a number of years; Alivia Rawls is a young newcomer, a former Miss Owasso and Miss Tulsa State Fair. D'Ross had many of the same seconders as the other victorious candidates, yet she had only four more raw votes than Rawls. I had not heard that either candidate would be running prior to today. I suspect that some concern about D'Ross combined with a desire to reach out to a new generation combined to make the race a close one.
Mike McCutchin, who served as chairman 2013-2015, had the next lowest winning total, but was within 15 votes of Donnie Tiemann, who had the highest total. Of the 103 precincts in which votes were cast, 64 of them had different vote totals for McLain and McCutchin, and 61 had different totals for Deon and McCutchin. Both McCutchin and Phillips seem to be well regarded by everyone, but McCutchin also had a record of service focused on applying his process-oriented mind to the needs of the county party.
The 1st District Committeeman's race was more strongly correlated with the chairman's race -- differences in only 20 precincts. Tiemann was the sole incumbent running for re-election, and I've heard no complaints about his performance.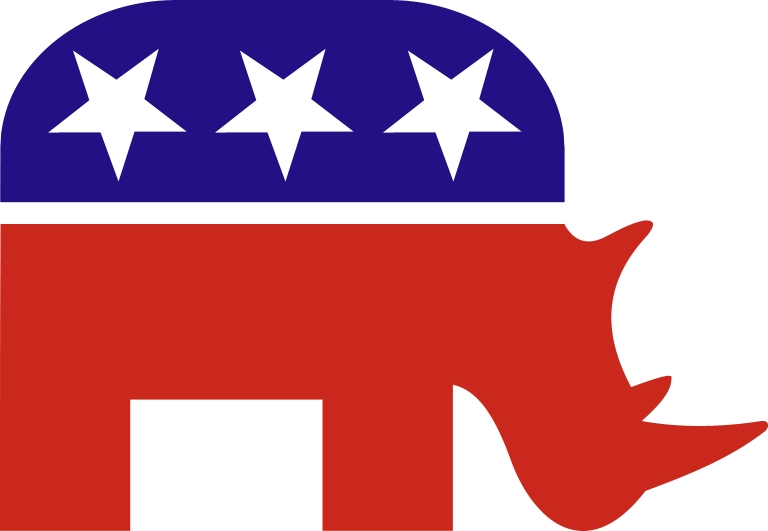 We are at interesting point in Oklahoma's political history. Never before has the Republican Party ever been so dominant, but never before has it been in such danger of betraying the ideals that won it its dominant position. The task of the moment is not merely to win elections, but to protect the Republican brand, and to ensure that our platform, grounded in the timeless truths of human nature and economic behavior, is carried out. All of the hard work of Republican activists can be undone by Republican elected officials who are cowed by institutional resistance, led astray by their own sinful appetites, bedazzled by the blandishments of lobbyists (and the allure of post-politics job prospects), or simply flying a flag of political convenience.
When I began to follow politics in the early 1970s, Oklahoma was very nearly a one-party state, but that one party was the Democrats, which had owned Oklahoma politics since statehood. Birthed in the agrarian populism of William Jennings Bryan and Alfalfa Bill Murray, the attachment of Oklahoma to the Democratic Party was cemented by the New Deal in the crisis of the Great Depression. If you wanted a say in the choice of a legislator or county commissioner, you had to be registered Democrat in most of Oklahoma.
As of Oklahoma's 75th birthday in 1982, only two Republicans had served as Oklahoma governor, for one term each, and Republicans had only managed control of the State House for two years following the Harding landslide of 1921. A handful of Republicans, mainly from the two major cities or the northwestern wheat belt, had served in the U. S. House. The national Democratic Party's weakness against Communist aggression and flirtation with the social theories of the left began to alienate Oklahoma voters, who began choosing Republicans for president and U. S. Senate. But at every level below that, the Democrats still enjoyed an electoral lock. It was another three decades before Republicans replaced Democrats as the dominant party.
We know from history and experience that the principles of limited government, individual liberty and responsibility, sanctity of human life, and the natural family bring peace and prosperity to a society. But rent-seekers want subsidies, bureaucrats want sinecures, sociopaths want power, perverts want affirmation, and everyone wants irresponsibility without consequence (except the victims of that irresponsibility). It takes tenacity to move forward for the values that build and maintain civilization in the face of such a headwind.
To move forward successfully, we need a political organization that not only wins elections by espousing these timeless values, but also carries those values forward in legislation, judgment, and executive action. That is why political parties exist -- to implement a set of principles and policies that its members believe most conducive to the public good. Under such a view, party leaders and activists must not only elect candidates to public office, they must also hold those elected officials accountable.
An elected official who pursues policies contrary to his party's fundamental ideals is damaging his party's brand. If the Republican Party's principles are most conducive to the peace and prosperity of our nation, as we believe, if the contrary policies are pursued by officials carrying the GOP label, our party will be blamed for the inevitable ruin, and we will lose office and the opportunity to carry the right principles into practice. Therefore, when an elected official acts against the purposes of the party, it is appropriate for party leaders to denounce that official and work against his continued service in office.
Unfortunately, there's another perspective on the purpose of a party. I call this the "empty vessel" theory. In this view, the Republican Party is just a vehicle for whoever manages to win a Republican primary. By this definition, any policy promoted by a Republican elected official is a good policy. By this view, a party official's job is to promote and protect anyone in office with an (R) after his name, no matter how damaging his policies. By definition, a Republican elected official beyond criticism. In this view, a platform is not only futile but dangerous, as taking a firm stand on any issue has the potential to alienate a prospective voter.
Without a platform that it seeks to accomplish, a party is little more than a social club, a gang competing with other gangs to see which one gets to loot the public treasury.
Yes, party leaders need to understand the nuts and bolts of campaigns, the art and craft of conveying a persuasive message to the voters. But before any of that matters, you had better have a message worth conveying. As I vote in this year's party elections, I'll be voting for party officials who put principle above personality.