Oklahoma Election 2014: August 2014 Archives
Happy Election Day! Polls open across Oklahoma at 7 a.m. and close at 7 p.m.
Results should start rolling in soon after 7 p.m. The Oklahoma State Election Board website will update results as they are received from the county election boards. Although results are posted on each precinct door shortly after the polls close, a precinct's results have to be taken to the county election board to be read into the state election computer system. Be aware that the county election boards will not process and transmit the tallies from individual precincts to the State Election Board computers until all absentee ballots (both in-person and by mail) are counted and posted. This was the cause for a significant delay in November 2012. Some media outlets may employ runners to go to the precincts directly in order to post initial results before Election Board numbers are ready.
A few resources as you go to vote:
Here are my endorsements in GOP runoffs. You will notice that they are consistent with those of other conservative groups and diametrically opposed to the wheeler-dealer chambercrats and the Tulsa Whirled's still lamentably liberal editorial board.
U. S. House, 5th District: Steve Russell
Tulsa County District Attorney: Steve Kunzweiler
State House District 69: Chuck Strohm
State Senate District 40: Steve Kern
Also, the City of Broken Arrow has eight bond issues on the ballot. That's pretty sneaky, given the usual low turnout of a primary runoff election.
Republicans don't have any statewide runoffs, but Democrats have two. Freda Deskin and John Cox are the finalists to be the Democrat nominee for State Superintendent, and either State Sen. Connie Johnson and perennial candidate Jim Rogers will face Congressman James Lankford in November for the remaining two years of Sen. Tom Coburn's unexpired term.
Both parties have runoffs for the 5th Congressional District. Conservative groups across the state are backing State Sen. Steve Russell, a retired U. S. Army Lt. Col. who served in Kosovo, Kuwait, Afghanistan, and Iraq, leading a unit that was involved in the pursuit and capture of Saddam Hussein. As a legislator, Russell has earned Freshman of the Year and Legislator of the Year awards from the Oklahoma Conservative PAC (OCPAC). Russell's opponent, Corporation Commissioner Patrice Douglas, is regarded as aligned with wheeler-dealer chambercrats. Douglas has come under fire for a mail piece that gives the false impression that she has been endorsed by incumbent Congressman James Lankford.
Tulsa County Republicans will pick our new District Attorney today. I'm joining conservatives across the county to support Steve Kunzweiler, the only highly experienced and constitutionally and professionally qualified candidate in the race. As head of the criminal division, Kunzweiler has 24 years of experience as a prosecutor, oversees a team of 35 prosecutors and thousands of criminal cases every year. Kunzweiler works closely with law enforcement and legislators to improve the justice system by reforming laws and procedures. Kunzweiler has the endorsement of most of the Fraternal Order of Police lodges in Tulsa County.
His opponent, Sydney Fred Jordan, Jr., appears to be a legislator close to his term limit and looking for his next gig. Jordan has no experience as a prosecutor or supervisor of prosecutors in Oklahoma's criminal justice system. As an assistant majority leader, Jordan failed to reign in state spending and failed to reprioritize spending to relieve the overburdened budgets of the state's 27 DA offices. Some of us are still puzzled by Fred Jordan's 2006 answer to questions about the legal status of workers on one of his company's job sites.
More recently, in this current session, Fred Jordan was an outspoken leader of the effort to kill a key pro-life bill, a bill that would have reigned in the role currently played in the appointment of judges and justices by the Oklahoma affiliate of a very liberal private organization. The pro-life community believes the Oklahoma Bar Association's involvement skews the bench to toward leftist judicial activists; Jordan is evidently OK with that situation.
Two significant runoffs for legislature:
Here in Tulsa County's House District 69, conservative small businessman Chuck Strohm faces Melissa Abdo. Chuck Strohm opposes Common Core and has been endorsed by all the members of the board of Restore Oklahoma Public Education, the grassroots group that led the effort to repeal Common Core. Strohm has also been endorsed by the Oklahoma Second Amendment Association and County Assessor Ken Yazel. Strohm
Abdo has been endorsed by a pro-Common Core organization. Abdo also has the support of the county courthouse RINO brigade, including County Clerk Pat Key. If you want to evaluate Key's ability to discern character and qualifications of public officials, remember that Pat Key appointed Nancy Rothman as her chief deputy and put her in charge of most aspects of the office's operations. Abdo is also endorsed by former Commissioner Fred Perry, who voted to put the River Tax and Vision2 corporate welfare tax on the ballot and supported their passage.
In Oklahoma County, in Senate District 40, pastor Steve Kern is the conservative pick to replace term-limited Cliff Branan. His opponent, Ervin Yen, contributed $1,250 to liberal Democrat Andrew Rice's 2008 campaign to unseat Sen. Jim Inhofe.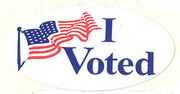 If you run into any difficulty voting or spot any irregularity, contact your county election board. The phone number for the Tulsa County Election Board is 918-596-5780.
Take it away, Leon!
Bob Wills and His Texas Playboys perform "Election Day" by Cindy Walker in the movie Wyoming Hurricane, starring Russell Hayden. Leon McAuliffe on vocals; Cotton Thompson, Bob Wills, and Jesse Ashlock on fiddle, Junior Barnard on guitar, Luke Wills on bass. And from the same movie, here's Cotton Thompson to deliver Cindy Walker's message for many of our candidates:
I hear you talkin', yes, I do,
But your talk-talk-talkin' don't ring true,
I'm listenin' politely, too,
But I don't b'lieve a word you say.

I hear you talkin', tellin' lies,
I can see it in those great big eyes.
I hear you talkin' wise,
But I don't b'lieve a word you say.

You say that I'm your honey-love,
That I'm all you're thinkin' of,
I hear you talkin', dove,
But you ain't been foolin' me.
Posted in the wee hours of Tuesday, August 26, 2010. Postdated to remain at the top of the blog through poll closing time.
MORE: Paul Blair explains why he will never support any candidate that chooses to partner with AH Strategies or Majority Designs. The AH stands for founding partners Karl Ahlgren and Fount Holland; Ahlgren now serves as chief of staff to Congressman Markwayne Mullin. For similar reasons to Blair's, I pulled my endorsement of Preston Doerflinger for Tulsa auditor although I later relented. While I won't absolutely rule out support for a candidate who affiliates with those firms, it's two strikes against a candidate. Fred Jordan, Patrice Douglas, and Melissa Abdo are all clients of these firms in the current cycle.
In a state as strongly pro-life as Oklahoma, legislation to protect the unborn and pregnant women normally sails through to passage. But sometimes that legislation is stymied by judges. Although appeals court judges and supreme court justices are subject to a periodic retention vote of the people, I can't recall the last time that a judge has been removed by the voters. (District Judges, where candidates can challenge a sitting judge, are sometimes replaced by the voters.) A bill aimed at reducing pro-abortion influence on judicial selection was defeated in this year's session, and one of the candidates for Tulsa County District Attorney led the effort to defeat the pro-life bill.
Here's a press release from Oklahomans for Life:
Tulsa Rep. Fred Jordan Major Opponent of
Crucial Measure Strongly SUPPORTED by
Oklahomans For Life


The most damaging legislative defeat for the pro-life cause this spring occurred when the Oklahoma House of Representatives killed a resolution, SJR 21, which was strongly supported by Oklahomans For Life. Rep. Fred Jordan of Tulsa was a leading opponent of this measure which we strongly supported.

SJR 21 would have diminished the influence of the Oklahoma Bar Association in the selection of judges for Oklahoma's highest courts. The background:

1) The American Bar Association has an official position in support of legal abortion on demand, paid for at taxpayer expense;

2) The Oklahoma Bar Association is a member of the American Bar Association;

3) The Oklahoma Bar Association exercises a heavy influence over who sits on Oklahoma's highest courts;

4) Oklahoma courts have repeatedly struck down pro-life laws, overturning even the most modest, reasonable legislative attempts to regulate abortion;

5) SJR 21 would have diminished the influence of the Oklahoma Bar Association over the selection of nominees for vacancies on Oklahoma's highest courts.

Pro-life laws enacted by the Oklahoma legislature have been consistent with the U.S. and Oklahoma Constitutions, and with U.S. Supreme Court precedents - nonetheless, Oklahoma judges selected for nomination to the bench through the influence of the Bar Association have repeatedly nullified these pro-life laws.

Our efforts to improve this situation by enacting SJR 21 were thwarted, in part, by Rep. Fred Jordan on the floor of the Oklahoma House. Fred Jordan placed himself at the center of the opposition to this much-needed legislation by assuming the role of chief debater against this critically important measure, giving the closing arguments in opposition to SJR 21, and thereby advocating the continuation of the system which has brought such harm to the unborn child.

While the Senate, the Governor, and the House Republican Leadership all supported the effort to establish a better system for filling judicial vacancies with fair-minded, unbiased judges, Rep. Fred Jordan actively engaged in the killing of this vitally essential measure on the House floor. The defeat of SJR 21 was the most damaging pro-life loss of the year.

Tony Lauinger, State Chairman