Politics: September 2014 Archives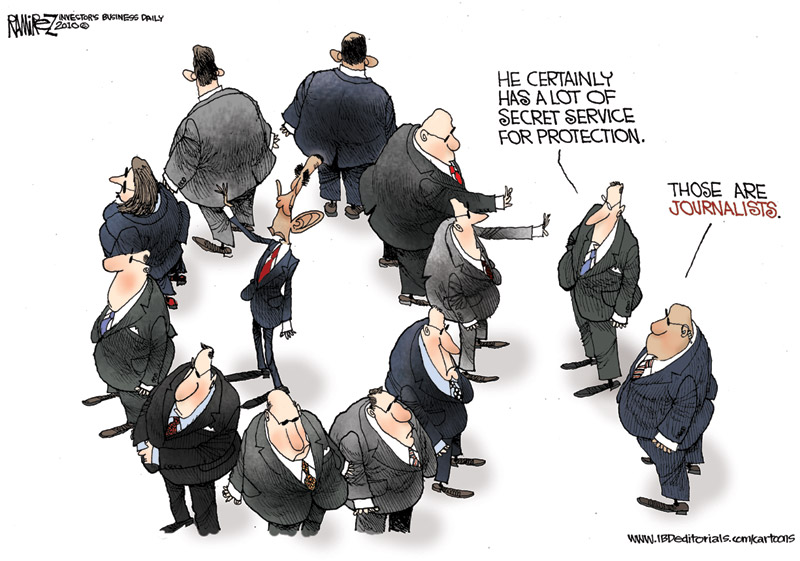 Michael Ramirez, a two-time Pulitzer Prize winner for editorial cartooning and senior editor at Investor's Business Daily, will give a free public lecture on Thursday, September 18, 2014, at 7 p.m., at Oral Roberts University in Zoppelt Auditiorium. Ramirez's lecture, "Editorial Cartooning, Journalism and a Citizen's Responsibility," is presented by three ORU departments: History, Humanities and Government; Communication, Arts and Media; English and Modern Languages.
Ramirez has been honored four times (2006, 2008, 2011, and 2014) as editorial cartoonist of the year by the National Cartoonists Society.
At noon on Friday, BatesLine is proud to host a small luncheon with Michael Ramirez. Seats are extremely limited; cost is dutch-treat. If you're interested, please email me using mailbox 'blog' at this domain.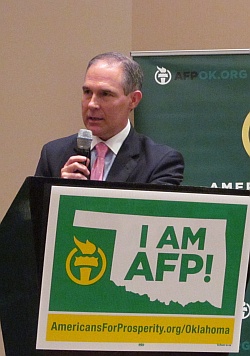 Friday, at Americans for Prosperity's Defending the American Dream Summit in Dallas, Oklahoma Attorney General Scott Pruitt sat down with the BatesLine team for a wide-ranging conversation about the issues that his office is pursuing on behalf of Oklahomans. Pruitt discussed the EPA's proposed expansion of the definition of "waters of the United States" which would put vast new territories under EPA regulation, the role and responsibilities of a state attorney general, and recent events affecting school choice and curriculum in Oklahoma. Pruitt also spoke at a panel discussion on the legal status of Obamacare and addressed a dinner for Oklahoma's 200 conferees, in which he also discussed the IRS's settlement of a lawsuit with the Freedom from Religion Foundation, affecting church tax exemptions and freedom of religion.
This entry is the first in a series. Many thanks to Americans for Prosperity Oklahoma and AFPOK Executive Director John Tidwell for the opportunity to attend and for arranging the interview with Attorney General Pruitt.
Earlier in the day, Pruitt addressed a well-attended panel session on Obamacare, its effects, and its legal status. His fellow panel members included Avik Roy of the Manhattan Institute, Christina Herrera of the Foundation for Government Accountability, and Simon Conway, British refugee and talk show host at WHO in Des Moines, who told us how the UK's National Health Service killed his father.
Pruitt spoke about Oklahoma's lawsuit, Oklahoma v. Burwell and Lew, which George Will has called the most consequential Obamacare case still pending. Oklahoma contends that the Affordable Care Act does not authorize IRS and HHS to grant subsidies or impose mandates in states that have not set up an exchange. Pruitt reviewed the timeline of Obamacare's passage and the importance of the "four little words" in Section 1311 -- "established by the state" -- to corralling the votes necessary to get Obamacare through the U. S. Senate. The four words were intended to give states the incentive to set up exchanges, but 34 states have refused.
Pruitt noted that, because Oklahoma's challenge was still at the District Court level when the Supreme Court handed down its ruling in NFIB v. Sibelius, Oklahoma was able to amend its suit. The focus of Oklahoma's case is not constitutional, but rather that the Federal Government's implementation of the law is in violation of the law passed by Congress and signed by the President.
At the moment, the case sits in the Eastern District of Oklahoma before Judge Ronald A. White. Asked by OCPAC's Charlie Meadows about the delay, Pruitt said it may be because the judge was waiting to see what the District of Columbia Circuit Court would do with Halbig v. Burwell. A panel of three judges in the DC Circuit Court ruled 2-1 that the plain language of the law authorized the subsidies and mandates only in states that established exchanges, in accord with Oklahoma's arguments. The ruling is stayed pending further appeals.
If Oklahoma's case is successful, Pruitt said that the very fines that Hobby Lobby had been facing had it lost its case ($1.2 million a day) would be overturned. The employer mandate is invalid in Oklahoma because Oklahoma has not set up an exchange.
MORE from my notes: During his morning presentation, Pruitt harked back to his service as a policymaker in the State Senate and pointed out that "health insurance does not equate to health care." Politicians like to brag about expanding coverage and eligibility, but "at the end of the day, you have to have a physician... willing to be paid for the service to deliver the care that's needed for that patient." Politicians can expand eligibility, but if reimbursement rates are too low, you have the kind of access problems we see in the UK. "We as conservatives need to remind the left that just by expanding health insurance doesn't mean that you've actually solved health outcomes." Pruitt said we also need to keep in mind that when the payor primarily becomes the government, medical inflation skyrockets.
During our interview, Pruitt elaborated on that point: The more government has become involved as payor, the system has become more bureaucratic, more costly, with a lower quality of care. He recalled Oklahoma's expansion of Medicaid eligibility under the Federal SCHIP program for families up to 200% of the poverty level, but at that time, as he remembers it, only two pediatricians in Tulsa were providing care under that program's reimbursement rates. More kids were eligible, but they couldn't get into see the doctor.
Pruitt asked why, if we had a system covering 85% of the public, we had to remake the system for 100%, rather than find a way that met the needs of the remaining 15%. The Obamacare system is moving us toward a two-tier system like that of the UK where your mandatory taxes and premiums pay for an insufficient service that limits access, but those who can afford to pay more can access higher-quality health care in a timely fashion. I pointed out that that's not unlike our two-tier education system, where parents who want better for their children pay twice -- tuition on top of the taxes they're forced to pay. That led into a discussion of Arne Duncan's revocation of Oklahoma's No Child Left Behind waiver and the court ruling against provisions of the Lindsey Nicole Henry Scholarship Act -- more about that in a future installment.