Politics: February 2016 Archives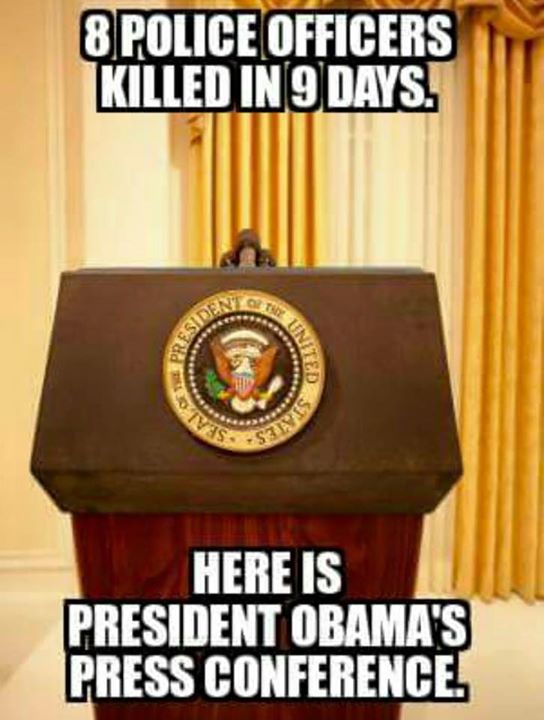 Travis Yates, a Tulsa Police Department major, has written an editorial questioning President Obama's silence after a number of recent assassinations of police officers around the country. In just the past week, Yates says, seven police officers were killed, six of them "were gunned down by assailants."
Yates notes Obama's frequent practice of speaking to the nation about suspected cases of police abuse, which began early in his term, when a Cambridge, Mass., police officer arrested Harvard Prof. Henry Gates as he was trying to break into his own home. Obama addressed the matter at length in a White House press conference, saying, "the Cambridge police acted stupidly."
He was quick to speak out on local police matters when his friend, Henry Gates, was arrested and while the President eventually called the arresting officer to apologize to him, it was odd to see the President of the United States speak out on a local police matter when he did not know all of the facts.

Personally, I chalked it up to a rookie mistake and didn't think much of it. Others had immediate concerns. Law Officer Columnist William Gage was one of those and he stated "this was insight into the President's psyche and overall view of law enforcement." Arizona Sheriff Paul Babeu said "that's his lens on how he sees our heroes and our protectors."

Obama has also spoken out about police controversies in Ferguson, Missouri, Baltimore, and elsewhere.
Yates praises the White House for sending Vice President Biden to the funeral of NYPD Detective Rafael Ramos, who was killed in an ambush shortly after the Ferguson riots, but that is the only law enforcement funeral to which the Obama White House has sent a representative. Yates echos questions raised by many other law enforcement officers about Obama's silence.
It has been a very tough time for law enforcement and while there is no doubt a sensitivity towards any perceived attack against the profession, we believe there is merit for the belief that President Obama has been silent when it comes to the violence heaped against the profession.

We see it as a balancing issue. Simply put, the President is unbalanced on the issue. He has repeatedly shown that he is quick to talk and act when he believes law enforcement has done something wrong but slow when law enforcement are the victims or need support for their mission.

President Obama still has time to regain his balance with law enforcement. As one officer said to us this week, "these are domestic threats killing your domestic troops, Mr. President. When will you hear our cries for help? Or will you continue to remain silent."

We say the President does not have to stay silent. We ask him to speak loudly in support of the men and women protecting the homeland.